The Land Trust is working to raise awareness and funds for the Campaign for Whychus Creek. But we can't chart the future of Whychus Creek alone. We need your help. Here are the top 5 ways you can help Whychus Creek:

1. Educate yourself
The first step, if you haven't already discovered Whychus Creek, is to get to know it.
Take a hike. We've built a network of several miles of trails at Whychus Canyon Preserve. It's the main public access to the creek between Sisters and Alder Springs. Come check out the Preserve and discover Whychus Creek.
2. Contribute to the Campaign for Whychus Creek
Make a contribution for the creek!
Donate to the Campaign for Whychus Creek. Your support will go towards protecting Whychus Creek, ensuring its ecological health, and offering opportunities for our community to connect with Whychus Creek.

3. Share your stories and photos
Tell your story about Whychus Creek. Your story inspires others to care for the creek as much as you do.
Share why you love Whychus Creek on our Facebook page or tell us via email. We may even feature your story on our blog. Your stories help inspire us to continue working towards a healthier Whychus Creek.
Send us your pictures of Whychus Creek or post them on our Facebook page. Pictures are worth a thousand words. We are always looking for photos to use in our newsletters, printed publications and social media. Your pictures can help tell the story of Whychus Creek.

4. Spread the word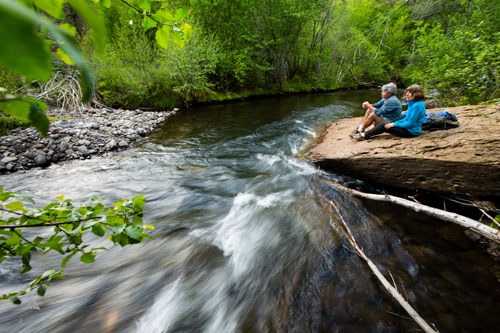 Share Whychus Creek with your friends and community.
Take a friend or family member on a hike near Whychus Creek. Tell them about our work to protect the creek and restore it to health. Help them connect to an amazing place like Whychus Canyon Preserve.
Share our Whychus Creek posts on Facebook, retweet them on Twitter, or create your own posts using #SpeakfortheCreek. When you share on social media, it helps us reach more folks and raise awareness for Whychus Creek.
Write a letter to the editor. Send a letter of support to your favorite local paper and help us spread the word about conserving Whychus Creek.

5. Sign your name to speak for the creek
Take a few seconds to add your voice to those who speak for the creek. Show your support for the creek you love.
Speak for the Creek. By adding your name today, you add your voice to the campaign and show your support for a restored and revitalized creek for generations to come!
Ask your friends to speak for the creek. Go one step further and tell your friends to add their voices and Speak for Whychus Creek. Together, we can help connect our community to an amazing place that needs our help