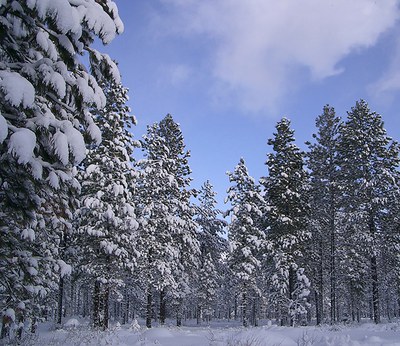 This weekend we'll set our clocks back. We'll begin the months of getting up in the dark and going home from work in the dark. We'll hope for snow in the mountains, and dry streets in town. Our circadian rhythms will wonder just what is going on, and we'll probably find ourselves spending more time inside trying to stay warm.

The good news is that this is a great time of year to catch up on reading. And if you are feeling at a loss for where to begin your literary adventures, we're here to help! Listed below are recommendations for winter reading from the staff at the Deschutes Land Trust. Grab a blanket, make yourself a hot cocoa, curl up by the fire and dive into one of these great nature-y books. Happy reading!

Sarah:
The Thunder Tree: Lessons From an Urban Wildland, Robert Michael Pyle
Non-fiction
Sarah says, "It is such a great story of connecting to a place and how kids develop sense of place. It reminds us that we don't have to get kiddos to the wilderness for them to be conservationists, just outside in their nearby ditch, empty lot, or field. I also love the story it tells of Denver--the history of water and a growing town."

Amanda:
Brittle Stars and Mudbugs
River-Walking Songbirds and Singing Coyotes
Passionate Slugs & Hollywood Frogs
All books written by Patricia Lichen
Non-fiction
About Passionate Slugs & Hollywood Frogs, Amazon.com says: "Hummingbirds flying upside down. Slugs mating while suspended in midair. A muscular mole turning somersaults in its tunnel. So much is happening, minute by minute, in your own backyard. In this Uncommon Field Guide, author Patricia Lichen combines standard field guide information about habitat, appearance, and range with delightful and engaging descriptions of the little-known facts, surprising details, and amusing-even bizarre-tidbits rarely found in ordinary field guides."

Brad C.:
Cadillac Desert: The American West and Its Disappearing Water, Marc Reisner
Non-fiction
Newsweek says, "The definitive work on the West's water crisis."

The River Why, David James Duncan
Fiction
Amazon.com description: Since its publication in 1983, THE RIVER WHY has become a classic. David James Duncan's sweeping novel is a coming-of-age comedy about love, nature, and the quest for self-discovery, written in a voice as distinct and powerful as any in American letters.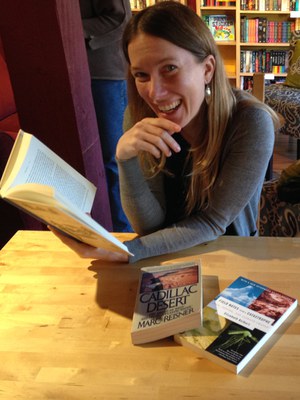 Jana:
On Trails: An Exploration, Robert Moor
Non-fiction
The Sierra Club says, "The best outdoors book of the year."

Jen:
Desert Solitaire, Edward Abbey
Non-fiction
The New York Times Bookreview says, "A passionately felt, deeply poetic book. It has philosophy. It has humor. It has its share of nerve-tingling adventures...set down in a lean, racing prose, in a close-knit style of power and beauty."

Diane:
The Jump Off Creek, Molly Gloss
Fiction
Amazon.com says, "A reading group favorite, The Jump-Off Creek is the unforgettable story of widowed homesteader Lydia Sanderson and her struggles to settle in the mountains of Oregon in the 1890s. "Every gritty line of the story rings true" (Seattle Times) as Molly Gloss delivers an authentic and moving portrait of the American West. "A powerful novel of struggle and loss" (Dallas Morning News), The Jump-Off Creek gives readers an intimate look at the hardships of frontier life and a courageous woman determined to survive."

Indian Creek Chronicles; A Winter Alone in the Wilderness, Pete Fromm
Non-fiction
Amazon.com says, "Winner of the Pacific Northwest Booksellers Association Book Award, Indian Creek Chronicles is Pete Fromm's account of seven winter months spent alone in a tent in Idaho guarding salmon eggs and coming face to face with the blunt realities of life as a contemporary mountain man. A gripping story of adventure and a modern-day Walden, this contemporary classic established Fromm as one of the West's premier voices."

Brad N.:
Rogue River Journal: A Winter Alone, John Daniel
Non-fiction
Amazon.com description: In November of 2000, after the presidential election but before the final results had been handed down by the Supreme Court, John Daniel climbed into his pickup, drove to a remote location in Oregon's Rogue River Canyon, and quit civilization. The strictures were severe. No two-way human communication - not even with his wife - no radio, no music, not even his cat. He would isolate himself in a cabin sure to be snowed in soon after his arrival, intent on hearing no human voice but his own until spring thawed the road. This experiment in solitude was an attempt to clarify his identity while pursuing daily life without the distractions of the world at large. Daniel had spent a week or two alone before, but this would be an entirely new challenge, and as he drove off into the mountains he felt a fear-tinged freedom. This book chronicles his journey in solitude, a season of memory, and his search for a coherent place to stand on the earth.

Michael:
Refuge: An Unnatural History of Family and Place, Terry Tempest Williams
Non-fiction
Publishers Weekly says, "Utah naturalist Williams ponders the loss of her mother to cancer and the disastrous flooding of a bird refuge in a moving account of the interrelations between personal tragedy and natural history."

In Search of the Old Ones: Exploring the Anasazi World of the Southwest, David Roberts
Non-fiction
Amazon.com description: "An exuberant, hands-on fly-on-the-wall account that combines the thrill of canyoneering and rock climbing with the intellectual sleuthing of archaeology to explore the Anasazi."
Pat:
Firestorm, Nevada Barr
Fiction
Amazon.com description: A raging forest fire in California's Lassen Volcanic National Park traps exhausted firefighters, including Ranger Anna Pigeon, in its midst. Afterward, Anna finds two from her group have been killed. One a victim of the flames. The other, stabbed through the heart. Now, as a rampaging winter storm descends, cutting the survivors off from civilization, Anna must uncover the murderer in their midst.

Stephanie:
Encounters With the Archdruid, John McPhee
Non-fiction
Amazon.com description: The narratives in this book are of journeys made in three wildernesses - on a coastal island, in a Western mountain range, and on the Colorado River in the Grand Canyon. The four men portrayed here have different relationships to their environment, and they encounter each other on mountain trails, in forests and rapids, sometimes with reserve, sometimes with friendliness, sometimes fighting hard across a philosophical divide.


The Emerald Mile: The Epic Story of the Fastest Ride in History Through the Heart of the Grand Canyon, Kevin Fedarko
Non-fiction

Kirkus says, "Powerful and poetic passages put readers inside the adventurers' boats, even if they have only ever imagined the Grand Canyon or seen it in pictures... an epic-sized true-life adventure tale that appeals to both the heart and the head."