by Sarah Mowry
Volunteers are the heart of the Land Trust community. We are eternally grateful to have so many dedicated volunteers who lend a hand to make such a difference. In the early years of the Land Trust, those folks did everything from brokering our first project to writing grants to pulling weeds. Today, volunteers continue to play a critical role whether its helping in the office, restoring and caring for our Preserves, or helping connect the community to our lands.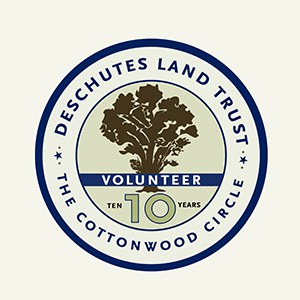 This year, we wanted to recognize a special group of volunteers who have celebrated an important milestone with the Land Trust--their 10 year anniversary! This group of incredibly dedicated individuals have volunteered for 10 or more years for the Land Trust. That is a truly outstanding contribution!! We extend our most sincere thanks for all their time and energy. Our community really is a better place because of their efforts to conserve and care for land in Central Oregon.
To celebrate this accomplishment, we welcomed the following volunteers into The Cottonwood Circle--our elite group of volunteers who have donated the most time to the organization.


2016-2017 Cottonwood Circle Inductees:
Cal Allen
Karen Allen
Jim Anderson
Sue Anderson
Tom Atkins
Gayle Baker
Rod Bonacker
Bruce Bowen
Robert Brunoe
Mary Campbell
John Casey
Judy Clinton
Lloyd Corliss
Mary Crow
Bill Dakin
Gretchen Dakin
Elke Dortmund
Byron Dudley
Eva Eagle
Paul Edgerton
Win Francis
Dwain Fullerton
Norma Funai
John Gerke
Anne Gerke
Kent Gill



Lois Gill
Jim Hammond
Collins Hemingway
Paula Johnson
Kit Korish
Mary Krenowicz
Martha Lussenhop
Jay Mather
Bill Mitchell
Paul MacMillan
Barbara MacMillan
Heidi Nichols
Jerry Norquist
Joyce Padgham
Maret Pajutee
Barb Rumer
Jake Schas
Pete Schay
Magda Schay
Linda Shaw
Rick Thomas
Carol Wall
Larry Weinberg
Bruce White
M.A. Willson
Martin Winch
Bob Woodward

Thank you for choosing the Land Trust and for dedicating so much of yourself over the years!


Learn more: