by Sarah Mowry

In honor of International Women's Day the Land Trust wanted to recognize some awesome local women who rock the local conservation world!
Whether these women work behind the scenes or out in the limelight, these outstanding women work every day to ensure that the nature of Central Oregon is healthy and there for future generations. While we'd love to give you an exhaustive list of local women in conservation, there are just too many to list here. Instead, here are a few women who have contributed to local conservation and the Land Trust's work:


Amanda Egertson has been the Land Trust's stewardship director for 14 years. It's her job to care for the Land Trust's protected lands--and that she does! Whether she is working to restore the forests of the Metolius Preserve or return Whychus Creek to its former glory, Amanda works tirelessly to ensure our protected lands are on track to ecological health. Best of all she does it with a smile and a passion for butterflies!
Karen Allen has more than 25 years of experience in habitat restoration, specializing in wetland and stream restoration. A plant ecologist at heart, Karen served as the Land Trust's first land steward caring for our protected lands. Lucky for us, she has continued to be involved as our plant specialist for many Land Trust restoration projects.
Roberta Kirk is the Confederated Tribes of Warm Springs (CTWS) Native American Graves & Repatriation Act Coordinator. She works with the Tribes on cultural items of importance, including cultural plants and traditional uses. Roberta joined fellow CTWS staff at a planting day at Whychus Canyon Preserve and we are looking forward to future partnerships with her to incorporate culturally significant native plants in our restoration efforts.
Maret Pajutee was an ecologist for the Forest Service for 25 years. Her work in the Sisters Ranger District was instrumental in helping Whychus Creek recover and begin to be restored. Maret was one of the founding members of Deschutes Land Trust and continues to volunteer her time to protect the lands she loves. We also love that Maret is an expert on the rare Peck's penstemon and that she volunteers for the Land Trust, leading awesome yoga and meditation classes!
Mary Yanalcanlin is a Montessori teacher with nearly 30 years of experience working with children. Mary leads East Cascades Audubon Society's education programs for kids and their parents and also donates her time to lead kids' outings for the Land Trust! Mary's Land Trust walks are guaranteed to delight and inspire, and we are so thankful for her amazing ability to inspire children (and their grown-ups) to love the earth.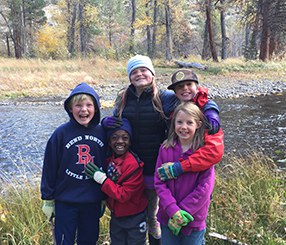 Future women of conservation: We are growing some! How are you getting young girls involved with conservation?
We'd be remiss if we didn't mention that the Land Trust volunteer pool is so full of wonderful women helping make conservation possible in Central Oregon. Thank you for dedicating your time and energy.
Three cheers as well for our outstanding women staff members who are doing their part: Pat Cohen, Amanda Egertson, Jana Hemphill, Marina Heppenstall, and Jen Zalewski! You rock!

Learn more: