by Brad Chalfant

Thanksgiving is a time to reflect on those who have made a difference. The Land Trust's  work to conserve and care for land in Central Oregon is only possible because of the cumulative efforts of many people in our community who truly have made a difference. In honor of Thanksgiving, I wanted to highlight a couple of notable efforts that illustrate how individuals can make a remarkable and lasting difference.


This month we lost a great Oregonian and a great friend of the Land Trust. Bill Swindells was the longtime chairman of Willamette Industries, founder of the Ann & Bill Swindells Charitable Trust, and one of Oregon's greatest philanthropists. Like many Oregonians, Bill was an avid outdoorsman who was passionate about wild rivers and healthy fish runs. Through his passion, Bill gave the Deschutes Land Trust the opportunity to acquire and create our Metolius Preserve and then turned around and acted as a key funder of several projects. Bill's support was a watershed moment as it opened doors to working with the timber industry, which has been critical to our Skyline Forest efforts. An Oregonian to his core, we will greatly miss Bill's humility, integrity, and deep commitment to this state, it's lands, and it's communities.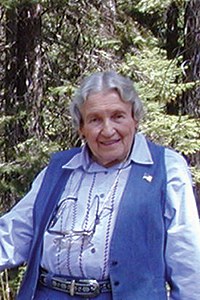 Elizabeth H. "Becky" Johnson was also a stalwart supporter of the Land Trust. Becky  chaired our Metolius Preserve Campaign in 2002 playing a key role in the acquisition of the Preserve. A long-time community leader and lover of the Metolius River, Becky and her family worked tirelessly to protect the Metolius. Her relationships and influence spanned the political spectrum and provided a powerful voice for the protection of one of Oregon's most remarkable rivers. When I walk the banks of the Metolius, I will forever be reminded of Becky's tenacity and vision.




This past year, the Land Trust completed an expansion of our new Ochoco Preserve at the confluences of the Crooked River with Ochoco Creek and McKay Creek. Ochoco Preserve wouldn't likely have happened without the passion and unique background of Tom Montag, a generous Land Trust donor. Though living in New York and serving as COO of Bank of America, Tom is a native Oregonian who has never forgotten his roots. Long passionate about Oregon's iconic salmon fisheries, Tom has generously helped the Land Trust secure key properties, allowing us time to assemble the funds to close the deal. It's a role that comes naturally for one of the nation's most successful bankers, and has been critical to the Land Trust's success on the Metolius, Whychus Creek, and now the Crooked River. We're grateful to have Tom as an active partner in this work.




A newer partner in our work, Rane Johnson-Stempson is helping the Land Trust think more strategically about how we serve our community, both our community as it stands today and our community of tomorrow. As an executive at Microsoft, Rane led numerous initiatives to address diversity, equity, and inclusion within the high tech industry. As a more recent arrival to Bend, Rane has worked to build our local tech economy, while also working to help the community understand and embrace the growing diversity of Central Oregon. As a Land Trust supporter, Rane is helping the Land Trust realize on its premise of "permanently conserving land for the community." By better understanding the diversity of our community, as well as our existing relevance, we ultimately hope to broaden our work to serve the entire community and by extension, build a larger, more powerful conservation movement in Central Oregon. We're truly fortunate to have the benefits of Rane's insights and experience as we chart the future of our work.


Each of these four individuals brings or brought their own unique perspectives, relationships, and resources to this work, yet they've all shared some common values as Oregonians--a passion for this place and a commitment to protecting it for future generations. When we focus on our shared values--rather than what divides us--we're able to work together to accomplish amazing things. This Thanksgiving, I'm grateful that so many of you have found shared values in supporting the work of the Deschutes Land Trust and in building a legacy for the future--thank you!

Read more: