As the days begin to shorten, many Central Oregonians are planning their last hikes of the season, wanting to take in the beauty of our mountains, meadows, creeks, and canyons. At the same time, hunters are preparing to head out to these same beautiful areas, ready to connect to the outdoors through the time-honored tradition of hunting on public and private lands. It's important that hikers are aware that hunters are also out enjoying the outdoors. Stay safe during hunting season by following these seven tips:

1. Know when hunting season is.
Before you head out to hike, find out what hunting is available in the spot you've chosen. While August, September, and October are when most hunters will be out enjoying the outdoors, game bird hunting has a longer season. You can find dates for hunting seasons by calling the Oregon Department of Fish and Wildlife at (503) 947-6000 or by visiting their website to find out what areas, dates, and types of hunting are allowed where you're planning to hike. More information can be found here.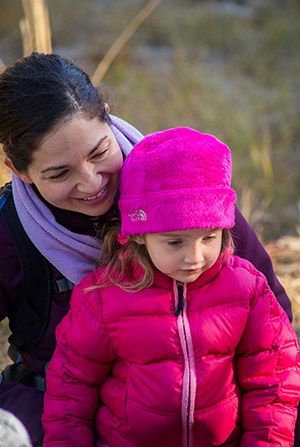 2. Hike in the middle of the day.
Hunters tend to be most active during dawn and dusk when wildlife is moving around (although they can be active throughout the day). Plan your hike for the middle of the day, instead of early in the morning or during dusk. If you still want to catch that spectacular sunrise or sunset, take a flashlight or headlamp to make yourself more visible. Wearing reflective clothing also makes it easier for hunters to spot hikers during these low visibility hours of the day.

3. Wear orange or other bright, visible colors.
It's easy to forget this tip until you've already arrived at your trailhead, so try to turn it into a habit! Wear bright orange or other bright, visible colors to make sure you are noticeable to others (including hunters) while hiking. Bright shirts, bandanas, backpacks, or hats all work! You can also get an orange vest, something common among hunters. In addition, you'll want to avoid wearing white or gray, which can resemble the rump of a deer or elk.
 
4. Stay on trails (and hike at popular spots).
Wildlife tend to stay away from well-used, popular trails. Likewise, hunters often head off-trail in search of game. Hunting season is the perfect time to hit up those beautiful, yet popular trails you might typically avoid. If you do go somewhere less popular, make sure to stay on the trail. And if you're uncomfortable with the thought of hunters nearby while you're hiking, look for hikes that you can take in areas where hunting is not allowed—like Whychus Canyon Preserve.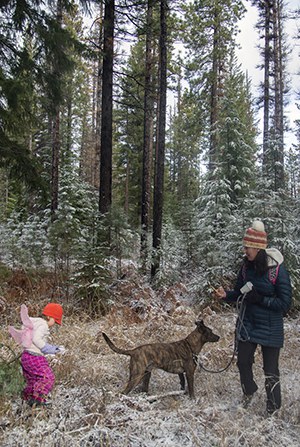 5. Keep your dog on-leash.
Along with keeping yourself on the trail, make sure your dog stays on trail as well. While dogs are required to be on-leash at Land Trust Preserves, keeping them close on other Central Oregon trails is a good idea at this time of year. If you just can't bring yourself to keep your dog on a leash when not at Land Trust Preserves, make sure to dress them in bright colors so they aren't mistaken for wildlife. Then, learn more about the impact that dogs have on wildlife here.

6. Use extra caution near roads.
Many of our hiking and biking trails cross old logging roads and forest service roads in Central Oregon. Be aware of cars, trucks, and ATV's that might be using these logging roads to access hunting spots.

7. Make noise while hiking.
Let others know that you're in the area (and a human) by making noise. Whistling, talking to your hiking buddies, or singing your favorite song alerts hunters to the presence of others.

Deschutes Land Trust Preserves are closed to hunting—including the Metolius Preserve. It is, however, extremely important to remember that all of the land around the Metolius Preserve is open to hunting in accordance with state and local regulations. The Metolius Preserve is an island of private property surrounded by Deschutes National Forest land. The National Forest allows hunting and therefore hunters or their marks may stray into the Preserve. While the Land Trust will mark our Preserve boundaries with no hunting signs, visitors who use the Preserve during the various hunting seasons should keep this in mind and always hike or bike with caution.
Learn more: