Land trust reacts to large tract going on market
News Channel 21 shares Deschutes Land Trust's perspective on Bull Springs Skyline Forest going on the market.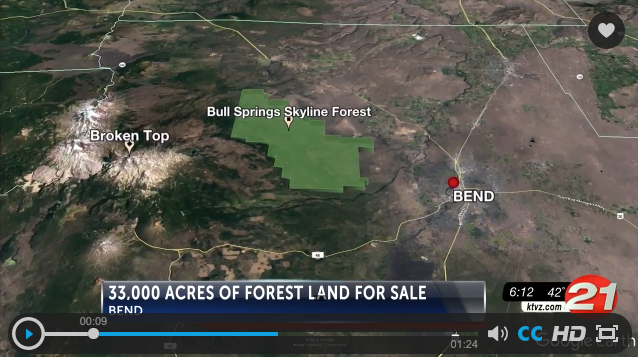 The leader of the Deschutes Land Trust is still hopeful for a path toward conservation as a 33,000-acre tree farm, the Bull Springs Skyline Forest, is put on the market for a whopping $127 million.
BEND, Ore. - (Update: Adding C.O. LandWatch reaction, concerns; Deschutes Land Trust statement)
It's not every day that 33,000 acres of timberland just northwest of Bend -- a parcel larger than the city itself, and one of the largest contiguous properties in the West  -- goes up for sale in a public offering. But that just happened with the Bull Springs Skyline Forest, the focus of a public conservation effort in recent years, and the asking price is a hefty $127 million.
"Bull Springs Skyline Forest, located just minutes west of Bend is an active privately held tree farm and recreational wilderness covering 32,995+/- contiguous, deeded acres bordering the Deschutes National Forest," Tuesday's sale announcement stated...