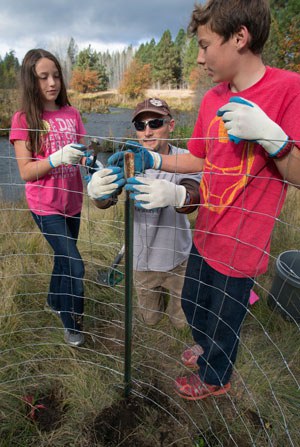 Who are we
People just like you…families, business owners, hikers, farmers, hunters and neighbors…all sharing a passion for the outdoors and protecting the places we care about. Together we have been celebrating and protecting Central Oregon's beauty and quality of life since 1995. Learn more about the Land Trust's staff or Board of Directors. 

Our Mission
The Land Trust's mission is to work cooperatively with landowners to conserve land for wildlife, scenic views and local communities. Learn more about our work and read our strategic plan.

Our Vision
Healthy lands that support diverse populations of native plants and wildlife. Communities that are closely engaged with the land, that value the natural world, treat it with respect and are invested in its future. A region that, even as it grows, retains its natural attributes forever.

Our Values
Excellence: We strive for excellence in all aspects of our work so we can be most effective at conserving and caring for the land. We demonstrate the highest standards of dedication, personal integrity, truthfulness, and honesty as we carry out our mission.
Accountability: The Land Trust believes in operating as a transparent, accountable, ethical, and effective organization. We hold ourselves to high standards and have policies that outline ethics, conflicts of interest, confidentiality and other important matters. To publicly demonstrate our commitment to high standards, the Land Trust also maintains national accreditation, which ensures our conservation efforts meet national standards for excellence, upholding public trust, and protecting lands permanently.
Teamwork: Staff and board work together to accomplish our mission to conserve and care for the land. We promote a working environment that values respect, fairness, and integrity. We demonstrate positive leadership exemplified by open communication, creativity, dedication, and compassion.
Inclusion: Our land conservation efforts can provide benefits to our entire community and for future generations of Central Oregon if we foster an inclusive environment. We strive to embrace differences and ensure all constituencies in our community feel a sense of belonging. To do this we actively listen, respect, understand, value and incorporate a wide variety of beliefs, backgrounds, abilities, values, and experiences in a clear and consistent inclusive way that invites all people, especially marginalized communities, to engage in our work.
Diversity: We recognize, foster, and celebrate the broad experiences of each individual who wants to engage in our land conservation work. This means we reflect and engage the full range of people's individuality, abilities, culture, background, education, knowledge, perspectives, and needs to enhance and enrich our efforts to conserve and care for land in Central Oregon.
Equity: We strive to recognize and understand the role past land conservation efforts have historically played in creating barriers to equitable conservation. We commit to treating all people, partners, volunteers, donors, staff, and board members in our community fairly while understanding and removing barriers to enable everyone to participate in a more equitable community of land conservation.
Collaboration: We embrace collaboration with a network of volunteers, landowners, public agencies, non-governmental organizations, and academic institutions that support and are interested in land conservation in Central Oregon.
Permanence: Our commitment to the community is an enduring one, premised on the permanence of our land conservation work.  Consequently, the Land Trust will invest in the systems and measures to ensure the Land Trust is equipped and prepared to permanently steward and protect the land, while building relevance, a sense of place and a conservation ethic with future generations.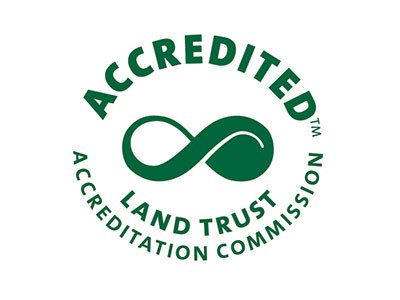 The Deschutes Land Trust is a nationally accredited land trust and is recognized by the IRS as a 501(c)(3) tax exempt, publicly supported organization. Contributions are tax deductible to the extent of the law. Our tax ID is 93-1186407.