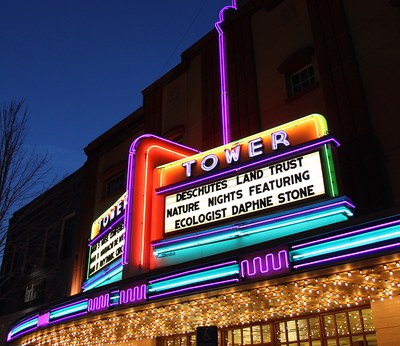 The Deschutes Land Trust has been the proud presenter of Nature Nights since 2011! Nature Nights are monthly presentations on a nature-related topic held from January through March. Topics vary each year, but are given by experts in their field. All Nature Nights are free and usually start at 7pm at the Tower Theatre in Bend. Tickets are required and registration generally opens a month prior to each talk.
2023 Nature Nights

January 25: Fungi in the Forest with Ariel Cowan
February 21: A History of Trees—Fire, Old-Growth, and Forest Restoration in Central Oregon with Dr. James Johnston
March 22: Wild Horses, Wolves, and Other Wildlife of the Warm Springs Indian Reservation with Austin L. Smith, Jr.
Past Nature Nights
2022 Nature Nights

2021 Nature Nights
2020 Nature Nights
2019 Nature Nights
2018 Nature Nights
2017 Nature Nights
2016 Nature Nights
2015 Nature Nights

2014 Nature Nights
2013 Nature Nights
January 30: Pole Creek Fire Recovery with ecologist Maret Pajutee
February 27: Stories from Oregon Field Guide with OPB producer Jeff Douglas
March 27: A Natural History of Butterflies with THE butterfly guy Robert Pyle
2012 Nature Nights
2011 Nature Nights
January 25: Tracking Central Oregon Wildlife in Winter with Larry Berrin
February 24: Forest Fire Ecology East of the Cascades with fire ecologist Amy Waltz
March 24: Wildflowers of Central Oregon with ecologist Maret Pajutee