Land Trust Walks + Hikes are educational outings to explore our protected lands. Though the length of the hike may vary, you can expect to hike as a group at the group's pace with frequent stops to discuss natural history.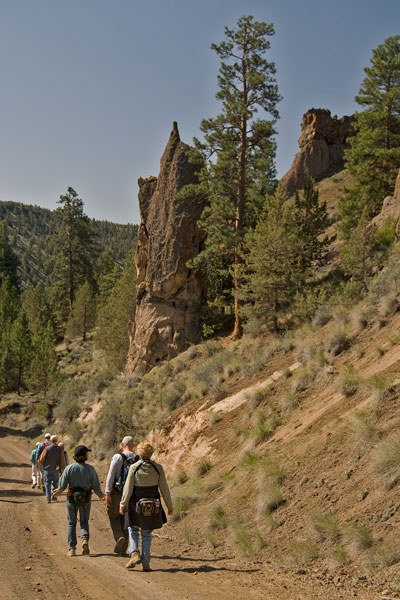 The Land Trust has established a simple rating system to help you choose your walks or hikes wisely. The ratings are indicated on each walk or hike and tell you a little more about the outing. Many hikes are rated more difficult than they seem simply because there are no trails and/or the hike includes steep descents/ascents. Keep in mind this a just a basic system: what is easy to you, may be challenging to others. We've tried to strike the middle ground! The ratings indicated if the outing is:

Easy: Mostly flat terrain with established trails or roads. Some off trail walking on flat, but uneven terrain. This type of terrain can be found at: Camp Polk Meadow Preserve (Hindman Springs), Indian Ford Meadow Preserve, Metolius Preserve, Ochoco Preserve, and Paulina Creek Preserve.

 Moderate: Established trails and roads with some elevation gain. Mostly flat terrain, but with uneven ground and little or no trail. Longer hikes with more mileage. This type of trail can be found at Aspen Hollow Preserve, Camp Polk Meadow Preserve (lower meadow), Metolius Preserve, Metolius River Preserve, Priday Ranch, Rimrock Ranch, Whychus Canyon Preserve, and Willow Springs Preserve.
 Challenging: Established roads or trails with significant elevation gain. Longer hikes with more mileage. This type of trail can be found at Alder Springs, Rimrock Ranch (steep ascent/descent), Smith Rock State Park, and Whychus Canyon Preserve.
Accessibility: The Land Trust is working to make our Walks + Hikes as accessible as possible. Please let us know at least one week in advance of an outing if there is something we can do or provide to support you in participating in our Walks + Hikes to the fullest and we will accommodate as possible.