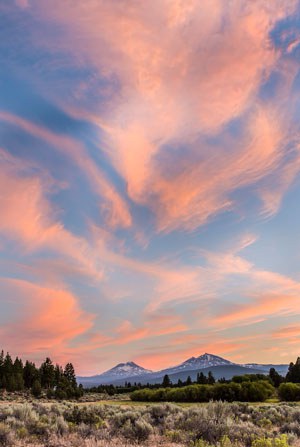 The Land Trust's mission is to conserve and care for the lands and waters that sustain Central Oregon, so local communities and the natural world can flourish together for generations to come. What does this mean and how do carry out this mission? Here's how:
First, we conserve land. The Land Trust only works with willing landowners who voluntarily want to conserve their land. Visit our conserve your land page to learn more about land preservation options. Or learn more about some of lands we are currently trying to conserve, like Skyline Forest.

Next, we care for the lands we've conserved. The Land Trust cares for more than 18,742 acres in our region for today, tomorrow and for generations to come. Learn more about lands we've already protected.

Finally, we connect the community to the land. The Land Trust truly believes that we cannot accomplish our mission without the help of the local community. That's why we encourage you to visit our protected lands (on your own, or on a guided hike), offer opportunities to help care for land, and provide ways to learn more about the nature of Central Oregon. We hope you'll choose to get involved today!


To learn more about the Land Trust's work, read our 2021-2025 Strategic Plan.