2023 Officers of the Board: Melissa Kent, President; Ann Richardson, Vice President; Michelle McSwain, Secretary; Jim Nicol, Treasurer.   
Land Trust Advisors and Stewards are listed below.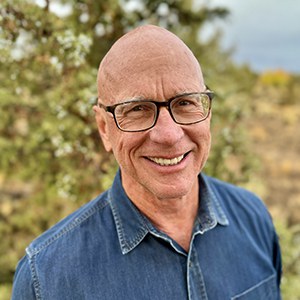 Steve Brown first connected with and began appreciating Central Oregon's natural beauty during his college days at Lewis & Clark, where he encountered the high desert on several field biology trips. Those early experiences, including an internship with The Nature Conservancy, kindled a lasting admiration for the region and an understanding of the importance of conserving our natural landscapes.
Steve's professional journey has largely been anchored in the realms of financial planning and wealth management. As President of NW Securities Advisors, he has had the privilege of offering wealth guidance and family office functions. He is also a Certified Trust and Fiduciary Advisor. In addition, Steve enjoys service work in the community. He is currently a member of the Board of Advisors for the Crook County Economic Development Commission and previously served as Board Member and Treasurer for the 20,000 member Multnomah Athletic Club and other non-profit organizations.
Outside of work, Steve treasures hikes, skiing, gardening, everything outdoors and most importantly, time spent with family including his wife Natasha, three adult sons, and three rambunctious doodles. He has embraced the region and its stunning beauty.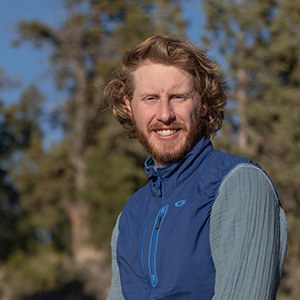 Breck Flanagan-Caldwell enjoys a deep connection to the high desert landscape having grown up in Bend. Breck holds a Bachelor of Science in Natural Resource Management from Oregon State University, and nearly a decade of professional experience in the natural resource and water sectors in the high desert. Breck currently serves as a Natural Resource Specialist with the Oregon Water Resources Department, where he ensures compliance with Oregon Water Law through the evaluation of water rights transfers, permits, and claims of beneficial use.
Breck is a graduate of the Leadership Bend Foundation Class of 2022, and champions the vision of the Bend Young Professionals Program as an ambassador on the advisory council. He also served as peer mentor for Big Brothers Big Sisters of Central Oregon among other civic engagements. Breck is a Brazilian Ju-Jitsu practitioner and a practicing Buddhist outside of work. He is also an avid international traveler and outdoorsman, and enjoys riding his gravel bike and trail running throughout Central Oregon. Breck is most motivated by his pursuit of constantly evolving as a father and sharing in his son Arlo's exploration of the natural world.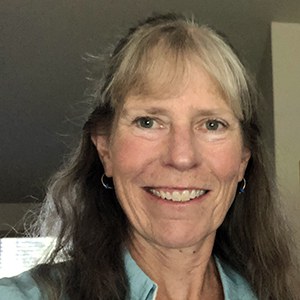 Stacey Forson grew up on her father's working cattle ranch, east of Bend, Oregon, developing a deep appreciation and connection to public lands and their resources, shaping her passion for the outdoors, as well as her career and academic goals. In 2018, Stacey retired from a rich, diverse, and fulfilling 38 years with the Forest Service. She lived and worked in Prineville during her most recent post as the Forest Supervisor for the Ochoco National Forest and Crooked River National Grassland. In addition to her professional focus on recreation, heritage resource, public collaboration, and integrated land management, she partnered with land trusts and other organizations to acquire and exchange land tracts for the long-term protection and restoration of critical lands.

Stacey holds a Bachelor of Science in Forest Recreation Resources from Oregon State University. Three years ago, she and her husband Ray settled on their small, forested property near La Pine, close to all the outdoor activities they love: hiking, camping, backcountry skiing, paddling, boating, and fly fishing. Stacey is the President of the Friends of Fish Lake, a non-profit partner with the Forest Service for the restoration, maintenance, and interpretation of a historic site and developing education center located on the Willamette National Forest. She is also a co-coordinator of Firewise activities in her neighborhood.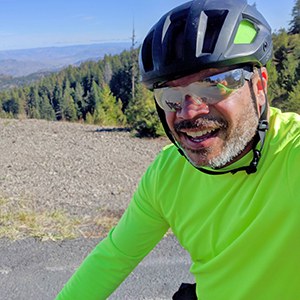 Rob Garrott moved to Bend from Los Angeles in 2015. A remote worker for most of his career, he's a creative professional specializing in 3D motion design, teaching and consulting. With a background in 3D animation, motion design, and video production, he's worked for Linkedin Learning as a Content Manager designing curriculum and recruiting instructors for a variety of subject areas. He taught for 12 years at Art Center College of Design and has created logos, graphics packages, and entire shows in the entertainment industry. With a goal of creating community in his adopted home, he created the Bend Mograph Meetup group and actively collaborates with other digital artist groups to foster community and learning. A long-time drummer, Rob is currently learning bass guitar and when not in front of a computer, he can usually be found riding one of several bikes around town and out in the forests or skiing at Bachelor as many days as work and his knees will let him.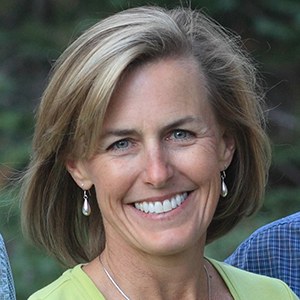 Melissa Kent moved to Bend with her husband, Brad, and two sons in 2003. She is the retired CFO of a private investment firm and is a founder and executive chair of The Office Group, a non-profit that provides mentoring, tutoring and college counseling to high school students in challenging situations to help them realize their higher education goals. Melissa received her B.S. in Business Administration from UC Berkeley and her M.B.A. from Harvard Business School. Now that her boys are off in college, she is looking forward to spending more time hiking, biking, skiing, and helping Central Oregon maintain the incredible quality of life and natural beauty she so dearly enjoys.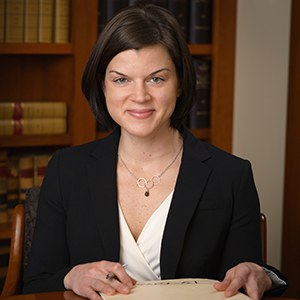 Danielle Lordi is an attorney and consultant with Lordi Law LLC. She moved from Eugene to Bend in 2010, drawn, like many, to its natural beauty. An avid birder, Danielle became acquainted with the Deschutes Land Trust and its work as a volunteer bird surveyer. She is passionate about conserving Central Oregon's beautiful places and wildlife. In addition to birding, Danielle enjoys hiking, kayaking, and cross-country skiing.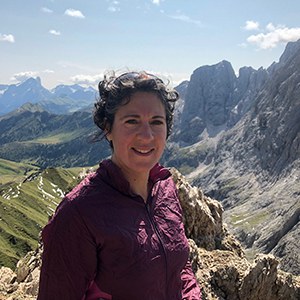 Daniele McKay is a geologist who studies recent volcanic activity in Central Oregon and teaches at the University of Oregon. She has lived in Bend for more than 20 years, during which she worked for several conservation groups and as an interpretative ranger. She grew up hiking and skiing in the Cascades, which inspired a life-long passion for exploring wild areas. This prompted her to travel the world extensively and ultimately to examine natural processes in detail by studying geology. In addition to contributing to the scientific understanding of volcanoes in Central Oregon, Daniele also enjoys sharing her interest in science with people of all ages. She has taught classes and led field trips for children and adults, including geology hikes for the Land Trust.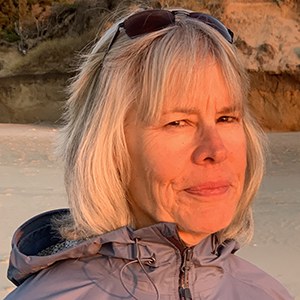 Michelle McSwain became enchanted with the natural splendor of Oregon's outdoors when, at one year old, her family moved to Oregon. Each weekend her family would pile in the station wagon armed with peanut butter sandwiches and head either to the mountains or the coast to play and explore. Michelle graduated from the University of Wisconsin-Madison with a degree in Geology and holds a Master's degree in Hydrology from the Forest Engineering Department at OSU. Her 30-year career with federal land management agencies began in Vale, Oregon. She moved to Prineville over 20 years ago to work for the BLM and finished her career as an Assistant Field Manager for the BLM, leading the programs of Range, Fisheries, Hydrology, Wild Horse and Burros, Burned Area Rehab, and GIS.

Michelle is currently a member of the Ochoco Forest Restoration Collaborative and volunteers with the SMART (Start Making a Reader Today) program reading to kindergarteners at Crooked River Elementary. In her free time, she enjoys hiking, camping, backpacking, cross-country skiing, yoga, reading, cooking, music, dancing, gardening, and exploring both within the U.S. and internationally.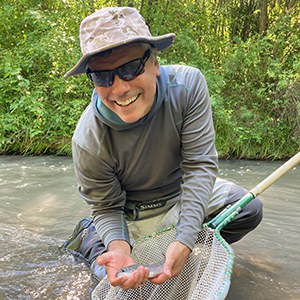 Gonzalo Mendez lives in Redmond and is a fisheries biologist with Portland General Electric. He is responsible for Test and Verification studies associated with juvenile fish migration at the Pelton Round Butte Hydroelectric Project. This passage work supports the goals of reintroducing spring Chinook, sockeye and summer steelhead to the upper Deschutes River Basin. Gonzalo earned a bachelor's degree in Wildlife and Fisheries Conservation at University of Massachusetts, Amherst in 2002. He has been conducting fisheries related science for more than 20 years and in that time he has worked in marine environments, participated in Atlantic salmon reintroduction, and conducted fish passage work and stream habitat assessments. In his spare time, he pursues a variety of interests with his wife Hannah and his newly rescued pup Pip. Hannah and Gonzalo have been connecting with the Central Oregon community through various activities in the arts, early child education, and exploring streams.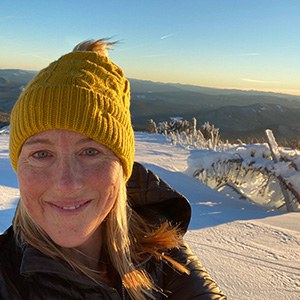 Amy Miller has always enjoyed spending more time outside than inside. She loves to snowboard in the backcountry, hop on her paddle board, and go on long hikes. Her favorite place to be is in the mountains, and she tries to climb as many of our peaks as time allows. The bulk of her professional experience is in social justice and nonprofit management, most recently serving as the Executive Director of Youth, Rights & Justice, a nonprofit law firm and juvenile public defender office. In her current role, as Assistant Deputy State Court Administrator for Programs & Innovation, she oversees state court programs and works hard to support access to justice for all Oregonians.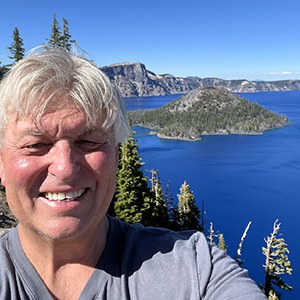 Tom Montag is a native Oregonian. His passion for land conservation stems from his love of Central Oregon, where he developed an appreciation for the state's natural beauty. Tom currently serves as the CEO of Rubicon Carbon where he helps the world's largest organizations navigate the carbon markets with confidence. Prior to Rubicon Carbon, Montag held executive positions at Bank of America, Goldman Sachs, and Merrill Lynch, bringing more than 20 years of financial markets experience to the table. He is dedicated to serving his community is excited to contribute his expertise to promote land conservation efforts in Oregon.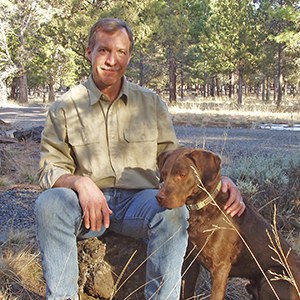 Jim Nicol (board member emeritus) is the founder and Managing Principal of McKinney Butte Consulting, an advisory company assisting forestland owners and investors on a global basis. A forester by training, Jim has worked extensively across the US, New Zealand and Brazil. As a champion of maintaining healthy, working forests, he has facilitated a number of conservation easements in the Pacific Northwest and Southeast. 

Jim and his wife Lisa joined the Sisters community in 2000 along with their collection of dogs, horses, and donkeys, and became permanent residents in 2009. Jim is an active volunteer for the Sisters Trails Alliance and the Sisters Outdoor Quilt Show, in addition to the Land Trust, and you can often find him biking, backpacking, running, cross-country skiing, and fly-fishing with his trusty Chesapeake Bay retriever.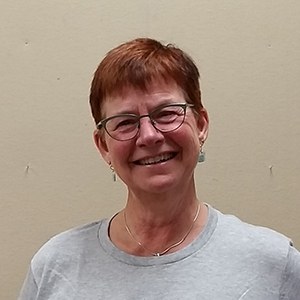 Ann Richardson moved to the Pacific Northwest from her hometown of Pittsburgh, PA, ultimately settling in Sisters in 1999. Ann has become deeply embedded in the community she loves and loves to serve. She has been executive staff for two nonprofits--Sisters Folk Festival and Sisters Outdoor Quilt Show. She is currently the Board Treasurer for Sisters Trails Alliance and has served as Board President for the Sisters Area Chamber of Commerce. Ann and her husband Clyde love to hike, bike, whitewater raft, and travel around the West in their little RV, herded everywhere by a small pack of Pembroke Welsh Corgis.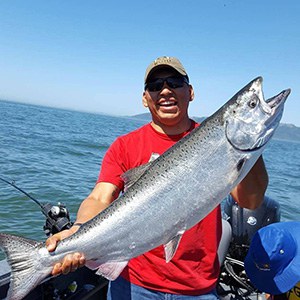 Austin Smith Jr. has lived in Central Oregon most of his life. He grew up on the Warm Springs Indian Reservation and is an avid hunter and fisherman, exercising his rights as a member of the Confederated Tribes of Warm Springs like his ancestors before him. Austin served in the United States Marine Corps from 2004 to 2009, and was deployed three times overseas before separating from the Corps with an Honorable Discharge to pursue an education using the GI Bill. Austin attended Central Oregon Community College where he earned his Associate's degree, and then transferred to Oregon State University-Cascades and graduated with a degree in natural resources conservation and technology with a focus on wildlife management. While attending college, Austin worked as a wildlife technician for the Tribes from 2010 to 2015, and was hired on full-time by the Branch of Natural Resources in Warm Springs as the tribal wildlife biologist in 2015. Currently, he oversees the Branch of Natural Resources for the Confederated Tribes of Warm Springs. Austin has a lovely wife, a 20-year-old son, a 3-year-old daughter, and the newest addition, a 1-year-old son. He enjoys his time with his family taking adventure trips to the "Inche'Wana" (Columbia River), and exercising his treaty hunting and fishing rights.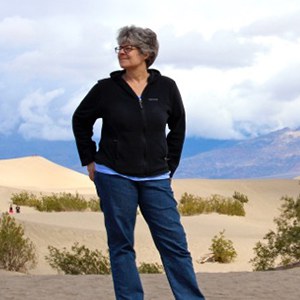 Inge Wells is a Senior Assistant Attorney General in the Appellate and Civil Enforcement Divisions of the Oregon Department of Justice. Inge grew up in the Willamette Valley, and attended law school at the University of Washington. She and her husband purchased a home in Camp Sherman in 2002, and moved there full-time in 2012. Inge began working in DOJ's Bend office in 2016, and is thrilled to be able to live and work in Central Oregon. She enjoys camping, hiking, and spending time outdoors.
Advisors
Robert Brunoe, Allen Dobbins, Mike Hollern, Jim Knapp, and John Shelk.
Stewards
Cal Allen, Tom Atkins, Don Bauhofer, Mary Campbell, John Casey, Judy Clinton, Mike Cutting, Bob Evans, Dwain Fullerton, Gus Gustafson, Collins Hemingway, Mary Krenowicz, Warner Munro, Jerry Norquist, Larry Weinberg, Glenn Willard, and Bob Woodward.