The Deschutes Land Trust is extremely fortunate to have a wonderful pool of very talented Walk + Hike leaders. From self-taught naturalists to professional biologists, they promise to help you connect with the wonders of nature.
Michelle Abbey is a Registered Dietitian Nutritionist and Certified Forest Bathing Guide. A recent transplant to Bend, she is very excited to learn all about the land of her new home. She was a volunteer hike leader for the San Diego Natural History Museum, and runs her own nutrition and forest bathing practice. As a guide, she leads individuals and groups into nature to experience a deep sensory connection to the natural world, and ultimately, themselves. Her passion for this work stems from her own deep love and connection to the outdoors. In her free time she can be found hiking, meal prepping, training for her next event, planning a social event, reading about nutrition, nature, or psychology, or planning the next outdoor adventure with her husband, Derek.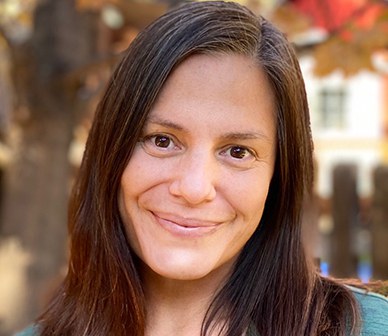 Natasha Bellis is the Deschutes Land Trust's Conservation Director. She holds an M.S. in Environmental Studies from the University of Montana and a J.D. from Lewis and Clark Law School with a certificate in Environmental and Natural Resource Law. She is an active member of the Oregon State Bar. Prior to joining the Land Trust, Natasha restored streamflow to Oregon's rivers and creeks with the Deschutes River Conservancy and The Freshwater Trust. Natasha lives and works in Bend and enjoys exploring Central Oregon by bike, skis, and boat with her partner and two kids.








Peter Cooper is the Deschutes Land Trust's Stewardship Associate. Prior to joining the Land Trust as a staff member, Peter stewarded lands in Western Oregon. Peter enjoys exploring new places, backpacking, skiing, cooking, going to see live music, paddleboarding, flying his drone, and enjoying time with his cat Ramsey. 
Mary Crow has been hiking and skiing the Cascades throughout her life. After working for Intel for 16 years, then retiring as a school librarian, she wanted these magnificent mountains to continue to be a central part of her life. She moved to Sisters in 2002 in order to pursue her passions: skiing, hiking, birding, kayaking, and gardening. Taking care of this land, and helping people understand why we must all become good stewards our environment is now Mary's primary focus. With this focus in mind, she has become a Certified Master Naturalist, and hopes to put her training to use on her hikes. The Land Trust's mission of preserving and caring for the land has become a perfect fit for her. Mary leads wildflower and nature hikes for the Land Trust.
Amanda Egertson is the Deschutes Land Trust's Stewardship Director.  She manages the Land Trust's Preserves and monitors our other conservation projects. Amanda and her husband Chris moved to Bend in 2003 and spend as much of their free time as possible outside—hiking and skiing the Cascades, tidepooling along the coast, and exploring the Oregon deserts. Amanda has an M.S. in Animal Ecology (with a research focus on songbirds and butterflies), and extensive experience in outreach and interpretation.
Chelsea Ernst is a Co-Founder and Educator at Nighthawk Naturalist School. She has spent her adult life teaching and learning in many fields of environmental work, including stream ecology research, herpetology, wildlife monitoring, migratory bird banding, invasive plant removal education, habitat restoration, backcountry trip guiding, youth science education, forest schooling, permaculture and ethnobotany, natural building, and teaching wilderness survival skills to all ages. She loves the complexity of natural studies and that you can learn your entire life and never know it all. She has a special fondness of plants, their roles in ecosystems, and how humans have interacted with them throughout all of human history.
Jason Grant is the Deschutes Land Trust's Restoration Specialist. Jason attended Oregon State University, where he received his B.S. in Fisheries and Wildlife Science. Over the past 11 years, he has worked in the fisheries field for two tribal agencies in Oregon--first for the Confederated Tribes of the Umatilla Indian Reservation and then for the Confederated Tribes of Warm Springs. Jason brings experience in floodplain restoration project management, natural resources interdisciplinary team project analysis, building and maintaining partnerships, and agency participation in technical review teams. He is a native Oregonian with a deep passion for land conservation in the state. Away from work, you might find Jason fly fishing, gardening, coaching his kids' sports teams, or hiking with his family.







Gary "Gus" Gustafson is a senior environmental and regulatory consultant living in Camp Sherman. A native Oregonian, Gus is a certified Oregon Master Naturalist who enjoys beginning each day at home with a walk along the nearby Metolius River. A former state agency director and elected city mayor, Gus now volunteers time as a hike leader for the Deschutes Land Trust and serves on several boards and commissions. Gus is particularly interested in identifying, observing and photographing the wide variety of fish and wildlife species found in central Oregon.
Jim Hammond moved to central Oregon in 2004 and has since been involved with the Land Trust as a volunteer and supporter. Participating in star parties at the Sisters High School, Jim has joined other amateur astronomers in providing opportunities for the community to learn about the night sky and the wonders of our galaxy and solar system. Jim is a retired physicist and has been interested in astronomy since he watched, at a very young age, his father build a telescope. Jim leads the Land Trust's star parties which currently take place at Rimrock Ranch--a private ranch with dark skies and open views in all directions.
Megan Hill has been studying Central Oregon fisheries since 2007, currently working as the fisheries manager for Portland General Electric's Deschutes Hydroelectric Project. Throughout her career at PGE, Megan has had the opportunity to snorkel, conduct juvenile fish surveys, and locate spawning salmon and steelhead in the Metolius River and Whychus Creek.  When not at work, Megan also enjoys spending time outside. Lately, she has been enjoying experiencing our natural areas in a whole new way with her 3 year old and 9 month old.
Kolby Kirk is a writer, artist, photographer, and outdoorsman.  His passion for the outdoors inspired him to become an Oregon Master Naturalist in 2012.  He never hikes without carrying a journal to record both personal reflections as well as the natural wonders encountered along the trail. In 2011, he hiked for five months on the Pacific Crest Trail covering most of California by foot.  
Derek Loeb is a retired geophysicist with 26 years of experience in petroleum exploration and production. After moving to Bend in 2011, he is now enjoying learning more about the geology of the Pacific Northwest. In addition to the local geology, he is also fascinated by the history, archeology, flora and fauna of Central Oregon and how they are all related. Volunteering with the Land Trust gives Derek an opportunity to enjoy, share, and help preserve the many natural wonders that make Central Oregon such a great place to live or visit. 


Martha Lussenhop moved to Sisters in 2005 after dreaming of living in the mountains of the West for decades. Martha has a diverse background that includes a master's in zoology, teaching middle school, taking school groups on tours of prairies and woodlands, and leading workshops for children and adults at the Field Museum in Chicago. Martha's home overlooks Indian Ford Meadow Preserve and she is becoming well acquainted with the birds along Indian Ford Creek.  Martha leads a variety of walks and hikes for the Land Trust.
Michele McKay has a life-long interest and love of nature, natural history, wildness, and conservation. She moved to Bend in 1989 and served as Executive Director of The Environmental Center's management team while raising a family, sitting on local citizen advisory committees, and putting energy into environmental causes. Her passion persists, and she recently completed the OSU Master Naturalist field course program. She enjoys being outdoors, hiking, skiing, paddling, traveling, learning, contributing, and sharing her love of the land with others.








Daniele McKay is a geologist who studies recent volcanic activity in Central Oregon and teaches at the University of Oregon. She has lived in Bend for over 20 years, during which she worked for several conservation groups and as an interpretative ranger. She grew up hiking and skiing in the Cascades, which inspired a life-long passion for exploring wild areas. This prompted her to travel the world extensively and ultimately to examine natural processes in detail by studying geology. In addition to contributing to the scientific understanding of volcanoes in Central Oregon, Daniele also enjoys sharing her interest in science with people of all ages. She has taught classes and led field trips for children and adults, including geology hikes for the Land Trust.
Michelle McSwain graduated from the University of Wisconsin-Madison with a degree in Geology and holds a Master's degree in Hydrology from the Forest Engineering Department at OSU. Her 30-year career with federal land management agencies began in Vale, Oregon. She moved to Prineville more than 20 years ago to work for the BLM and finished her career as an Assistant Field Manager for the BLM, leading the programs of Range, Fisheries, Hydrology, Wild Horse and Burros, Burned Area Rehab, and GIS. She serves on the Land Trust's Board of Directors.









Jane Meissner was raised in Central Oregon and spent much of her childhood outside with her mother learning about wildflowers. She is a certified Oregon Master Naturalist who taught hiking, skiing, and snowshoeing for COCC for 20 years. In her free time, Jane likes to watch wildflowers while hiking and backpacking and in the winter she loves to backcountry ski. Jane can be found leading a variety of hikes for the Land Trust with a special fondness for the world of wildflowers.
David Miller is a retired electrician whose hobbies include classic guitar, writing fiction, and the study of native plants. He was a docent for six years at the Regional Parks Botanic Garden and more recently at the Audubon Canyon Ranch in California. Since moving to Sisters he has been fascinated by the flora on both sides of the Cascades. He likes to enliven his wild plant tours with stories, history, Indian uses, principles of botany, and even some evolutionary theory. He is currently working on a novel called The First Bird.
Bill Mitchell started hiking and backpacking on the Appalachian Trail while in college in Virginia and Tennessee. After moving to California he took up botany, birding and everything wild while working as a field researcher for the state of California and the National Park Service. He moved to Bend in 2003 and started volunteering with the Deschutes Land Trust soon after we purchased the land for the Metolius Preserve. Bill is our resident digital photo librarian, as well as all-around volunteer, surveying everything from birds to weeds, helping on restoration projects and even stuffing envelopes in the office. In his spare time he hikes, backpacks, snowshoes and kayaks to learn more about the flora and fauna of Oregon. Bill is a certified Oregon Master Naturalist.
Carol Moorehead has felt a sense of place in central Oregon since moving here in 1976. Her love of the natural world began with a college Alpine Biology class set in the Washington Cascades. Although her career in education, spanning over 30 years, kept her inside classrooms, offices or meeting rooms, she always sought solace in nature. Exploring the Cascades and surrounding areas through self-study until 2013 when she participated in the Volunteer Master Naturalist program, broadening and deepening her appreciation of our natural world. When not hiking among wild flowers, you will often find her on her bicycle where she recently completed a 3200-mile cycling adventure spanning the southern United States.
Leslie Olson has lived in Bend for more than 30 years, spending the last seven as a leader for Bend Parks and Recreation. All of that face time with flowers and birds has stimulated her ongoing enjoyment of all things natural.
Maret Pajutee has been an ecologist for the Forest Service for the past 20 years, and is an expert on the rare Peck's penstemon, a wildflower found only in Sisters and nowhere else in the world.
Susan Prince is a retired teacher who has spent much of her career enjoying practicing outdoor education with children. Mentored by Jon Young, a cultural anthropologist, and gifted naturalist, Susan developed a passion for connecting people with nature thru "bird language" and the "art of questioning". When we are able to quiet our busy minds, enter the wild as the animals do and really observe: magic happens!
Mark Reed is a retired forestry instructor who has recreated in central Oregon for the past 45 years, and has lived in Sisters since 2013. He enjoys learning about the diverse landforms and ecosystems on Land Trust Preserves, and sharing what he has learned with fellow outdoor enthusiasts and land trust supporters.
Kathleen Riopelle has a life-long passion for the out-of-doors and the natural world. Beautiful landscapes and wildlife never fail to inspire me. I'm filled with awe and joy as nature unfolds in front of me as I travel along pathways through the forest. I am a Master Naturalist through the OSU program and my interests include watercolor painting, hiking, backpacking, camping, kayaking, canoeing and the Native American flute.










Jan Rising moved to Central Oregon in 2006 for clean rivers and wonderful hiking opportunities. While exploring the nearby Cascades and high desert, Jan's casual love of birding became a more avid passion. She is now actively involved with the East Cascades Audubon Society and has been assisting with Land Trust Bird Walks at Camp Polk and Indian Ford meadows since 2012. She loves to introduce people to the world of birding.
Sara Rose is a biologist and volunteer coordinator for the Northwestern Bat Hub at OSU Cascades. She has spent the last two summers traveling across Oregon listening for bats in all kinds of habitats. Before starting with the Bat Hub, Sara worked on wildlife research projects in the Deschutes National Forest and in Borneo. In her spare time, she serves as the social chair for Central Oregon Womxn in Conservation, a community organization. 
Mike Sigler is a retired marine biologist with over 30 years research experience in Alaska, specializing in marine ecology and fisheries stock assessment. Mike now teaches marine ecology at the Shoals Marine Lab in the Gulf of Maine during the summer and nordic skiing to kids during the winter. Mike enjoys mountain biking, kayaking, nordic skiing, ice hockey, hands on teaching and being outside.
Tom Wainwright is a naturalist and conservationist. He has a MS in forest ecology and a PHD in fishery science. He spent many years in salmon conservation and has a deep passion for local botany.












Carol Wall's background is as an academic and an anthropologist who taught cultural anthropology and linguistics for many years at the University of California, Davis where she was a professor as well as a dean and vice chancellor. Today she enjoys retirement thoroughly, traveling widely, spending time in the outdoors, and continuing a 40 year hobby of bird watching. She has taken as her dedicated avocation to know and understand the natural world in this place she has come to call home. She has done this through reading and learning from others involved with the Land Trust. More recently the Oregon Master Naturalist program has broadened her understanding and her horizons. Carol is a certified Oregon Master Naturalist.
Ben Ward hails from the mountains of Northern California where he split his childhood years between the Sierra Nevada foothills and the Redwood giants of Humboldt County. For the past 15 years, Ben has in some capacity worked in the outdoors, most recently as a field biologist for an environmental consulting firm, where he conducts mostly bat and bird surveys during summer field seasons. For many years he worked as a backpacking guide, outdoor educator and as a program director for a teen adventure camp in the Santa Cruz mountains. In 2018 he relocated to Bend to finish his degree in Natural Resources at OSU Cascades. Ben is excited to help people connect with the land on which we live and along with a passion for ecology, he loves to rock climb, trail run, fly-fish, travel and read the occasional good poem. 
Mary Yanalcanlin is a Montessori teacher with nearly 30 years of experience. An active member of the East Cascades Audubon Society, Mary volunteers to lead Audubon's education programs for kids and their parents. In her spare time Mary enjoys birding, exploring nature and taking photos. Mary has lived in Bend for five years and thoroughly enjoys our rivers and streams after 20 years in the arid southwest. Mary is currently working to complete her Oregon Master Naturalist certification.
Jen Zalewski is the Deschutes Land Trust's Stewardship Manager. Jen leads mountain bike, beaver, and birding tours for our Walks + Hikes Program. Jen enjoys skiing, canoeing, surf trips at the coast, fussing over her landscaping, and trying to get things to grow in her garden.
Join the Deschutes Land Trust on one of over 150 free, guided Walks and Hikes from April - November.
Interested in Volunteering? Learn more about how you can get involved here.