Thanks to those of you who tuned in to our March 2nd Nature Night, Is Climate Anxiety Bad for the Planet? It was an informative and inspiring presentation from Dr. Sarah Jaquette Ray. If you missed it or would like to see parts of it again, you can watch a recording of her presentation below.





Dr. Ray began by sharing how pervasive climate anxiety and eco-grief are in our culture. She discussed negative feedback loops and the feeling of hopelessness and nihilism that her students have felt. Dr. Ray then looked at the neuroscience of acute and chronic (climate) anxiety and what we, as humans, need in order to be resilient. Dr. Ray provided a checklist for cultivating resilience for climate justice and encouraged the audience to put the checklist on their fridges.

Finally, Dr. Ray suggested we need to ask ourselves the following questions: what would it take to imagine thriving in a climate-changed world? What would it take to desire, rather than fear, the future?
Is Climate Anxiety Bad for the Planet? Resources
Dr. Ray mentioned the Lancet article, Climate anxiety in children and young people and their beliefs about government responses to climate change: a global survey.
Learn more about a few of the activists, climate researchers, scientists, and poets mentioned in Dr. Ray's talk: Glenn Albrecht, Joanna Macy, Leslie Davenport, Bob Doppelt, adrienne maree brown, bell hooks, Ross Gay, and Katharine Hayhoe.
Get more details on the Climate Wisdom Lab co-facilitated by Dr. Ray through Emergent Resilience.
Figure out what you can do to help address the climate crisis through Dr. Ayana Elizabeth Johnson's venn diagram, then read the All We Can Save anthology.
Watch the film Don't Look Up on Netflix.
Pick up a copy of Dr. Ray's latest book, A Field Guide to Climate Anxiety: How to Keep Your Cool on a Warming Planet at your local bookstore.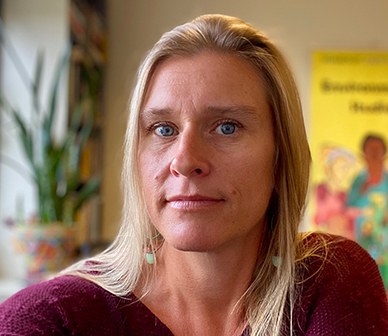 About Dr. Sarah Jaquette Ray
Dr. Sarah Jaquette Ray is Chair and Professor of Environmental Studies at Cal Poly Humboldt. Her first book, The Ecological Other: Environmental Exclusion in American Culture (2013), explores the environmental emotion of disgust and how it shapes the environmental movement's relationship with social justice. Her second book, A Field Guide to Climate Anxiety: How to Keep Your Cool on a Warming Planet, explores the role of emotions in climate justice activism, and was published in 2020. Sarah speaks and teaches extensively on the topics of climate anxiety, youth activism, and environmental justice. She has published on climate anxiety in the LA Times, The Scientific American, The Cairo Review of Global Affairs, Zocalo Public Square, and other venues. Sarah also offers a Climate Wisdom Lab workshop through Emergent Resilience for organizations seeking to enlist emotional tools for climate justice, and is working on an edited collection for educators, An Existential Toolkit for Climate Justice Educators.
 Learn more: