Thanks to those of you who came out to our March Nature Night, Living in the Human Age! It was an educational and engaging presentation from retired National Geographic editor of Environment, Dennis Dimick.

 Enjoy some interesting takeaways and additional resources from his talk below.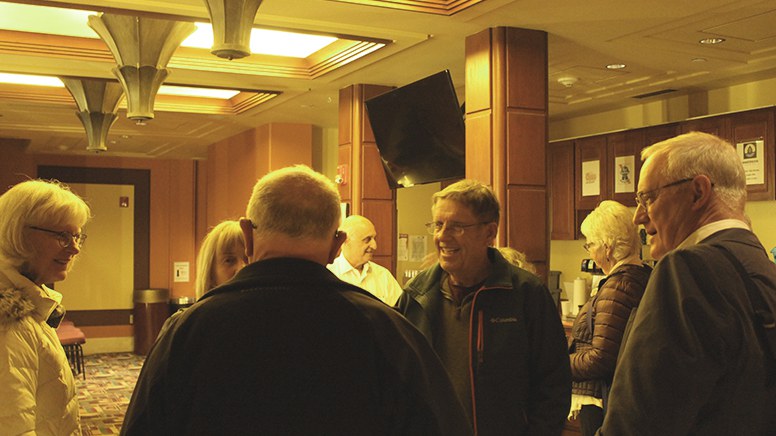 Presentation summary:
Dennis shared his thoughts on how the land has been important for people living in and around Central Oregon. Whether as hunters and fisher people, ranchers, farmers, or spending time recreating, the photos Dennis shared showed that people connect and are influenced by the land. Today, however, we are not only being influenced by the land, but we are also influencing the land. This influence brings us into the Anthropocene or the age of humans.
The Anthropocene is a new geologic era defined by the impact humans are having on the planet. During his time living in the Pacific Northwest and working at National Geographic, Dennis has seen the influence of people on the land at planetary scales. He shared how these changes have allowed many in our world to grow, to be more mobile, and to thrive. But as Dennis presented photos demonstrating the scale of our impact, he urged that we think also about the delicate balance of our planet.
"We have transformed the planet largely in service for ourselves."
Humans have transformed rivers, glaciers, skies, rocks, forests all for more food, more people, and more growth which all require more energy.
This increase in energy has come at a cost:
We have transformed most of the major rivers in the world.
Humans and large agricultural livestock now account for 96 percent of mammal biomass.
18 of the 19 hottest years on record have occurred since 2001.
The hottest five years on record have been the last five.
Over 90% of survey sites in the western United States are seeing a decline in snowpack.
What can we do?
Humans have made massive leaps forward in innovation to get us where we are today. Now, Dennis says, "it's an all hands on deck challenge we are facing." As we look toward the future and the health of our tiny planet and the billions of people inhabiting it we have to take action. We can be led by new leaders, be inspired by our young people, take action; but we have to do things now.
Here are 11 things Dennis shared from Dropdown to start with:
Refrigeration Management 
Support projects and work individually to manage the refrigerants used. Refrigerant emissions are culprits for depleting our ozone layer, it is important to properly dispose of refrigerants after they are used.
Onshore Wind Turbines 
Wind energy is a competitive and often less expensive alternative to coal-generated energy with low fuel costs and no pollution, and it is proposed that wind energy will be the least expensive source of energy within a decade.
Reduce Food Waste 
Focus on maximizing our resources by minimizing our waste. As much as 40% of the food produced in the United States is never eaten, and we waste enough food to fill the Rosebowl Football Stadium every day.
Plant-Rich Diet 
Eat lower on the food chain. The grains, energy, water, and land needed to provide a plant-based diet are one-fifth of those needed to support the production of foods higher on the food chain.
Tropical Forests 
Supporting projects and leaders committed to restoring tropical forests may sequester as much as si gigatons of carbon dioxide per year.
Educating Girls 
Supporting projects and leaders committed to educating our world's girls is a powerful lever to avoid emissions by curbing population growth and supporting innovative women and leaders. Educating our girls provides them with the agency and power to realize higher wages, greater upward mobility, increased economic contributions, and empowers women to actively manage their own reproductive health.
Family Planning 
Securing women's rights globally to voluntary, high-quality family planning will have powerful impacts on the health, welfare, and lives of women and children. This will affect greenhouse gas emissions by giving women choice and honoring their agency by providing access to reproductive healthcare.
Solar Farms 
The sun provides energy each day. Public investment, tax incentives, technology evolution, and manufacturing force have brought the cost of solar down to sixty-five cents per watt. By increasing our investments in solar, we can capture this energy even more effectively.
Silvopasture 
By supporting farmers and ranchers who integrate trees within their pastures we can effectively counteract livestock methane emissions. 
Rooftop Solar 
By integrating solar at household and building levels electricity production can accelerate in low-income areas giving access to clean and affordable electricity that can work to eliminate poverty.
Regenerative Agriculture 
Supporting farms that invest in their soil eliminates our need for chemicals and synthetic fertilizers. By investing in soil through crop rotations and with diverse cover crops we enhance and sustain the health of our land restoring carbon contents and increase its productivity.
The health of our tiny planet is at risk. What will we do with what we know?

Additional resources:
About Dennis Dimick:
Having grown up on a Willamette Valley sheep and hay farm near Portland, Oregon, Dennis is the son of fisheries biologist parents and spent many memorable weeks in his youth and beyond camping, fishing, and hunting in the Oregon outdoors. After studying agriculture and agricultural journalism at Oregon State University and the University of Wisconsin-Madison, Dennis in 1974 began working at newspapers in Corvallis, McMinnville, and Pendleton, Oregon, Walla Walla, Washington, and Louisville, Kentucky. In 1980 he began a 35-year career at the National Geographic Society in Washington, D.C., where he served for more than a decade as the magazine's environment editor. His work at National Geographic focused on the collision between human aspiration and the planet, and he helped lead the creation of major projects on energy, climate change, global freshwater, world population, and the future of food security. He was the 2010 Governor Tom McCall Memorial Lecturer at Oregon State University and the 2018 Robert Ruhl Lecturer at the University of Oregon.
 Learn more about: