Thanks to those of you who came out to our March 22nd Nature Night, Behind the Scenes With Black Bears. Dana Sanchez gave a great presentation full of fascinating information about black bears and their habitat, and what we can do to avoid human-bear conflict in urban and backcountry areas.

 Enjoy the slides from Dana's presentation below. Then, scroll down for links to resources that will help you learn more about black bears and how to keep them safe.


If you have trouble viewing the slides below, click here.

What can you do to keep bears safe and avoid human-bear conflict? (see the resources below for more ideas)
Keep pet food indoors. Feed pets in the house, garage or enclosed kennel.
Hang bird feeders from a wire at least 10 feet off the ground and 6 to 10 feet from the trunk of tree.
Remove fruit that has fallen from trees.

Take garbage with you when leaving your vacation home.
Keep barbecues clean. Store them in a shed or garage.
Store livestock food in a secure place.

Additional Resources: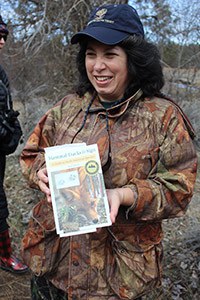 Books about tracking wildlife:
Mammal Tracks & Sign; A Guide to North American Species, by Mark Elbroch.
Wildlife of the Pacific Northwest; Tracking and Identifying Mammals, Birds, Reptiles, Amphibians and Invertebrates, by David Moskowitz.
Dana Sanchez
Dana Sanchez is an Associate Professor of Fisheries and Wildlife and an Extension Wildlife Specialist at Oregon State University in Corvallis. She holds a PhD in natural resources from the University of Idaho and her research focuses on North American mammals from the very small to the very large. Dana also explores the effectiveness of online learning and how to broaden participation in science professions among members of underrepresented groups. Dana has lived in the West most of her life and in her spare time enjoys gardening and training her dog, a Nova Scotia Duck Tolling Retriever.
Learn more about Central Oregon Wildlife: