Wet Species:
Showy Milkweed (Asclepias speciosaia)

As its name implies, this native milkweed has showy rose-purple flowers in late summer. Leaves are widely oblong with the plant growing 18-36 inches tall. Milkweed likes sun and can handle less water. It grows via rhizomes, so be careful because it will spread! Milkweed attracts hummingbirds, butterflies (it's a host plant for monarchs!), moths, and native bees, including the western bumble bee (a species of conservation concern in the West).

Bloom time: Summer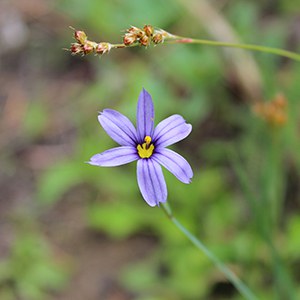 Blue-eyed grass (Sisyrinchium idahoense)
Native iris, with small purple flowers that bloom in early summer. Full sun to partial shade, 8-12" tall. Needs moist to wet soil.

Bloom time: Early summer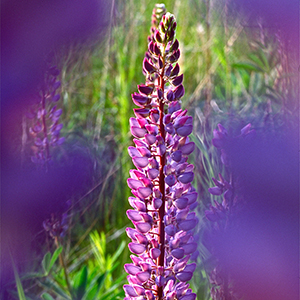 Large-leaved lupine (Lupinus polyphyllus)

Showy native with tall purple flowers in
early summer. Up to 48" tall, full sun to partial shade. Needs moist to wet soil.

Bloom time: Early summer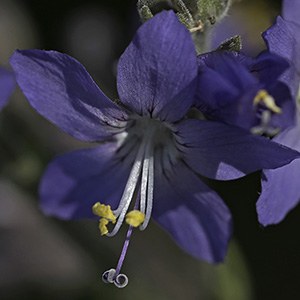 Jacob's ladder (Polemonium occidentale)

Bright blue flowers top this native that blooms early-midsummer. Up to 40" tall, full sun to partial shade, moist soil.

Bloom time: Early-midsummer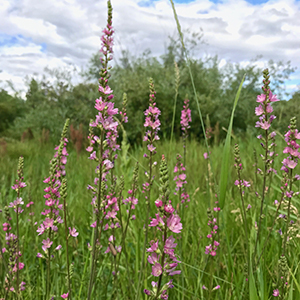 Oregon checkermallow (Sidalcea oregana)
Tall native with pink flowers on spires that bloom in summer. Grows 2-4' tall. Plant in sun to partial shade, moist soil.
Bloom time: Summer


Dry Species: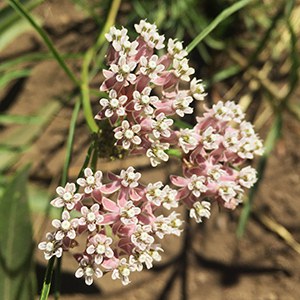 Narrowleaf Milkweed (Asclepias fascicularis)

Central Oregon's other native milkweed, it has narrow leaves like its name suggests. It grows 12-36 inches tall and has white to lavender colored flowers. Plant it in full sun and well-drained soil. It is drought tolerant. Narrowleaf milkweed also spreads via rhizomes, so be careful where you decide to plant it! Native bees love this milkweed! Planting both types of milkweed together is also beneficial to monarchs.

Bloom time: Summer - fall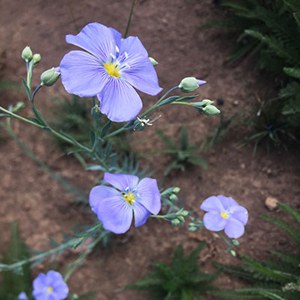 Lewis Flax (Linum lewisii)
Other common names: Western blue flax

This spring blooming blue-purple flower is a showstopper! Flax forms a mound of densely clustered, thin stems that grow 8-24 inches tall. Lewis flax prefers sun and moist to dry, sandy or rocky soil. It makes an excellent choice for rocky gardens and containers. They will self-sow once established. Lewis flax attracts butterflies and bees.

Bloom time: Late spring - early summer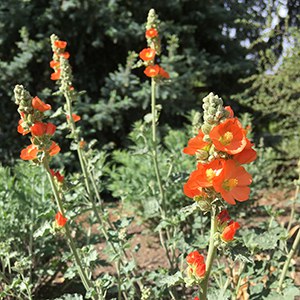 Munro's Globemallow (Sphaeralcea munroana)
Other common names: Orange globe mallow

This showy native has beautiful bright orange blooms and sage-colored to dark green leaves. Grows 8-32 inches tall. It does well in dry or rocky soils, especially volcanic soils. Globemallow attracts many species of bees, including some which require pollen and nectar only from this plant!

Bloom time: Summer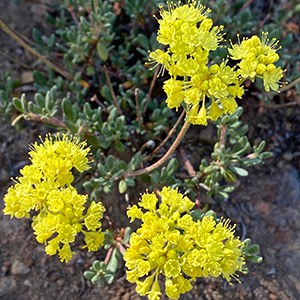 Sulphur buckwheat (Eriogonum umbellatum)
Bright yellow clusters of blooms on this 3-16" tall native. Full sun, dry soils. Blooms summer through fall, sometimes turning rusty, orange-red as they age.

Bloom time: Late summer - fall



With these suggestions, you can have a beautiful, colorful garden that lasts the entire season and is beneficial to our pollinator friends. Happy gardening!

Learn more: