Monarch Butterfly Conservation Program Timeline:
2018: The Land Trust's stewardship director, Amanda Egertson, attended a rearing workshop to learn how to responsibly raise monarch butterflies. Later in the summer, Amanda released adult monarch butterflies at Camp Polk Meadow Preserve and other areas in Central Oregon.

January 2019: Amanda Egertson gave a Nature Night presentation on Magnificent Monarchs to a packed Tower Theatre. The presentation helped remind us how much our communities care about these iconic butterflies.

April 2019: The Land Trust launched our Monarch Butterfly Conservation Program. Through a partnership with US Fish and Wildlife, we began to distribute native showy milkweed seeds to our local community, encouraging them to also create monarch habitat in their neighborhoods.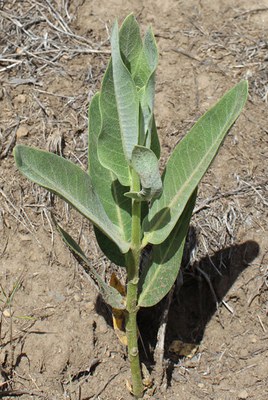 Summer 2019: The Land Trust partnered with Westside Village Magnet School in Bend, Sisters Middle School, and Barnes Butte Elementary School in Prineville to responsibly rear, tag, and release 15 monarch butterflies. Land Trust staff responsibly reared, tagged, tested, and released 40 monarch butterflies. Most were released at events in Bend, while one was released at Camp Polk Meadow Preserve and two were released at Land Trust protected Rimrock Ranch. The Land Trust also worked with Monarch Advocates of Central Oregon, Discover Your Forest, and Clearwater Native Plant Nursery to responsibly rear, tag, and release another 20 monarchs. All of this tagging data was sent to Dr. David James at Washington State University to help with his monarch butterfly research. In addition, we distributed more than 60,000 milkweed seeds and 1,500 Butterfly Brigade stickers to the public. The Land Trust also led butterfly tours on our Community Preserves to help increase awareness and stewardship of these beautiful creatures.

Fall 2019: We partnered with Bend Parks and Recreation District, the Old Mill District, and COCC to plant 600 native milkweed plants on their properties. An additional 400 milkweed plants (a mix of showy and narrowleaf) were planted at Land Trust Preserves. On October 29th, a monarch that was released by the Land Trust (known as 'Flamingo') was spotted at the California overwintering grounds.

January 2020: The Land Trust participated in the Western Monarch Summit in southern California. Amanda Egertson presented on Western monarchs in Central Oregon and was interviewed by local TV news stations and newspapers.

Summer 2020: The Land Trust helped increase awareness and stewardship of monarch butterflies by offering presentations through our virtual Walks + Hikes and the Deschutes Public Library's virtual offerings.

Fall 2020: The Land Trust partnered with groups in Madras, Warm Springs, and Prineville to plant monarch gardens with milkweed and other pollinator-friendly plants. In addition, Deschutes Brewery worked with us to create a couple of monarch gardens that included pollinator habitat information signs. Both gardens are located at the brewery's headquarters. An additional 130 milkweed plants were added to Land Trust Community Preserves. The Land Trust continued to hand out milkweed seeds to community members through Central Oregon, mailing more than 14,500 milkweed seeds!

Fall 2021: The Land Trust launches a statewide effort with Western Monarch Advocates to build new Western monarch butterfly habitat by planting more native milkweed and other pollinator plants in Central Oregon, Southern Oregon, the Umpqua River Valley, and in Portland. This effort includes distributing free native milkweed and other native pollinator-friendly plants to be planted in backyard gardens, schools, and local parks throughout Central Oregon. Learn more. Through this initiative, we partnered with community groups in Bend, La Pine, Prineville, and Warm Springs. The Land Trust also continued its program to hand out milkweed seeds to the Central Oregon community, providing more than 18,000 milkweed seeds!

Winter and Spring 2022: Native milkweed seed continues to be distributed to our community. Are you interested in planting some showy milkweed in your part of Central Oregon? Click here to have us mail you milkweed seed packets!

Learn more about our overall monarch conservation program.