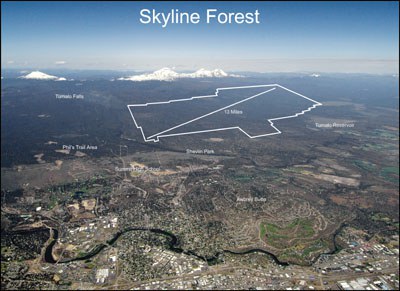 The Land Trust has been working since 2004 to conserve a massive block of land near Bend and Sisters, Oregon called Skyline Forest. This 33,000 acre tree farm has historically been known as the Bull Springs Tree Farm, and is one of several commercial timberlands in central Oregon at risk of conversion to residential development.

Surrounded by state and federal lands, Skyline Forest contains important wildlife habitat, tremendous recreation opportunities and protects the scenic green foothills that set off the Central Oregon Cascades.

Over the years, local residents, businesses and elected officials have strongly and consistently supported the protection of Skyline Forest, and wildfires in the forest in 2010 and 2014 underscored the risk of putting homes there. If protected, Skyline Forest would be an amazing community asset for Central Oregon, protecting wildlife habitat, scenic views, and recreational opportunties.

Currently, the Land Trust is leading leading a new effort to develop a community vision for Skyline Forest. Together with a coalition of community groups, we are working to create a robust, community-wide effort that engages local organizations, leaders, and community members in creating a shared vision for Skyline Forest's future conservation and management. Learn more about this visioning process and the community-wide survey.

Together we can ensure that we find a conservation solution to permanently protect this treasure of Central Oregon. Join us!


Learn more about Skyline Forest: