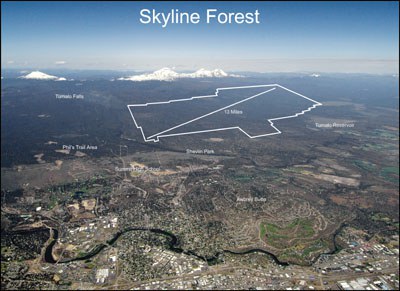 The Land Trust has been working for years to conserve a massive block of land near Bend and Sisters, Oregon called Skyline Forest. This 33,000 acre tree farm has historically been known as the Bull Springs Tree Farm, and is one of several commercial timberlands in central Oregon at risk of conversion to residential development.

Surrounded by state and federal lands, Skyline Forest contains important wildlife habitat, tremendous recreation opportunities and protects the scenic green foothills that set off the Central Oregon Cascades.

Over the years, local residents, businesses and elected officials have strongly and consistently supported the protection of Skyline as a sustainably managed working forest. Recent fires only underscore the risk of putting homes in Skyline Forest. If protected, Skyline Forest would be the Northwest's largest community forest devoted to sustainable production of forest products, jobs, wildlife, scenic views, and recreation.

Skyline Forest is currently owned by Whitefish Cascade Forest Resources, LLC, a Singapore-based investment group, which has maintained the property as a working commercial forest. The Land Trust continues to pursue conservation solutions for Skyline Forest. Like all conservation transactions, a deal only happens when the landowner is ready. While Skyline Forest is not yet protected, the Deschutes Land Trust remains committed. 


Learn more about Skyline Forest: