This month the Land Trust is hosting a Nature Night presentation on sense of place. But what, you ask, is sense of place?

The simple words themselves suggest understanding where you live. On the surface that may mean understanding your local geography—where are you on the map? But the concept of sense of place is deeper than that. It's more than the map. It's what is under the map, who lives on the map—human and wild, what human and natural history influenced the map, and the future the map holds.

The Dictionary of Human Geography defines sense of place as "the attitudes and feelings that individuals and groups hold vis a` vis the geographical areas in which they live. It further commonly suggests intimate, personal and emotional relationships between self and place" (Gregory, Johnston, Pratt, Watts & Whatmore, 2009, p. 676).  

It is the intimate and personal connections that drive sense of place. It means truly inhabiting the place where we live. Digging deep to understand the natural and cultural history of a place and then committing to making that place better. It means stepping out of the busyness of our daily lives to truly connect to our neighbors, the earth, and our local community.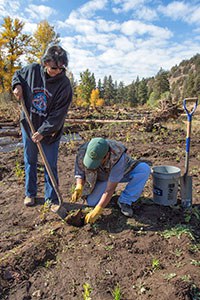 In our modern, fast-paced era, we are becoming less and less connected to place. We move more often to new communities. We stay inside, and we "connect" via online communities. We are beginning to lose our sense of place, and our communities—and the earth—are suffering for it.

So how do we re-invigorate our sense of place? The first step is to understand sense of place and how it applies to our home in Central Oregon. That's why the Land Trust invited author John Elder to speak for our September Nature Night. John has a great deal of experience teaching and talking about sense of place. His presentation will focus on place and affiliation and offer a vision of nature and culture, citizenship and stewardship. We hope you'll join us to learn more!
You can also read up on sense of place with the following seminal works of environmental literature:
Carson, Rachel. The Sense of Wonder
Elder, John. Reading the Mountains of Home
Leopold, Aldo.  A Sand County Almanac 
Muir, John. The Mountains of California
Nabhan, Gary Paul & Trimble, Stephen. The Geography of Childhood
Orr, David.  Earth in Mind and Ecological Literacy
Silko, Leslie Marmon. Ceremony
Snyder, Gary. The Practice of the Wild
Sobel, David. Place-Based Education
Stafford, Kim. Having Everything Right
Thoreau, Henry David. Walden and Other Writings
Williams, Terry Tempest. Refuge
Wilson, Edward O. Biophilia and The Diversity of Life