by John Schubert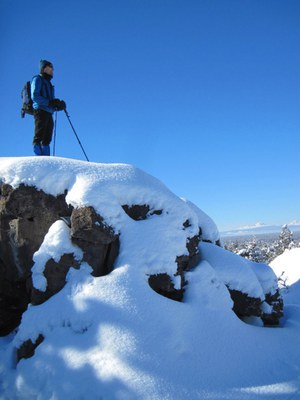 At the Tower Theatre on January 31, I'll be speaking about "My Life on Trails," as part of the Deschutes Land Trust Nature Nights series, but far more important is to use this blustery winter to prepare for your life on trails! In this post I'll share some websites to help you do just that, as well as suggest some great books and videos to curl up with this winter.

Leave No Trace
With Central Oregon's population growing so rapidly, it is essential that we learn to have less impact, so that our trails and wild lands remain as pristine as possible. I encourage a quick review of Leave No Trace principles, or LNT, as many refer to it. I am a big fan of Dave Collin's Clever Hiker website and suggest his lively LNT video. From there you can link to the rest of his insightful videos, including Staying Found, Snake and Cougar Safety, and many others. Though Dave's focus is on backpacking, most everything he shares is applicable to day hiking.

Another great series of very short videos on best LNT practices is available from Friends of Cedar Mesa, stewards of our newest National Monument, Bears Ears NM in SE Utah!  Though the videos focus on Utah slick rock, the principles apply equally to the Oregon high desert and canyons, such as lower Whychus Creek — as well as our forest and alpine landscapes. Take a look at all the incisive videos, especially "Leave All Artifacts" and "Avoid Building Cairns". My favorite is about trekking poles! In addition to the damage that the metal tips can do to archeological sites, unless used carefully, they can also kill plants along trail edges and loosen soil, thus causing erosion and trail widening.  Fortunately there is a simple solution!

The Ten Essentials
Another great way to prepare for the upcoming hiking season is to make sure your pack is ready to go with all the essentials for a safe outing. I think of the Ten Essentials as whatever I'd like to have if I unexpectedly have to spend a night out, especially if I or someone in my group (or another hiker I've come across) is injured. In my years on the trails, I've spent a few unexpected nights out, and was glad for everything I was carrying.

Further, having what we need and knowing how to use it can eliminate the need for many Search and Rescue (SAR) missions, which endanger and consume precious time of the Sheriff's office and their volunteers.

Finally, taking a Wilderness First Aid class is a fabulous investment of time to make sure you know how to use a first aid kit and gracefully make it through the unexpected.

Winter Viewing
My favorite source on-line for free outdoor videos is the National Film Board of Canada. My favorite filmmakers there are Leanne Allison and her wildlife biologist/adventurer husband Carsten Heurer. My favorite film of theirs is Being Caribou, a fabulous tale of their migration with the Arctic Caribou Herd.

Following the links at the bottom of that film's home page will lead you far and wide, including to Finding Farley, a wild tale of an epic journey across Canada with their infant child, to meet their hero author Farley Mowat. Then read some of Mowat's classic nature books!
Make Plans to Help Steward Central Oregon Lands
Right away, take the Discover Your Forest Survey about the importance to you of Central Oregon National Forests and Crooked River National Grassland! Then, in anticipation of spring and summer's arrival, leave room in your calendar to join the Land Trust's inspiring stewardship and volunteer activities: planting restored Whychus Creek meanders, monitoring birds and animals, become a Weed Warrior...
And of course, plan your summer hikes!
Trail Guidebooks: One of my duties as a trails specialist was to help guidebook authors and map makers keep information current for hikers and include Leave No Trace guidance to protect sensitive areas — I still do this in my spare time. William Sullivan's 100 Hikes/Travel Guide to the Central Oregon Cascades, as well as his guides to other regions of the state, are the very best, by far, for every corner of Oregon. Combined with his Atlas of Oregon Wilderness and a good map, you'll be set to explore trails from one end of the state to the other. No other guidebook is updated as regularly in consultation with land managers, few other guidebook authors are as concerned about Leave No Trace ethics, and no other author will send you a copy of a book in exchange for sending in corrections.   

Guided Hikes: Of course, Land Trust guided hikes are among the best in Central Oregon. Become a member and you'll be in the know for all their great hikes and other activities.
Remember, if a hike is full, sign you name to the wait list and mark the day on your calendar. Spots often open up as the hike approaches!
Finally, winter reading!
If you are good to go on your LNT, ten essentials, first aid and summer planning, or just need a relaxing break during a long storm, here are some highlights from my recent reading:
On Trails: An Exploration, by Robert Moor. An up and coming writer travels far and wide, literally and figuratively, to explore the deep origins and purpose of trails. 2016. Read a review written by Land Trust volunteer, Andrew Goldstein.


Beyond Words: What Animals Think and Feel, by Carl Safina. One of America's most esteemed wildlife biologists talks straight about what we know and are just learning about animal intelligence — focuses on Elephants, Wolves, and Orca — the latter two signature creatures of the Pacific Northwest. Very moving. 2015.


Biography of a Place: Passages through a Central Oregon Meadow, by Martin Winch.  Central Oregon historian, Martin Winch, explores our rich history and pre-history through the lens of Camp Polk Meadow, one of the Deschutes Land Trust's flagship preserves. In the telling, the long history of our trails comes into clear focus. 2006.


The Invention of Nature:  Alexander Von Humboldt's New World, by Andrea Wulf. A fascinating account of a Prussian naturalist who changed the world of natural history via his far flung explorations and collaborations. Among those irrevocably changed: John Muir, Charles Darwin, and Henry David Thoreau. Von Humboldt was world renowned in the 19th century, but until this book, all but forgotten in America despite his name all over our maps (several Humboldt counties, a mountain range, a river and an ocean current). 2015.


New Era: Reflections on the Human and Natural History of Central Oregon, by Jerold Ramsey. Includes nine essays by a Central Oregon native son, reflecting our our culture and natural world, upon returning after a life away in academia. You'll never look at our towns, mountains, rivers, canyons or trails the same. Far and away my favorite book about our home. 2003.