by Jana Hemphill

Can you feel the love that is in the air? The love of cute and cuddly animals, that is! What better way to celebrate Valentine's Day than by talking about one of the cutest animals out there and a species that the Deschutes Land Trust is helping to protect--the flammulated owl!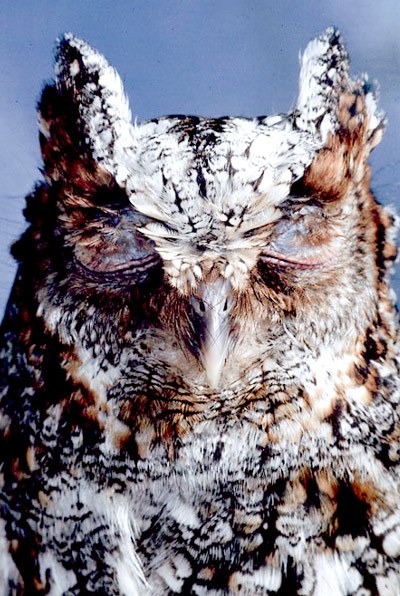 Affectionately known as "flammies," these tiny owls weigh around 1.9 ounces (slightly more than a small bag of M&Ms) and are the size of an American robin. If that's not cute enough for you, flammulated owls are gray or brownish gray with short, feathered ear tufts. They have dark eyes, which is unusual for a North American owl. And they are beyond adorable, especially when they hatch and are covered in white down. Go ahead, Google them. I'll wait.

How cute are they?!? It's love at first sight. Flammulated owls can be my valentine any day.

In the East Cascades, flammulated owls are considered a sensitive species by the Oregon Department of Fish and Wildlife. Flammies have special needs when it comes to their environment, and habitat degradation is a threat. What does a perfect home look like to these owls? They like a mid-elevation forest, love ponderosa pines, and absolutely adore snags, but also need open spaces to forage for insects.

The Land Trust is currently working with the owners of Demaris Ranch (northeast of Prineville) to protect their lands, and flammulated owls have become part of the picture! As we began to develop the project, we discovered ideal flammulated owl habitat in the pine and fir forests of the ranch. We turned to our partners at the American Bird Conservancy for help funding the project and then to East Cascade Audubon Society for finding the owls themselves. Bingo: M&M-pack sized owls found, and we now know they need to be a part of the conservation plan for the ranch. For example, keeping snags (dead standing trees) in the mix of forestry options is one way the Land Trust can help flammulated owls thrive.

Maybe hugging a flammulated owl or sending it a box of candies for Valentine's Day isn't a great idea, but squealing at cute photos of them online and helping protect their habitat are fantastic ways to show our love.

Learn more