I'm sure many of you feel the same way I often feel--stressed. Whether it's at work, at home, or because of current world affairs, stress seems to be a regular part of life. But did you know that April is Stress Awareness Month? Let's not just acknowledge the stress in our lives, though. Let's do something about it! How can nature help you relieve and combat the stress in your life? Here are just a few suggestions:

Exercise. There have been numerous studies that show exercise helps relieve stress. What better way to exercise than outside! Exercise produces endorphins that give you a happy vibe and it lowers symptoms associated with mild depression and anxiety. Learn more about our free Walk + Hike program, a perfect way to get some exercise.

Nature Journaling. Tour Leader Kolby Kirk leads free Nature Journaling outings at Land Trust Preserves. Learn tips and techniques for keeping a journal while exploring nature. In addition, the focus of nature journaling can help melt away the stressful thoughts you've been having. Studies have shown that journaling is an incredible stress management tool, lowering blood pressure, helping the brain regulate emotions, and boosting emotional well-being. Find out when the next Nature Journaling outing is happening.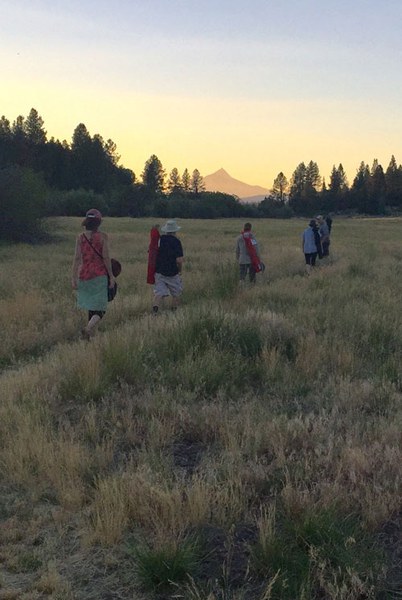 Forest Bathing. This technique was developed in Japan in the 1980s and has gained traction in the US recently. Learn how to forest bath here. Numerous studies have shown forest bathing to lower blood pressure, lower stress, and help your immune system.

Sitting and Relaxing. Nature helps calm your nerves, as the tranquility of the outdoors is much better on your brain than loud, fast, urban environments. Find a bench in an easy-to-reach location and take some time to simply sit and relax in nature. The Metolius Preserve has some great benches and viewing platforms that are perfect for contemplation and relaxation.

Yoga and Meditation. Yoga has been shown to reduce stress, lower blood pressure, and lower your heart rate. Start with a relaxed form of yoga by joining the Land Trust for Tree Yoga, where you select a Ponderosa Pine to help you with your yoga poses. Or take your yoga mat into the backyard or a nearby park the next time you want to strike a pose. Meditation can benefit your emotional well-being, as well as your overall health. Whether sitting or standing, meditation can also clear away the information overload you receive throughout the day. Give it a try on your own, or try our Walking Meditation outing in August.

The next time you feel stressed and overwhelmed, remember that nature is here to help you. Be sure to head out the door and into nature.

Learn more: