Have you noticed that evenings in Central Oregon are cooling down and getting longer? With kids off to school and the first few leaves starting to change color, fall is making its arrival. For those who have been sunburnt one too many times or have sweat through all their t-shirts, the arrival of fall is more than welcome! Cool temperatures and the crisp air makes for a fantastic time walking and hiking through the forests, deserts, and mountains of Central Oregon. Hikers aren't the only ones reveling in the arrival of fall. Many households in our region are making preparations to depart for hunting season on public lands. 

From our region's first peoples to early settlers and on to today, hunting and angling have continued to strengthen deep connections between humans and this land. Through these connections, we continue to understand how our actions on this land are interconnected with many other forms of life. Many hunters and anglers today know this connection, have seen these interactions change, and are looking to continue investing in the stewardship of these lands to improve habitat and continue protecting wildlife and their way of life.

As hunting season approaches it's important to consider how humans, wildlife, and these lands remain connected. For those of us who are not hunting but who will still be hiking, walking or connecting with the lands in other ways--here are some helpful tips to keep us safe!

Here are 7 tips for hiking during hunting season: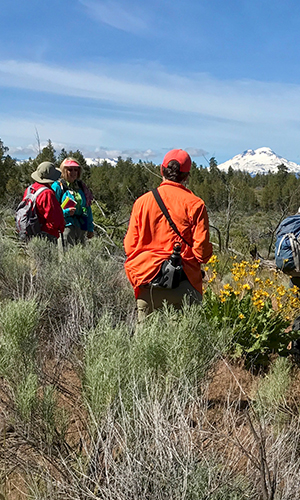 1. Wear orange or other bright, visible colors.
If the 1980's taught us anything besides how to peg-roll our pants, it's that neon was cool. And it still is when hiking in the fall during hunting season. Wear bright orange, or other bright colors to make sure you are visible to others while hiking. Think bandanas, bright backpacks, shirts or hats. White can often resemble the rump of a deer, so best to steer clear of it.

2. Know when hunting season is.
Find out dates for hunting seasons by calling Oregon Department of Fish and Wildlife, or visiting their website to find out what areas, dates, and types of hunting are allowed where you want to hike. This year, hunting season for most of Central Oregon is Aug. 24 - Nov. 1 for deer and October 12 - 18 for Elk. More information and general dates can be found here.

3. Keep dogs on leash.
Dogs are required to be on leash on all Land Trust Preserves, but keeping them close on other Central Oregon trails is a good idea at this time of year, too. If you just can't bring yourself to keep Fido on a leash when not at Land Trust Preserves, make sure to dress them in bright orange too. Learn more about the impact of dogs on wildlife here.
 
4. Make noise.
Whistling, talking to your hiking buddies, or singing your favorite song lets others know that you are in the area. Though it might scare away any chance you may have of spotting wildlife, you certainly won't be mistaken for a deer yourself. Have a little tea with honey and lemon before your hike and get your pipes ready to belt out your favorite tunes.
 

5. Stay on trails.
Wildlife tends to stay away from well-used popular trails. Likewise, hunters often head off-trail in search of game. Hunting season is the perfect time to hit up those beautiful, yet popular trails you might avoid the rest of the year. If the thought of hunters in the wild with you makes you uncomfortable, look for hikes that you can take in areas where hunting is not allowed.

6. Use extra caution near roads.
Be aware of cars and ATV's that might be using networks of old logging roads on public lands to access hunting areas.

7. Consider hiking during the day.
Just like wildlife, hunters are often most active during dawn and dusk. Plan your hikes for the middle of the day, instead of early in the morning or later in the evening. If you still want to catch that magical sunrise or sunset, just make sure to take a flashlight or wear a headlamp to make yourself more visible. And don't forget about belting out your favorite 80's tune while sporting those neon colors, too.

Finally, just a quick reminder that hunting is not allowed at Land Trust Preserves--including the Metolius Preserve. However, it is extremely important that users remember that the Land Trust is only just beginning the process of closing the Metolius Preserve to hunting. The Preserve will likely still see hunting this fall and you should be prepared to hike safely at all times. Read more about this hunting update for the Metolius Preserve and what it means for hikers and bikers.

Prefer hiking with a group instead of on your own? Check out our full schedule of fall Walks + Hikes!