by Jana Hemphill

As 2019 winds down, we are thinking about all the things that our supporters helped us achieve this year. Together, we have accomplished so much! Here is a list of the top 19 things that you and our community of supporters have made possible in 2019:

1. A community of monarch butterfly enthusiasts has emerged in Central Oregon! Through our new monarch butterfly conservation program, the Land Trust distributed more than 60,000 milkweed seeds to community members, planted milkweed throughout Central Oregon, hosted a butterfly brigade at the Earth Day Fair, responsibly raised and released 40 monarchs, and worked with others to release another 35. All of these efforts are geared towards helping the Western monarch population recover.

2. We monitored our lands to ensure they are protected forever. One of the main tasks for the Stewardship team is monitoring our Community Preserves and other protected lands on a continuous basis. Monitoring helps staff make management decisions, track significant changes over time, and ensure that our lands are being used responsibly by the public.


3. We hosted more than 130 free, guided Walks + Hikes. Thanks to our amazing tour leaders and shepherds, our community has the opportunity to learn about wildflowers, birds, butterflies, climate change, and everything in between on one of our Walks + Hikes. This year, more than 960 folks came out onto Land Trust protected lands on a tour, and in the process, they discovered how the Land Trust makes an impact in Central Oregon.

4. We planted 3,800 native plants at our Community Preserves and open spaces throughout Central Oregon. Through our milkweed planting efforts, continued restoration work along Whychus Creek, and native plant restoration at Camp Polk Meadow Preserve, there were a lot of plants put in the ground this year! Thank you to those of you who came out and helped with the plantings as well!

5. We continued our work to conserve a ranch outside of Post, Oregon. An important migration corridor and habitat area for pronghorn antelope, Rocky Mountain elk, and deer is just one step closer to being protected--thanks to our supporters being by our side year after year!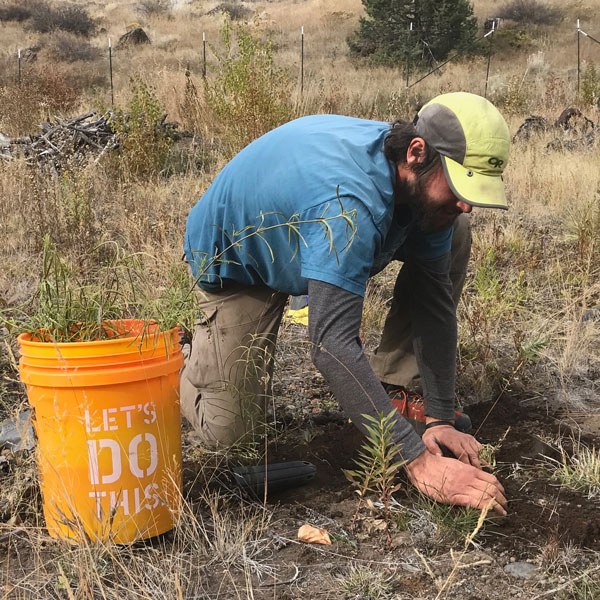 6. More than 260 volunteers gave 3,695 hours (and counting!) towards conserving the lands that we love in Central Oregon. From our Weed Warriors to our milkweed planters, from mailing volunteers to our Board of Directors, our volunteers put in the time and energy that makes the Deschutes Land Trust thrive. Thank you!

7. The second year of soil solarization occurred at Camp Polk Meadow Preserve. Our efforts of creating a native plant community in the Hindman Springs area of Camp Polk Meadow Preserve continued this year. In order to give native plants a chance against competitive invasive plants, we solarize the soil to reduce weeds and weed seeds.

8. New interpretive signs on the history of Camp Polk Meadow Preserve were installed. Visitors can now walk in the footsteps of Wagon Road travelers while learning about the many people who visited the meadow over the years: Native Americans, soldiers, and settlers.

9. We reaffirmed our commitment to protecting Skyline Forest. With Skyline Forest recently being listed for sale, the Land Trust reaffirmed its commitment to pursuing conservation options for the impressive property. Skyline Forest is a massive 33,000 acre forest that contains important wildlife habitat, recreational opportunities, and protects the scenic green foothills below the Central Oregon Cascades.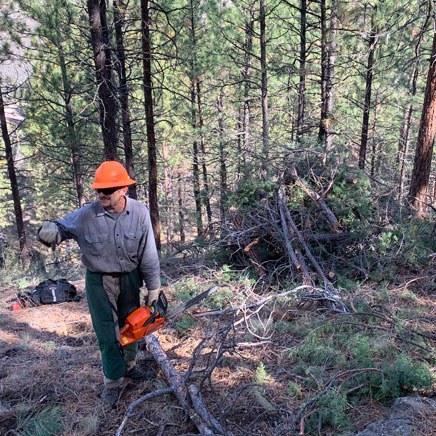 10. Tree thinning at Aspen Hollow Preserve helped improve local forests. We removed small juniper and ponderosa pine to mimic historic conditions and improve the health of the remaining pine and aspen trees. These efforts will also provide improved habitat for wildlife, and help reduce wildfire danger for our nearby neighbors.

11. We brought nature indoors with our winter Nature Night speaker series. Community members learned more about the natural world around us, hearing about monarch butterflies, equitable recreation, and what climate change has looked like at National Geographic magazine.

12. Volunteers and staff helped removed 660 pounds of trash from Ochoco Creek. Running through Prineville and the Land Trust's Ochoco Preserve, Ochoco Creek is an important waterway in the area. Twice this year, we partnered with the Crook County Rotary Club and other organizations in Prineville for a clean-up party. Trash was removed from Ochoco Creek, selfies were taken, and celebratory beers were had--successful work parties indeed!

13. We imitated nature's master engineer, the beaver, through a stream restoration pilot program at Camp Polk Meadow Preserve. On small side channels of Whychus Creek, we build seven mini-dams out of woven willow and alder, along with rocks and mud. On the main channel, we built three more structures that look like log jams. These structures are designed to improve habitat diversity in Whychus Creek without intense earth moving efforts.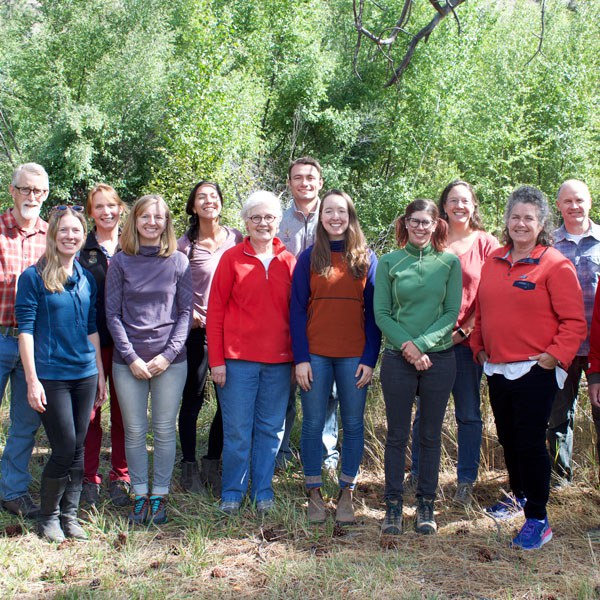 14. Our staff grew, helping to steward the 9,115 acres the Land Trust protects. Peter Cooper joined the Land Trust as our Stewardship Associate, increasing our capacity to steward and care for our protected lands. The Land Trust also welcomed Rebekah Ratcliff and Cara Frank to our team. They are helping strengthen our engagement with local communities.

15. Thousands and thousands of weeds were hand pulled from Land Trust Preserves. Led by volunteers Ginny Elliott and Pat Green, our valiant Weed Warriors crew (and a few rogue volunteers) battled invasive weeds at our protected lands. Thousands of mullein, spotted knapweed, Canada thistle, and teasel were removed, allowing our native plants a better chance at survival.

16. Work on our vision and strategy for the next 25 years began. With our 25th anniversary around the corner, Land Trust staff and board have begun looking at what our vision will be for the next 25 years. This work can be difficult, but so rewarding! Stay tuned to hear what the Land Trust envisions for the future of our organization and our community.

17. Returning Chinook salmon were found on Whychus Creek on Land Trust protected lands. An impressive nine adult Chinook salmon made their way up Whychus Creek. While one year doesn't mean it's a trend, we are hopeful these fish were able to spawn and we'll have some little fish continuing the cycle.

18. Over 250 pounds of barbed wire were removed from the Metolius River Preserve. Removing barbed wire from our lands allows wildlife to easily move through their home areas. We also removed barbed wire from Indian Ford Meadow Preserve this year.

19. Additional lands to protect are in the works! While we can't say much more than that, it's important to note that our supporters help us pursue land protection projects. This often spans multiple years (even decades!) as land conservation is a lengthy process. Stay tuned for more details on these efforts!


Let's hear it for our Land Trust supporters! You are amazing and we are so lucky to live in a community that values land conservation. Here's to another great year in 2020!


Learn more: