It's easy to fall in love with Central Oregon in any season, but there's something particularly enchanting about autumn. As summer turns to fall and the leaves transform into bright orange, gold, and red, it's the perfect time to get outside and enjoy nature. Here are a few of our favorite spots to revel in fall color in Central Oregon.

Take a Hike

Metolius Preserve South Trailhead
The Land Trust protected Metolius Preserve has lots of hiking options with short and longer loops. The South Trailhead has easy trails where you can find fall foliage like vine maples and bracken fern.

Metolius Preserve North Trailhead
Coniferous forests don't always seem like the best choice to catch fall color, but come autumn, the Western Larch put on a color display. Breaking all of the rules we learned in school about conifers, the feathery needles of the Larch turn golden in the fall. You can find these fall beauties near the North Trailhead of the Metolius Preserve. This area offers access to longer trails, including a trail that links the Preserve with Suttle Lake. If the vine maples are turning, this area is a stunning contrast of scarlet leaves against evergreen forests.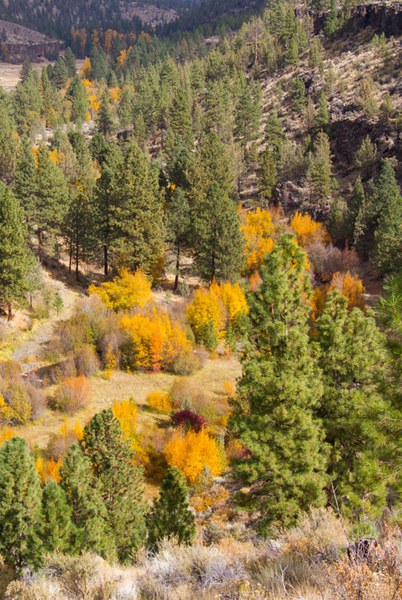 Shevlin Park
Shevlin Park, right outside of Bend, offers fall color hikes for those who don't want to drive too far out of town. Access all your favorite fall hues with just a short walk along Tumalo Creek. Shevlin Park is also known for their beautiful larch displays.

Tumalo Falls
If you catch it just right, vibrant bursts of color stand out against rock cliffs and evergreens, making Tumalo Falls a good option to take in some fall color. Regardless, it's a nice hike that doesn't require too much driving (you can even bike there!).

Upper Deschutes River Trail
Head to the Upper Deschutes River Trail near the Slough Day Use Area for stands of brilliant aspen groves. The Benham Falls area also offers some splashes of fall color.

Whychus Canyon Preserve
Head down into the canyon at Whychus Canyon Preserve to spot fall color along Whychus Creek. The Preserve has great longer hikes with mountain vistas and canyon overlooks that allow you to peek at the forest of color below.

Indian Prairie
In the Ochoco Mountains, marvel at the beauty of Western Larch and aspen groves next to rust-colored grass meadows. A little further afield, this is north of Big Summit Prairie.

Short Stroll or Picnic

Indian Ford Meadow Preserve
This little gem is one of the best places to take in bright yellow aspens against gorgeous meadow and mountain views and it's minutes away from Sisters. Enjoy a picnic at Indian Ford Meadow Preserve and take a short walk out to a viewing platform to watch the sunset. Make sure to bring your camera to record these fleeting fall scenes.

Drake Park
A walk through Drake Park is a convenient way to take in the season. Orange and gold colors are reflected in the waters of Mirror Pond. It's definitely worth a short stroll after dinner or drinks downtown.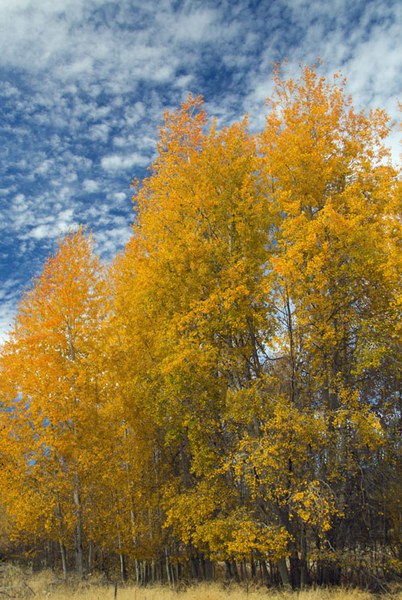 Camp Polk Meadow Preserve
Take in the beautiful meadow, colorful cottonwoods, and bright aspen during a picnic at Camp Polk Meadow Preserve. Then, learn a little about the history of the area while strolling the short loop trail.

Scenic Drive or Bike Ride

McKenzie Pass
Not all glimpses of fall color have to be found on foot. Take a scenic drive or ride on McKenzie Pass. Beautiful year-round with fields of lava and gorgeous waterfalls, autumn is particularly spectacular when the vine maple turn rich red.

Post-Paulina Valley
Not all fall colors come from larch, aspens, and vine maples in Central Oregon. Driving past Prineville into the Post-Paulina Valley, catch glimpses of rabbitbrush, desert hillsides, and big, open blue skies. An added bonus: you have a good chance of seeing pronghorn!

Fishing

Lower Deschutes River
If you're planning an autumn fishing trip, get your fix on the Lower Deschutes. Fisherman and executive director Brad Chalfant named the lower Deschutes River as his favorite place for fall. "Standing waist deep in the river steelheading, before the first rays peek over the canyon rim, the canyon walls and water start to glow. Add to that the changing foliage--turning yellow, rust, and scarlet--and there is not better place to be in the fall."

Regardless of where you go, there are many beautiful places to gaze at the autumnal color display that nature offers in Central Oregon. Happy leaf viewing!

Learn more: