Whether you are new to Central Oregon or a long-time resident, mud is a part of winter and spring in the high desert. But did you know that hiking and biking on muddy trails is destructive? As we try to be the best stewards we can to our lands, let's take a look into exactly what happens when we walk and bike on muddy trails: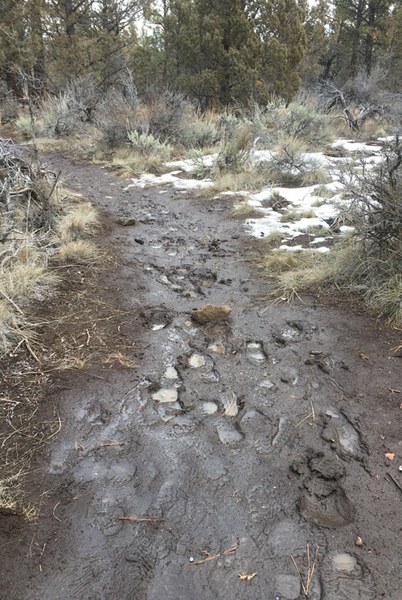 Going around muddy spots on the trail widens the trail and erodes the trail. Widening trails kills or harms fragile plants along the trail. It also turns lovely small trails into wide roads. This in turn requires time and money to repair. The good news is trail widening can be avoided if everyone follows the "If you leave tracks, turn back" adage.

Going through muddy spots on the trail seems like a better option, but better doesn't mean good. Your footprint indents the soil, and many footprints create ruts and large depressions. These also require time and money to repair. If these ruts form on slopes, they become water channels, funneling rainwater and snowmelt down the center of trails (have you ever noticed this during a rainstorm?). This leads to trail erosion and requires more trail maintenance.

The good news is that you can help keep our trails in excellent condition! The easiest way to do this is to check trail conditions beforehand and only go when the trail conditions are dry. Instead, you can snowshoe or cross country ski in snowy areas, or walk and hike on paved or gravel trails.

If you do head out for a hike and encounter mud on the trail:
Please turn back. This helps keep trails happy, easy to hike in other seasons, and saves the Land Trust time and resources! Let the Land Trust know which trails are muddy and we'll post it on our website to help others in their planning.
If you encounter a small patch of mud or snow: walk through it, not around it (the better, but not great, option).
If the mud continues beyond isolated patches: turn around and hike back to the trailhead. Trail conditions are probably going to become worse, not better!
Now what? You've turned back from a muddy trail, helping to protect our lands, but your hiking plans have changed. Now where do you go? Head for a place with paved or gravel trails, or trails that get more sun and face south. Other hiking ideas include:
Pilot Butte: the road is closed in the winter, so you can hike up the butte with no impacts to the trail or plants along the way.
Shevlin Park has both paved and gravel trail options for when other trails in the park get muddy.
Larkspur Trail and other paved trails in Bend: check the Bend Parks & Rec trail locator for paved trail options.
Smith Rock State Park: just remember, Misery Ridge is steep and becomes a muddy trail, particularly on the northern side, so stick to trails that aren't muddy.
Tumalo Falls: the road is closed in the winter, so it's a great option for hiking if there hasn't been any recent snow. The trail to Tumalo Falls can get muddy and isn't recommended during mud season.
Sunriver has a great system of paved trails.
Snowshoe or cross country ski in the mountains in a place with snow!
Together, we can keep the trails of Central Oregon in great shape!
Other Winter Activities: