By Jana Hemphill
The Land Trust's work is made possible thanks to our amazing community of supporters--folks like you and many others who value land conservation in Central Oregon. Thank you!!! This year—our 25th anniversary—has been a successful year for local land conservation. Let's take a look at the 25 things you helped make possible this year:


1. Priday Ranch was conserved forever. Our first project in the Madras area, Priday Ranch protects 4,500 acres. The ranch includes 10 miles of steelhead spawning streams, rugged topography that's home to nesting golden eagles, mule deer, and Rocky Mountain elk, and land that will remain an important refuge for plants and animals in a changing climate.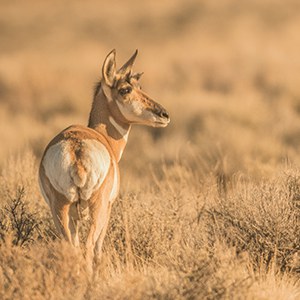 2. Aspen Valley Ranch is protected forever. Through a land preservation agreement with rancher Jim Wood, 3,908 acres of a large ranch near Post, Oregon have been conserved in perpetuity. This includes large rolling hills with native grasslands and juniper trees, agricultural land, significant elk and mule deer winter range, pronghorn antelope habitat, and outstanding scenic views.

3. Rimrock Ranch was purchased and protected. Northeast of Sisters, the 1,123 acres of Rimrock Ranch were permanently protected. The ranch's grasslands, forests, and creek are home to a wide variety of species, including reintroduced Chinook salmon and steelhead, mule deer, Rocky Mountain elk, golden eagles, and numerous songbirds.

4. Amidst a pandemic, nature was shared with our community. Whether it was our Nature Bytes email bringing you nature observations, virtual events, videos, or remote volunteer opportunities, we focused on bringing nature to you. The Land Trust hosted 10 virtual events, produced more videos than we ever have before, and worked creatively to keep you involved in protecting our natural world. Thank you for showing up and being there with us!

5. Work on our vision and strategy for the next 25 years continued. As we celebrated our 25th anniversary, Land Trust staff and board are also focusing on the next 25 years. Stay tuned to hear what the Land Trust envisions for the future of our organization and our community!

6. The third year of restoration at Camp Polk Meadow Preserve improved native plant communities. After baking weeds and weed seeds with the summer sun, volunteers and paid crews joined the Land Trust in planting 3,800 new native plants this fall in the Hindman Springs portion of the Preserve. This included wildflowers like Oregon sunshine, milkweed, lupine, scarlet gilia, and yarrow, shrubs like rabbitbrush and currant, and five types of grasses.

7. Our Nature Night series shared amazing speakers with you during the winter months. More than 700 community members learned about the natural world around us through our annual Nature Night series. We were moved by Elizabeth Woody's sharing of the deep understanding and connections she and her people have with their homelands, and learned more about the histories of indigenous peoples in Central Oregon. Dr. Colin Thorne inspired us and made us look at a different perspective on the dignity and value of rivers. Thank you for continuing to support Nature Nights!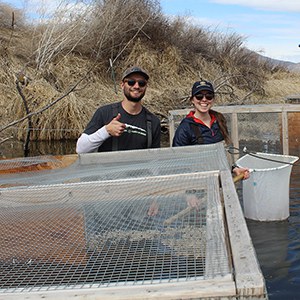 8. We partnered to use a new method to reintroduce salmon and steelhead at Land Trust Preserves. The Land Trust hosted a large acclimation tank at Camp Polk Meadow Preserve for spring Chinook salmon and steelhead smolts. At Ochoco Preserve, "live cars" were set up to help Chinook and steelhead acclimate before being released. We are hopeful this new method of reintroduction will help bring more salmon and steelhead back to Whychus Creek and Ochoco Preserve in the future!

9. We renewed our national accreditation. Through extensive documentation and a comprehensive third-party evaluation, the Land Trust renewed its national accreditation through the Land Trust Accreditation Commission. Accredited land trusts meet national standards for excellent, uphold the public trust, and ensure conservation efforts are permanent.

10. Invasive weeds were tackled—baked, pulled, and biocontrolled. The Land Trust continued the battle against invasive weeds with our partners and a core group of volunteers. Whether it's pulling mullein, solarizing cheatgrass, or using biocontrol against Canada thistle, we're continuing to make an impact on the native plant communities of Central Oregon.

11. Golden eagles thrived at Aspen Hollow Preserve and Rimrock Ranch. For the 11th consecutive year, a pair of golden eagles successfully raised an eaglet at Aspen Hollow Preserve. In addition, golden eagles nested for the first time since 2014 at Rimrock Ranch.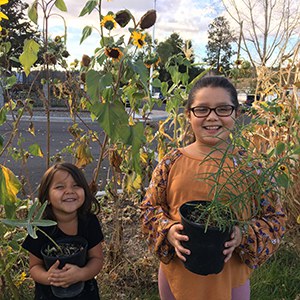 12. Our partnerships to plant milkweed and other pollinator plants for monarchs expanded. The Land Trust expanded our monarch conservation work into the Warm Springs and Madras areas. We partnered with the Museum at Warm Springs, Warm Springs Academy, Buff Elementary in Madras, and the Madras United Methodist Church to create monarch butterfly gardens in the area. We also partnered with the Crooked Rivers Wetlands Complex in Prineville, Deschutes Brewery in Bend, and several other organizations to continue our efforts in those areas.

13. We helped aspen groves thrive at Camp Polk Meadow Preserve. Aspen stands are exceedingly rare in Oregon and overbrowsing by deer and elk can reduce their chances of success. The Land Trust installed aspen cages to help protect these small trees and give them a chance to mature and grow strong.

14. Nature and its inspiration for art was on full display. The Plein Art Painters of Oregon had an exhibition of plein air art created at Land Trust Preserves, inspired by the Land Trust's 25th anniversary and our protected lands. We also fostered the next generation of artists through a coloring contest. For our 25th anniversary, Land Trust outreach associate Rebekah Ratcliff created a poster that honored some of the wildlife and plants that call Central Oregon home­—and inspired our community in the process.

15. We created our first equity commitment. As the Land Trust continues our concerted effort to understand how we can become a more diverse, equitable, and inclusive organization, staff and board explored how our conservation efforts can truly engage everyone in caring for the natural world. Our equity commitment is a statement to our community about how we will change the way we work to become a more diverse, equitable, and inclusive organization.

16. We partnered with Oregon Bee Atlas to document the local bee population. The Land Trust installed 14 bee boxes to help with research into what native bees are in Central Oregon. With many native bee populations struggling to thrive, learning more about these populations is critical. We look forward to sharing the data with you in the future!

17. Our community remained committed to monarch conservation with almost 14,000 milkweed seeds distributed. Without events to help us spread milkweed seed, the Land Trust turned to the good old postal service. We mailed milkweed seed packets to many Central Oregonians, helping increase monarch habitat at our homes.

18. We supported (and continue to support) our partners at the Confederated Tribes of Warm Springs during their water crisis. With some of the Northwest's leading conservation groups, we partnered to bring attention to the Warm Springs water crisis. Our goals: strengthen available financial resources to meet immediate, emergency health needs and advocate for policy solutions needed to help the people of Warm Springs restore their access and infrastructure for clean water. Learn more how you can help.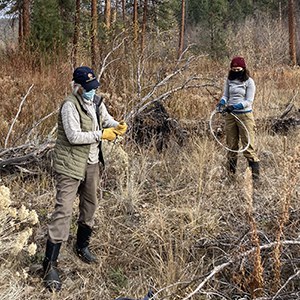 19. Volunteers made a difference every day. During a year of physical distancing, our volunteers went above and beyond in the ways they helped the Land Trust. From masking up to help with soil solarization, pulling fences, surveying birds, taking photographs, researching sustainability, packing milkweed seeds, making videos, and more, our volunteers continued to make all the difference in our work!

20. Our staff grew, helping to care for the 17,523 acres the Land Trust protects. Jason Grant joined the Land Trust as our Restoration Specialist, increasing our capacity to lead restoration projects on our lands. Brad Chalfant moved to a Founding Director position, focusing on fundraising, key external relationships, and conservation initiatives. Ann Richardson joined the Land Trust as our Acting Executive Director, providing oversight of the financial and operational performance of the organization.

21. We monitored our lands to ensure they are protected forever. One of the main annual tasks for the Land Trust is to monitor our Community Preserves and other protected lands on a continuous basis. Monitoring helps staff make management decisions, track significant changes over time, and ensure that our lands are protecting conservation values.

22. A new monarch and pollinator plant brochure educates our community on ways they can help. The Land Trust considers education a critical tool in helping us all take better care of the natural world. This year, we created a new brochure to guide folks on native plants they can plant at home that are beneficial to monarch butterflies and other native pollinators. Bringing monarch conservation to your neighborhood is a win for everyone!

23. We began planning for the future of Ochoco Preserve. The Land Trust launched a planning process for Ochoco Preserve, starting with developing a conceptual design for future restoration and community access. Stay tuned for more on this exciting project!

24. Volunteers pulled around 1,700 pounds of metal fence posts and barbed wire from Whychus Canyon Preserve! Some of this fencing had been installed to protect native plants that were added during our Whychus Creek restoration project, allowing the plants to become established before deer could browse on them. Now that the plants are doing great, two groups of volunteers helped us tackle this large project during the fall. Removing these barriers also helps wildlife move across the area in search of food, water, and shelter.

25. Additional conservation projects are in the works! Thank you for your ongoing support which allows us to continue to pursue new land protection projects. We look forward to sharing these new projects soon!
Learn more: