by Sarah Mowry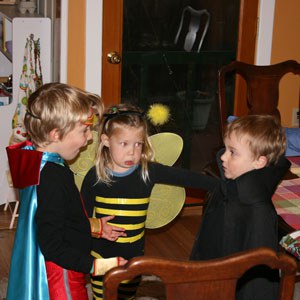 Halloween is canceled. While this may not seem like a big deal to many, there is great sadness—maybe even tears—in the land of children (and maybe some adults!) about Halloween. This year instead of gaggles of costume-clad children collecting gobs of candy in the neighborhood, we are preparing for Halloween the Pandemic Version. While you may be considering some of the safe-distanced Halloween options, there are also some fun ways to celebrate fall and spooky fun outside in nature. Here are a couple of ideas to help rescue that favorite fall holiday.




Have a Halloween Scavenger Hunt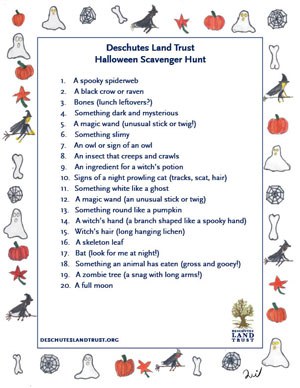 Visit a Land Trust Preserve, park, or local natural area for a Halloween Scavenger Hunt! Little folks can visit during the day, and older tricksters can visit at dusk. Bonus points for scavenging in your costumes! Here are ten items to get you started:
A spooky spiderweb
A black crow or raven
Bones (lunch leftovers?)
Something dark and mysterious
A magic wand (unusual stick or twig!)
Something slimy
An owl or sign of an owl
An insect that creeps and crawls
An ingredient for a witch's potion
Signs of a night prowling cat (tracks, scat, hair)
Find these and ten more items on this handy downloadable Halloween Scavenger Hunt!



Take a Flashlight Hike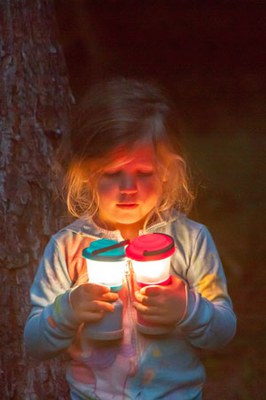 Flashlight hikes are night hikes where you visit a natural area in the evening or at dusk. They can be a fun way to explore your favorite trail in a new way and can certainly have that spooky Halloween feel! What do you do on a Flashlight Hike?
Play with flashlights of course! There is endless fun in watching your light shine around the forest, blinding your parents or siblings, or watching to see what kinds of bugs your light attracts.
Listen to night sounds! Be sure to take some time to stop and listen quietly when you are on your hike. What kinds of sounds do you hear in the night? How are they different from daytime?
Look at the night sky! Be sure to stop somewhere comfortable and turn off all your lights. Give your eyes enough time to adjust (usually 2-3 minutes) and look for stars and the moon. Halloween 2020 is also a full moon!

Tips for a successful Flashlight Hike:
Do some pre-planning! Visit the place in the daytime first so you know where you are going and what the trails are like.
Load the kids up with flashlights! (Make sure your batteries are charged or bring backups.)
Bring extra layers for cooler temperatures.
Bring fun Halloween snacks! Trick or treat in the trees?
Moon Walk
This year Halloween is also a full moon—in fact it's a blue moon—the second full moon in October! Spend some time celebrating the moon with your little tricksters in your yard, nearby park, or natural area.
Learn more: