By Rebekah Ratcliff

Each year the Land Trust works with our partners at the Upper Deschutes Watershed Council and incredible volunteers to survey macroinvertebrates in Whychus Creek. This year, to keep our volunteers safe, a handful of organizational staff joined together to complete the survey. 

Macroinvertebrates or macros are the backbone-less organisms that live in freshwater. Dragonfly nymphs, worms, snails, beetles, mayflies, caddisflies, and small crustaceans are all common macroinvertebrates. These organisms can be useful indicators of the health or condition of a creek because they are sensitive to pollution and disturbance.

Surveying these little organisms is just what you might imagine. It's sloshing through water, looking closely at what collects in a net, and having very, very (VERY) cold toes. For me, the survey day started with a strong cup of coffee and a quick drive beneath the Cascades. I've surveyed macros a few times, but the neat thing about these surveys is that I truly believe anyone can do it. With a willingness to get wet and a bit of attention to detail, volunteers, community members, and even kids have helped us better understand our creek.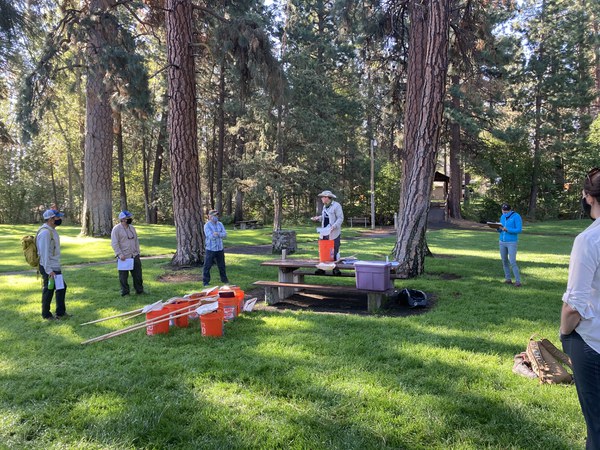 We met up with masks on and wading boots in hand to get the rundown of the day from aquatic scientist Celeste Searles Mazzacano, Ph.D. (how cool!). Soon Celeste was waving nets around, explaining our procedure, and showing us the perfect method for wiggling your boot in the gravel (it's a combination of kicking and twisting, of course). After we all felt comfortable and were teamed up, it was time to get into the creek!

I don't have fancy waders or even fancy boots or water shoes so I laced up my old sneakers, snagged my bandana, found our bucket, hoisted our net, and started out on the trail. Each team was given a different section of Whychus Creek to survey. Finding our section's marker flags was the first objective--looking out for rattlesnakes was simply an added challenge. 


Once we made it to our section of creek we dove right in (not quite literally). We checked the water and air temperature, we noted our surroundings, and then plunged our hands into the water. Even in the hot Central Oregon summer sun, the water is cold. But as my hands got tingly and went a bit numb scrubbing rocks for our first samples, I'm reminded that cold water often means you're in a healthy creek! 

We continued sloshing through the water and along the creekside from sampling location to sampling location. Little purple flowers were blooming along the way. Rocks were covered in all kinds of moss and young plants. I looked deep into each pool of water with the hope of spotting a fish or two (all while trying to keep my balance and not slip). One of my favorite parts of any day spent out on our Preserves is the chance to breathe deeply and take it all in. Each sample took us about 10 minutes, giving me plenty of time to take in the view and feel the cold water rushing over my feet. It's such a neat opportunity to get out and connect with this place. (I am SO looking forward to the day when we can invite all our volunteers back out to join us once again.)

At the end of the day we scooped up our samples from our bucket, labeling and noting as many details as we could. I wish we could all spend more days scooping up sandy samples. Sampling and looking closely at macroinvertebrates is a hands-on chance to check in with the waters we love--waters that are so important for our community. The opportunity to study, look after, and care for this place is something I am so grateful for. It is a chance I have to care for and work toward a brighter future for my community. As I wrung out my wet (and definitely stinky) socks and looked at my mud-caked shoes I was proud of a job well done, a day well spent, and was already looking forward to the future of our community and our waters as they become healthier and healthier.

We're excited to hear how the data collected this year continues to tell the story of the Whychus Creek stream restoration. Stay tuned for more updates on the macroinvertebrate data and to hear how the creek is doing. Thank you to the Upper Deschutes Watershed Council and to CASM Environmental for organizing another great survey!