The year was 1995 and...the Macarena was reaching dance-floor fame, Match.com was changing the dating game, Toy Story ruled the big screen, Amazon sold its first book, eBay had its internet debut, Windows 95 was taking the world by storm with its new recycling bin feature and... the Deschutes Land Trust was born!

This month the Land Trust celebrates its official 25th birthday! This is a true milestone for us and for conservation in Central Oregon. Of course, we cannot celebrate where we are today without giving a nod to the year that started it all. We asked staff to think back to the year 1995 to share what life was like for them 25 years ago and then what excites them most about the next 25 years for Deschutes Land Trust.
Brad Chalfant
In 1995 Brad was just getting to know the land trust world on a trip to the first ever Northwest Land Trust conference, and also doing his fair share of skiing. Since then, the Land Trust has only continued to grow, and in the next 25 years he is still looking forward to the growth to come!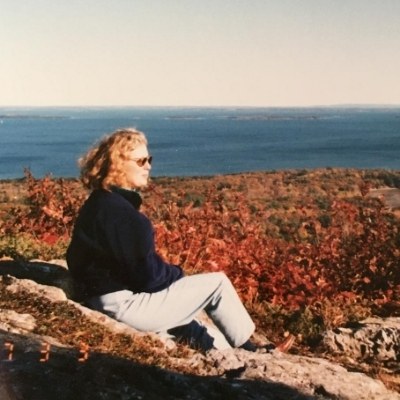 Pat
In 1995, Pat was still enjoying life in Maine looking out at the Atlantic Ocean. In the next 25 years Pat's excited to see how our solid foundation will provide for continued growth.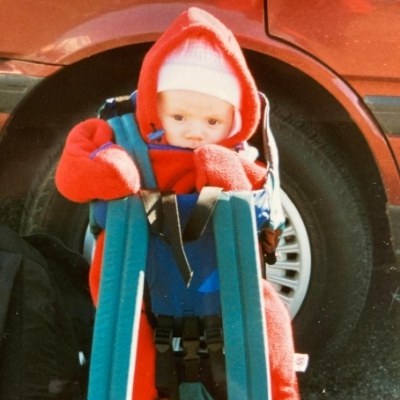 Peter
Back in 1995, Peter enjoyed being shuttled around nature in a backpack and eating butternut squash. At the time he wasn't so into crawling, but was a master scooter on his bum. What most excites him about the Land Trust's next 25 years is the opportunity to continue building a strong stewardship ethic in Central Oregon, and connecting members of our community with conservation projects to develop a deeper understanding of the natural world. 
Amanda
In the mid 90's, Amanda was in her mid 20's. She had just made her first move "out west" when snowboarding at Big Sky Ski Resort in Montana eventually took over. Her 1995 adventures and mountain antics definitely influenced her love for the land as she continued her way west ultimately landing at the Land Trust. Looking forward, Amanda is excited for the Land Trust to meet the needs of our wildlife and local communities as climate change, population expansion, and other challenges push us to think and act with creativity, resilience, and inclusion.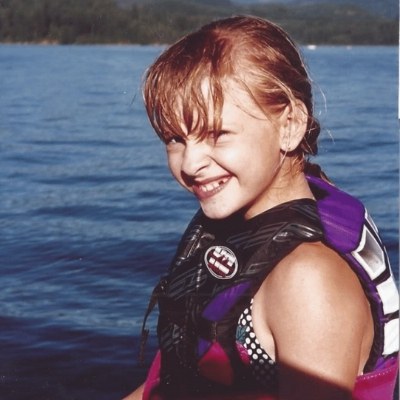 Cara
The year 1995 was full of gymnastics competitions and playing in rivers lakes for Cara! Cara remembers feeling free and connected to the land in those days. Cara is looking forward to exciting transformative changes that are yet to come for land conservation. She is excited to be weaving a larger and more community-oriented movement with the united goal of preserving lands for the sake of environmental sustainability.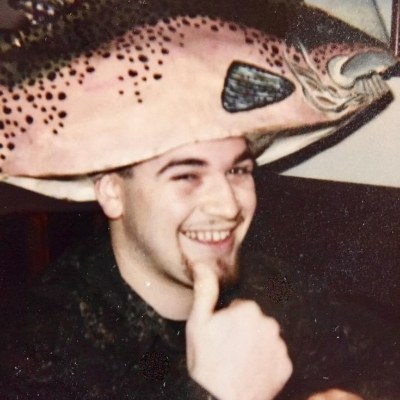 Jason
High school in 1995 meant a lot of athletic activities and fishing for Jason. Some would say he's always had fish on the brain! Even now as the Land Trust's restoration specialist, fish are a constant topic! Jason is excited about many things in the next 25 years for the Land Trust, including  expanding community engagement throughout Central Oregon, becoming a more diverse, equitable and inclusive organization, and restoring Ochoco Preserve and Rimrock Ranch!
Betsy
The 90's sparked a deep love for Calvin and Hobbes for Betsy and her family. With many memories of sharing comics together, their love for that little tiger still connects them even when they live far apart. Looking forward, Betsy loves that she found a job where her professional and personal passions are actively aligned. She gets to work in philanthropy on behalf of our natural environment--kind of a dream come true!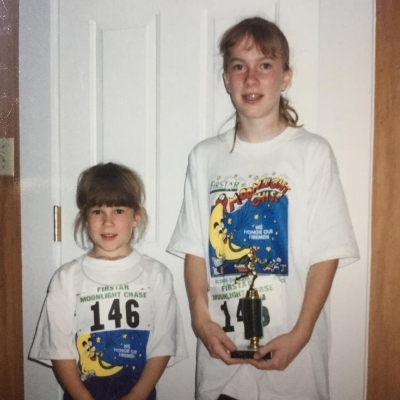 Jana
In 1995 Jana was bringing home trophies from Iowa's famous Moonlight Chase (a local running race). It's been a while since she's run a moonlit race, but Jana  still helps to make sure our moonlit Walks + Hikes are a huge success. Looking forward, she's excited to see the Land Trust continue to engage local communities in Central Oregon and to help nurture a community that values and cares for our forests, creeks, wildlife, and nature as a whole. She hopes the Deschutes Land Trust becomes a household name and is recognized as a great organization for Central Oregon. And she's excited for more beaver dams, for more butterflies, for more birds, and for a more lush, meandering Whychus Creek!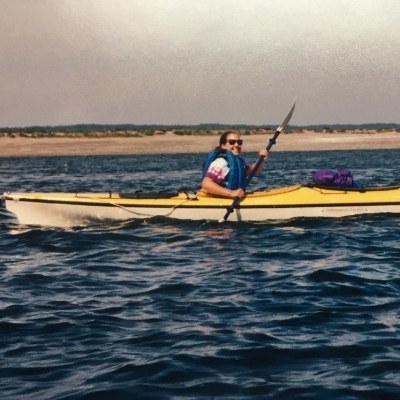 Sarah
Sarah was a sophomore in college in September 1995....apparently not taking a lot of photos with that old point and shoot. Or, maybe she  forgot to develop them?! Outside of school she was lifeguarding, backpacking, and kayaking with good friends, and enjoying the natural world. Looking forward she is excited that the Land Trust actually makes a difference. That we protect amazing places and then help them get healthy again. That we are helping keep Central Oregon beautiful and livable. And, that in another 25 years, her kids can still go see the places that our amazing team of staff, board, donors, and volunteers protected.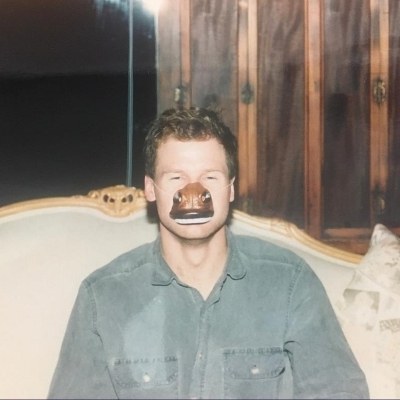 Brad Nye
In 1995 Brad says he was living in Portland, being a lawyer, doing lawyery things, and wondering who had talked him into going to law school. Since joining the Land Trust he might still wonder who talked him into law school, but he shared that he loves working with landowners to build new conservation connections. Looking forward to the future of the Land Trust, Brad said he will be continually inspired by our amazing volunteers.
Rebekah
Rebekah wasn't around yet in 1995; actually, she wasn't even an idea yet. Later in the 90's she was just figuring out what feet were and how to use them. Now, she's walked the trails at places protected long before she was born. She loves the idea of protecting land for our community generations from now, and, as Central Oregon grows and changes, she knows the next 25 years at the Land Trust will inspire other little ones to create future connections with the land.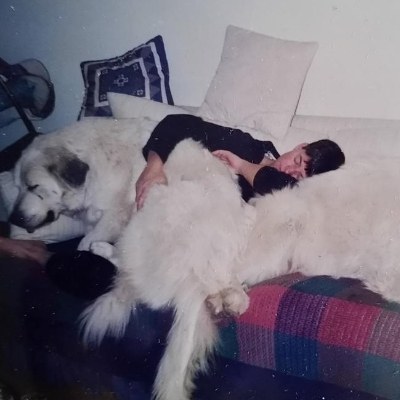 Ann
Back in 1995 Ann had REALLY big dogs. That's Lacey on the left, Ann in the middle, and Chimo on the right. They lived in Puyallup, Washington with the dogs and four explosively shedding cats. The rain and the muddy paws got to be a bit too much, but it took them four more years to finally move to the 'dry side' of the Cascades in Sisters. When it comes to the future, Ann is most excited to see the Land Trust fulfill the hopes and dreams of its donors, volunteers, staff, board members, and the communities we serve.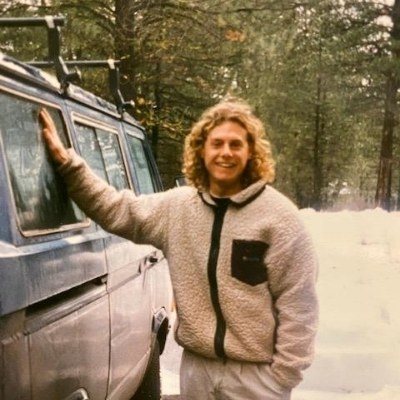 Michael
The year 1995 was full of adventures for Michael. He was living between Redmond and Sisters managing the Outward Bound basecamp at Odin Falls. There's no doubt that his time in the outdoors helped bring him to the Land Trust with a deep connection and commitment to the land. Thinking about the next 25 years for the Land Trust, Michael loves that the Land Trust is committed to protecting our beautiful lands in Central Oregon so his daughter will have the opportunity to enjoy wild places when she is his age.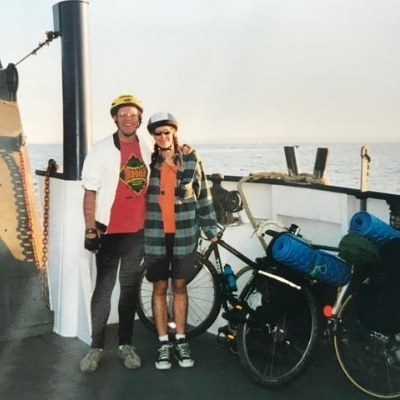 Jen
The year 1995 was full of growth and adventures for Jen, and she's definitely kept up with her biking on roads and trails ever since. Looking to the next 25 years, Jen is excited to see the evolution of all of our restoration projects and the return of healthy fish populations to our streams!
Celebrate 25 Years of Conservation with Us!