The Deschutes Land Trust has recently increased our efforts at eradicating invasive weeds through the use of biocontrol methods. What are biocontrol methods and how does the Land Trust use them? Let's take a look!

What is weed biocontrol? According to the Weed Science Society of America, weed biocontrol is "the use of an agent, a complex of agents, or biological processes to bring about weed suppression." In simpler terms, every plant has natural enemies that can reduce its population. With biocontrol, one of these natural enemies is introduced in large quantities in an effort to control the invasive plant.

Natural enemies can mean many things. It can be insects, animals, and plant diseases. When an invasive plant arrives in a new location, often it will bring at least one of its natural enemies with it. Introducing larger quantities of this natural enemy can often help control the invasive plant.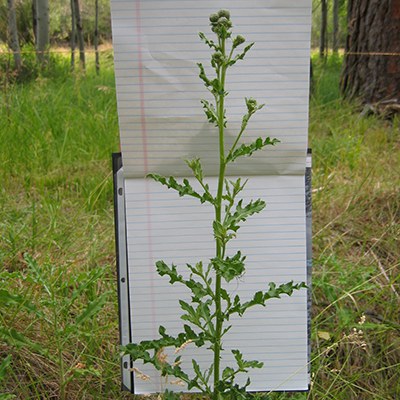 In Oregon, the Oregon Department of Agriculture (ODA) works with the USDA and other scientists to provide rigorous testing of biocontrol methods. They test to ensure that biocontrol methods are safe, don't negatively impact crops and native plants, and are not harboring other diseases or parasites. In addition, they follow the International Code of Best Practices for biological control of weeds.

There are several advantages to using biocontrol to remove weeds from Land Trust protected areas. It can work well in places where chemicals or hand pulling weeds don't work (or where we'd prefer not to use chemicals or hand pulling). There is a fairly low amount of risk due to previous rigorous testing (although nothing is risk-free!). Biocontrol methods can also be low cost.

The Land Trust has used biocontrol methods a little in the past, but became more involved with biocontrol through the Crooked River Cooperative Weed Management Area (CRCWMA). In 2019, we worked with the CRCWMA on locating specific noxious weeds on the lands we help conserve. After identifying Coffer Ranch as a potential area, we received approval from the landowners to make this our first bigger project with biocontrol methods. First up: Canada thistle.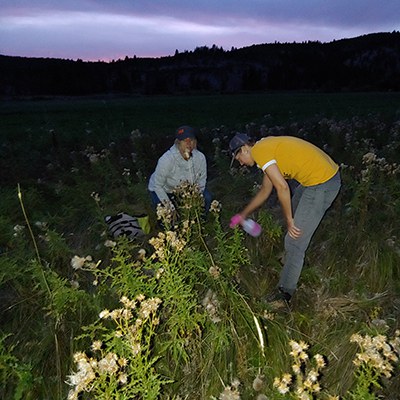 Canada thistle is the most common thistle weed found in the United States. It was accidentally introduced in the early 1600s, and since then has been distributed into every county in Oregon.

In order to monitor our results at Coffer Ranch, we created a control area (where no biocontrol was released) in addition to our release site. For biocontrol, we used Canada thistle rust fungus. This fungus generally prevents Canada thistle from taking over a larger area or sometimes shrinks the area where Canada thistle grows. It does not actually eradicate the weed, though. In order to inoculate the plants with Canada thistle rust fungus, Land Trust and CRCWMA staff went out on a fall evening when there were cooler temperatures. They found young plants, wet their leaves, then sprinkled the rust fungus on the leaves. After that, we simply let nature do the work.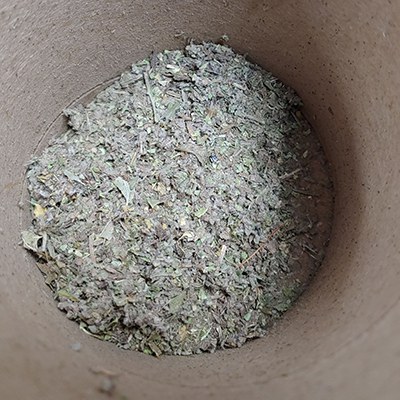 Since Canada thistle rust fungus is a newer biocontrol method in Oregon (it has worked well in Colorado since 2013), it is being studied and monitored throughout the state. This fall, we headed back out to Coffer Ranch to observe if the Canada thistle population we had released the rust fungus in had become infected. While it can be easier to see these signs in the spring on new plant growth, we do believe we saw some signs when we went out. It will likely take several years for the rust fungus to establish itself at our release site and could take up to decades to achieve the desired results.

The Land Trust also used biocontrol methods on leafy spurge in two different locations at Coffer Ranch. Leafy spurge is an invasive weed that is found through the world, except in Australia. There is a significant amount of leafy spurge located in Crook County. At Coffer Ranch, the Land Trust used the leafy spurge brown-legged flea beetle for biocontrol. The larvae of this beetle consumes the roots and buds of leafy spurge, which causes the plants to die. Additionally, adult beetles feed on the leaves and flowers, which can severely limit the growth of this plant when there are large numbers of beetles. In June of 2019, the Land Trust released around 200-300 beetles.

This year, the Land Trust has employed Canada thistle rust fungus to control the weed populations of Canada thistle at Camp Polk Meadow Preserve and Indian Ford Meadow Preserve. Study plots were created to help us observe the effectiveness of this biocontrol with the hope that the rust fungus will naturally spread at these Preserves to control even more of the Canada thistle population.

What's next for the Land Trust? While the main focus for the Land Trust is on Canada thistle, we are interested to see what biocontrol methods are studied next. There haven't been reliable biocontrol methods found for invasive annual grasses like cheatgrass or medusahead yet, but many folks are researching and studying this. For the places we are currently using biocontrol methods, it will be a long waiting game to see how effective biocontrol is with helping to manage our weed populations.
Learn more:

Sources: