By Jana Hemphill

The Land Trust's work to conserve and care for the land is only possible thanks to our amazing community of supporters—folks like you and many others who treasure the natural world in Central Oregon. Thank you!!! You made 2021 a successful year for conserving and caring for the lands and waters that sustain us all. Here's what you helped make possible this year: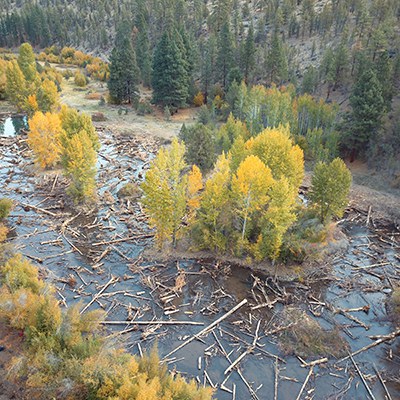 1. Restore Whychus Creek at Rimrock Ranch. Construction crews worked for about seven weeks to restore Whychus Creek, allowing it to flow across its floodplain and reconnect with the meadow. Around 1,700 trees were added to the creek as woody debris, islands of mature vegetation were left along the creek, and more than 38,000(!) native plants were added throughout the restoration area. Now we will let the land and water rest, recover, and evolve.

2. Prepare for the upcoming restoration of Ochoco Preserve. Construction crews relocated a house and other buildings at the Preserve in order to prepare for next year's restoration of Ochoco Preserve. In addition, staff were incredibly busy working with restoration contractors and partners to fund, plan, and sequence the many phases that will be needed to restore the Preserve.

3. Restore native plants at Camp Polk Meadow Preserve. You helped complete the fourth and final year of the Hindman Springs restoration at Camp Polk Meadow Preserve. Together we restored the final 1/2 acre portion of the meadow by removing invasive weeds and then planting 3,500 new native plants. Now we can watch those plants mature, take root, and flourish!

4. Update our mission and vision for the next 25 years of strategic land conservation. The Land Trust's Board and staff dedicated themselves to a series of visioning sessions where we asked the big questions. The end result: an updated vision and mission for the next 25 years of strategic land conservation. Our updated mission is to conserve and care for the lands and waters that sustain Central Oregon, so local communities and the natural world can flourish together for generations to come.

5. Restore the land after the Grandview Fire. After the Grandview Fire hit Central Oregon and the Land Trust's Rimrock Ranch, we needed to restore portions of Rimrock Ranch that were impacted by the fire. This included removing fire breaks that were created during the fire, decompacting the soil, flattening berms, and smoothing the soil. We then blended the fire break in with the surroundings by adding rocks and other debris. Finally, nearby grasses were transplanted to the former fire breaks to help stabilize the soil.

6. Share nature with our community. Whether it was our Nature Bytes monthly email with observations this spring, virtual events, videos, or remote volunteer opportunities, you helped bring nature to people when we couldn't gather together. The Land Trust continues to work creatively to keep you involved in protecting and caring for our natural world. Thank you for showing up and being there for us!

7. Partner on the reintroduction of spring Chinook salmon. The Land Trust hosted a large acclimation tank at Camp Polk Meadow Preserve, while at Ochoco Preserve, "live cars" were set up to help Chinook acclimate before being released. We are hopeful that more salmon will return to Whychus Creek and Ochoco Preserve in the future!

8. Tackle invasive weeds. The Land Trust continued its battle against invasive weeds with our partners and a core group of volunteers, the Weed Warriors. Whether it's pulling mullein or solarizing cheatgrass, thanks to you, we're continuing to strengthen the native plant communities of Central Oregon.

9. Help golden eagles thrive at Aspen Hollow Preserve. For the 12th consecutive year (wow!), a pair of golden eagles successfully raised an eaglet at Aspen Hollow Preserve. Thank you for helping to protect and care for Aspen Hollow Preserve, making it a sanctuary for wildlife to raise their families year over year.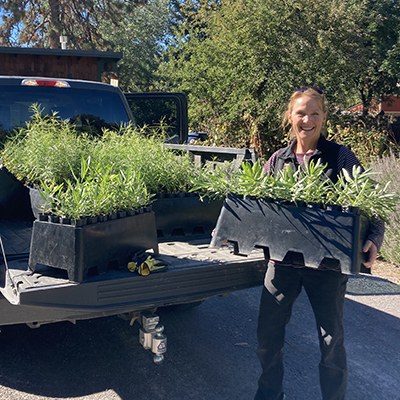 10. Expand milkweed and pollinator plantings for monarch butterflies. In Prineville, the Land Trust partnered with Crook County schools and Mosaic Medical, while in Warm Springs, we worked with Warm Springs Community Action Team to plant more milkweed. We also partnered with Bend Pollinator Pathway, Vámonos Outside, and The Environmental Center. Thank you to everyone who is helping increase monarch and other pollinator habitat in Central Oregon!

11. Help aspen groves thrive at Camp Polk Meadow Preserve. Aspen stands are exceedingly rare in Oregon and overbrowsing by deer and elk can reduce their chances of growing. The Land Trust and our volunteers installed aspen cages to help protect these small trees and give them an opportunity to mature and grow strong.

12. Document local bee populations. Volunteers with the Oregon Bee Atlas took advantage of the bee habitat at places like Camp Polk Meadow Preserve and Whychus Canyon Preserve to do a formal survey of native bees in Oregon.

13. Offer a virtual Nature Night series to share amazing speakers during the winter. Nearly 900 people joined us to learn about the natural world through our annual Nature Night series, held virtually for the first time ever. We were inspired by Robin Wall Kimmerer's talk on reciprocity with the natural world, moved to action by Susanne Brander's presentation about microplastics, and learned a lot from Tara Cornelisse's talk on the importance of insects. Thank you for continuing to support Nature Nights!

14. Share milkweed seeds with our community. Our community stepped up and showed their commitment to monarch butterfly conservation by requesting nearly 19,000 native milkweed seeds from us! We mailed milkweed seed packets to many Central Oregonians this year, and partnered with Patagonia@Bend, Roundabout Books, Crook County Library, and others to distribute milkweed seeds through the community. Thank you to everyone for getting involved in growing native milkweed to help increase monarch habitat at home!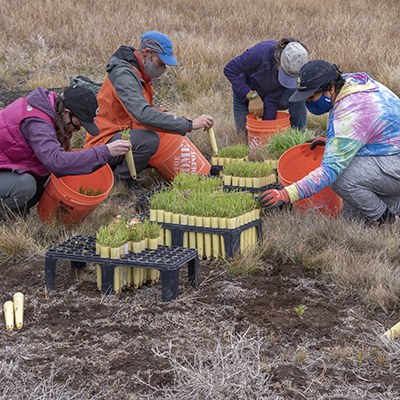 15. Volunteer. Volunteers made a difference. Every. Single. Day. Our work is simply not possible without our incredible volunteers! From helping with soil solarization to pulling fences, taking photographs, helping with mailings, and adding thousands of plants to our Preserves, our volunteers made a difference every day! In addition, the Land Trust recognized volunteers who have been by our side for 10 or more years, inducting Derek Loeb, Daniele McKay, Carol Moorehead, and Mary Yanalcanlin into the Cottonwood Circle.

16. Welcome new staff and an intern. The Land Trust welcomed executive director Rika Ayotte, conservation director Natasha Bellis, and volunteer program manager Erin Barnholdt. We continue to work on building our capacity, focusing on strategic decision-making and conserving critical lands in Central Oregon. In addition, we hosted our first PGE Project Zero Intern, Demi Miller, who helped with stewardship and community engagement projects.

17. Monitor our lands to ensure they are protected forever. One of the main annual tasks for the Land Trust is to monitor our Community Preserves and other protected lands. Monitoring helps staff make management decisions, track significant changes over time, and ensure that our lands are protecting conservation values.

18. Join us for more than 40 free, guided Walks + Hikes. Thanks to our amazing Walk + Hike leaders, who adapted time and time again during the pandemic, our community had the opportunity to learn about wildflowers, birds, geology, and more. Nearly 650 folks came out to Land Trust protected lands on a tour or met us virtually, and in the process, they discovered how the Land Trust conserves and cares for land in Central Oregon.

19. Plan for the restoration of Whychus Creek at Willow Springs Preserve. The Land Trust and our partners are preparing for a multi-year restoration of Whychus Creek at Willow Springs Preserve. We gave presentations to neighbors and community members about the upcoming project. Lots of planning took place with the hope of starting the first phase in restoration in 2022, where approximately 130 different structures made of natural materials will be added to a 3/4 mile stretch of Whychus Creek.

20. Continue to work to protect Skyline Forest. The Land Trust remains committed to the permanent protection of Skyline Forest. We continue our long-term efforts to put together a conservation project that will one day make Skyline Forest a reality.

21. Restore the forests of Aspen Hollow Preserve. Early this year, the Land Trust conducted pile burning of small juniper and pine at Aspen Hollow Preserve. This helps improve the health of the remaining pine and aspen, benefits native grasses and wildflowers, improves habitat for wildlife, and helps reduce wildfire danger for our nearby neighbors.

22. Launch a statewide effort to build new monarch habitat in Oregon. The Land Trust joined forces with Western Monarch Advocates to boost monarch butterfly habitat in Central Oregon, Southern Oregon, the Umpqua River Valley, and in Portland. This includes distributing free native milkweed and other native pollinator-friendly plants, creating new pollinator waystations, and building pollinator gardens.

23. Restore the forests at Hopkins-Young Special Management Area. The Land Trust worked with the Oregon Department of Forestry and the National Forest to thin and restore the forest of the Land Trust protected Hopkins-Young Special Management Area near Crescent.

24. Care for Priday Ranch. After permanently protecting this property outside of Madras last year, we began long-term efforts to care for the land. Field restoration was near the top of the list as we worked to convert 20 acres back to native habitat by removing weeds and preparing to sow native grass seed. We are also planning to thin juniper in the near future to help reduce fire danger and improve habitat for wildlife.

25. Conserve and protect more land. Thanks to your ongoing support, we continue to pursue new land protection projects. We look forward to sharing these new projects soon!


WOW! It's exciting to see all the great projects that our community of supporters made possible this year. Thank you for your ongoing support! We can't wait to see what we can make happen together next year!
Learn more: