My grandma was an amazing person and everyone loved her company. She always tried to get the family together for events, and loved going places and doing things. She hated being at home for a long time.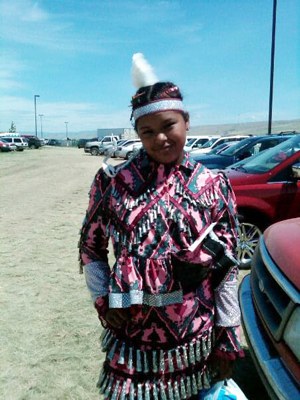 Growing up with my grandma was equally amazing. When we were little, she would have my sisters and I dance at Pow Wows. She taught us how to dance by showing us old DVDs, how to move our feet certain ways and directions, and how to time it to the beat of the songs. I would do Fancy Dance, my younger sister did Traditional, and my youngest sister was a Jingle dancer. Grandma braided our hair, made us moccasins, and otters skin (nucci) for our hair. After a while, we started traveling to other Pow Wows to enter their dance competitions. Grandma was so happy to see us dance like she did when she was growing up.

When I grew older, I moved away from Warm Springs and my grandma, but she always came to visit on holidays and when she had free time. I'm not going to lie, she liked to spoil her grandchildren! But, we never took it for granted. Whenever she needed help with anything, my family was always there for her like she always was there for us. I remember helping her rake leaves, and mowing the lawn for her.

One thing I really loved about my Grandma was that she was always telling us stories. Whether it was stories from our childhood or her own childhood. I loved watching her tell stories because she got so into them that she'd smile and chuckle to herself.

My grandma died in December of 2020. I miss her very much. In the end, it was so hard seeing her on bed rest and not getting up or only barely moving. She was the most active person I know, next to my grandpa. Despite her illness she never stopped having a smile on her face or stopped telling her stories. She seemed so normal and in her mind she was strong.

I appreciate everything my grandma did for our family and all the things she taught us. I wish I had absorbed more and asked to learn more from her about our culture. She was one of a handful of people who taught our native language at the K-8 school here in Warm Springs. She also taught us how to make moccasins, weave bags, and much more about our native culture. I know she would want us to learn more about our native culture. That's probably what's inspired me to pick up some of the things my grandma did while she was here. Since she passed, my mom and I have been trying to go to family gatherings and memorials to show her honor and respect. I know I'll continue finding ways to make her proud.