By Rebekah Ratcliff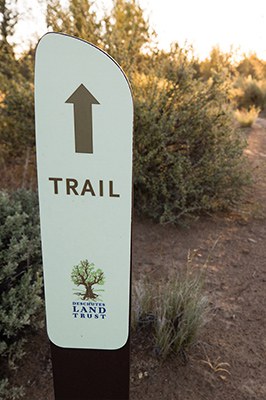 Central Oregonians are fortunate to have easy and abundant access to so many local trails, parks, and natural areas. In the past year, as the pandemic curtailed activities, the importance (and demand!) for outdoor access became even more apparent to us all. As you head into the next outdoor season, here are five ways you can help care for the land so it will be here for all of us—human and wild—for years to come.


Reignite the relationship.
This year we've been so tangibly reminded that our actions both impact and are impacted by the actions of others—a reality that extends to our relationship with the natural world. One of the best ways to care for the land is to remember that interconnected relationship and reignite it. What can you do to give back to the land that gives us so much?



Pack out those peels.
Just as the natural world is interconnected, so is it delicately balanced. What may seem like a biodegradable banana or orange peel under a bush can truly have lasting effects on the natural world (read our blog post all about it!). One easy way to care for the land: pack out your peels, and of course, all your trash! It helps keep wildlife healthy and our natural areas natural.



Stay the trail.


Build up your willpower (and leg power!) to avoid shortcuts. Staying on existing trails safeguards sensitive plants and protects against trail erosion. Even waiting to the side of the trail while someone is passing (instead of walking off-trail) helps to prevent trail widening and the compaction and erosion of soils. As more and more people come to love our favorite trails, the human impact on these places will increase. But if we each do our part to lessen our individual impacts, we'll look forward to many more happy trails!



Don't pick…plant!
From stones and sticks to spring's most beautiful blossoms, there are so many neat and beautiful things to find outside. Loving and treasuring their beauty can help us feel connected to nature when we find ourselves back at home. Our suggestion for bringing nature's treasures into your life while still caring for the land: don't pick, plant! Instead of picking wildflowers, could you plant some native blooms at home? Not only will you be leaving the flowers for other critters, but you'll also be helping to increase native plant habitat at home!



Welcome others.
When we are welcoming in our favorite outdoor places, we can strengthen or encourage another person's love for the land. Sharing these places with everyone is one of the greatest ways to care for them. After all, for so many of us, falling in love with this land was the first step to caring for it and helping it thrive into the future. Let's encourage more folks to do the same!


We envision a future of strong and healthy natural and human communities—where we work together to conserve and care for the lands that make Central Oregon an incredible place to live, work, and grow. With each of us doing our part to care for the land we get closer and closer to that vision each day. Thank you for taking action to care for the places that make our home so special!
Learn More: