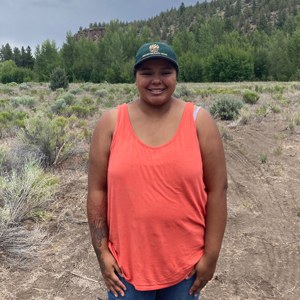 The Land Trust welcomed a PGE Project Zero Intern to our team back in June. Demi Miller assists with management and restoration at Land Trust protected land, and also with community engagement and outreach. Several months into her internship, we caught up with Demi to ask her a few questions about how her internship is progressing:

What are some of the activities that you've done with the Land Trust so far during your internship? I've been going on Land Trust walks and hikes. I get to take pictures of people and the activities we're doing so we can use them in Land Trust communications. It's also been nice helping with volunteer work parties. I helped out at one native plant work party at the Crooked River Wetlands Complex and it was awesome to see how much better the land looked with new native plants. Finally, I've been helping with annual monitoring of our different Preserves, and have been helping with weed removal as much as possible.

What's something about the Land Trust's work that has surprised you or is something you have found really interesting? How much land the Land Trust has to take care of and the projects that come with each property. It's interesting seeing how the Preserves change over the years with annual monitoring pictures or when staff share stories about how things looked years ago.

What's a favorite thing you've done so far in your internship? Going on the hikes the Land Trust provides for people. I meet great new people and get to learn all the natural history information the hike leaders share.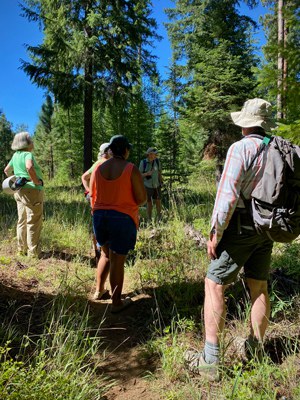 What has been your favorite Preserve that you've visited and why? Metolius Preserve has to be my favorite one, even though I haven't been there as much as other places. I like the north trailhead of the Preserve. It's really beautiful with the tall trees, butterflies, and being able to see the small, cute creek while you cross the bridge.

What are you looking forward to with your internship? I'm looking forward to seeing if this internship helps me think about what I want do in life. I'm also looking forward to helping care for the Preserves as much as I can, and going out more to learn about monitoring.

Anything else you'd like to share? I love that I got this opportunity to be an intern for the Deschutes Land Trust through the PGE Project Zero Program. I appreciate getting the chance to learn about stewardship, outreach, and about what's happening in our environment.