The Land Trust's work to conserve and care for the land is only possible thanks to our amazing community of supporters—folks like you and many others who treasure the natural world in Central Oregon. Thank you!!! You made 2022 a successful year for conserving and caring for the lands and waters that sustain us all. Here's what you helped make possible this year: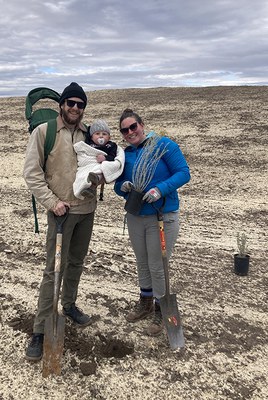 1. Protected Paulina Creek Preserve forever. The newly conserved Paulina Creek Preserve near La Pine, Oregon protects more than three miles of Paulina Creek, ponderosa and lodgepole pine forests, and wildlife habitat. Its protection also helps mitigate the effects of climate change and connect the local community to outdoor access and recreation.

2. Began the Ochoco Preserve Project. The first phase of the Ochoco Preserve Project launched this year and what a difference it has already made! We created new meandering channels for McKay Creek, built habitat structures in and along McKay Creek and the Crooked River, provided a new floodplain for the main channel of McKay Creek, and constructed an acclimation pond for Chinook salmon and steelhead reintroduction efforts. Waterfowl and other birds have already been spotted in and around the restored McKay Creek this fall!

3. Expanded Priday Ranch. After protecting Priday Ranch in 2020, we conserved another 160 acres along Ward Creek, just north of the main portion of the property. Ward Creek is home to summer steelhead and resident redband trout, providing year-round water in the high desert. Rocky Mountain elk, mule deer, jackrabbits, cougars, beavers, and raptors all utilize the grasslands, stream corridors, and sagebrush habitats of this newly protected area.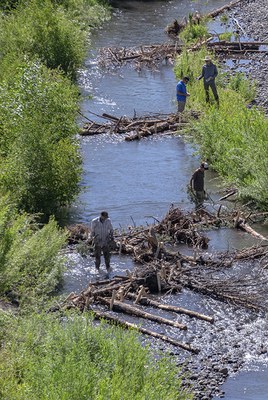 4. Restored Whychus Creek at Willow Springs Preserve. The Land Trust collaborated with our restoration partners on a low-tech approach to restoring Whychus Creek in this area. More than 130 structures were added to a 3/4 mile stretch of the Creek at Willow Springs Preserve, helping to create a variety of habitat types for fish and wildlife. It will also allow the creek to spread across the valley floor, slow high waters, and connect the creek to underground water. We look forward to seeing how Whychus Creek evolves and changes over time!

5. Created wildlife and fish habitat at the Metolius River Preserve. We partnered with the Forest Service to add more wood to the Metolius River at our Metolius River Preserve. This spring, whole trees were added along the riverbank, providing important habitat for bull trout, Chinook salmon, and other fish native to the Metolius River.

6. Built a community vision for Skyline Forest. The Land Trust led a new effort to develop a community vision for Skyline Forest. Together with a coalition of community groups, we created a robust, community-wide effort that engaged local organizations, leaders, and community members in this shared vision for Skyline Forest's future conservation and management, including distributing a community survey.

7. Partnered on the reintroduction of spring Chinook salmon and summer steelhead. The Land Trust hosted a large acclimation tank at Camp Polk Meadow Preserve, while at Ochoco Preserve, "live cars" were set up to help Chinook salmon and steelhead acclimate before being released.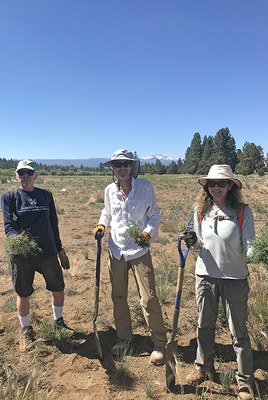 8. Tackled invasive weeds. The Land Trust continued its battle against invasive weeds with our partners and our volunteer Weed Warriors. Thanks to you, we're continuing to strengthen the native plant communities of Central Oregon.

9. Helped golden eagles thrive at Aspen Hollow Preserve. For the 13th consecutive year, a pair of golden eagles successfully raised an eaglet at Aspen Hollow Preserve. Thank you for helping to protect and care for Aspen Hollow Preserve, making it a sanctuary for wildlife to raise their families year over year.

10. Expanded milkweed and pollinator plantings for monarch butterflies. In La Pine, we worked with South County Gardening to get milkweed out to local schools and local gardeners. In Prineville, the Land Trust partnered with Crook County Library, while in Madras we worked with Jefferson County Health Department. In Warm Springs, the Warm Springs Community Action Team partnered with us to distribute milkweed within their community. We also partnered with Central Oregon STEM Hub to distribute milkweed at their Juntos Aprendemos family STEM nights in Madras, Sisters, and Prineville. Thank you to everyone who is helping increase monarch and other pollinator habitat in Central Oregon!

11. Planted, Planted, Planted! The Land Trust added more than 50,000 new native plants to Land Trust Preserves this year alone! As part of the Ochoco Preserve Project, new native bunchgrasses, flowers, trees, and shrubs were added. Over at Willow Springs Preserve, another 3,500 native plants were added to our restoration area, while more native vegetation was planted at Camp Polk Meadow Preserve, Rimrock Ranch, and Indian Ford Meadow Preserve.

12. Reduced fire danger in Central Oregon. We began small-diameter juniper thinning at several Land Trust Preserves this summer, including Rimrock Ranch, Whychus Canyon Preserve, and Camp Polk Meadow Preserve. Then, this fall we worked on thinning at Aspen Hollow Preserve. This forest restoration work will help reduce wildfire danger at our Preserves and for our neighbors, while also helping mimic historic forest conditions and improving habitat for wildlife.

13. Offered a virtual Nature Night series to share amazing speakers during the winter. More than 400 people joined us to learn about the natural world through our annual Nature Night series, held virtually. We got excited by great news about American pikas, moved to action when learning about the possibility of a low-to-no snow future, and learned the tools we need to manage our climate anxiety. Thank you for continuing to support Nature Nights!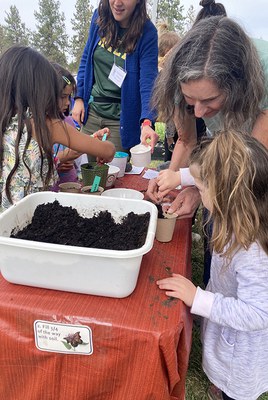 14. Shared milkweed seeds with our community. Our community continued to show their commitment to monarch butterfly conservation by requesting nearly 15,000 native milkweed seeds from us! Thank you to everyone for getting involved in growing native milkweed to help increase monarch habitat at home!

15. Volunteered. Volunteers made a difference throughout the entire year! Our work is simply not possible without our incredible volunteers! From helping remove tagging ribbon to pulling fences, stewarding our trails, helping with mailings, and adding thousands of plants to our Preserves, our volunteers made a difference every day! In addition, the Land Trust recognized volunteers who have been by our side for 10 or more years, inducting Ned Austin, Gus Gustafson, Kathy Johnson, Mary Lefevre, and Bruce Livingston into the Cottonwood Circle.

16. Continued habitat restoration at Priday Ranch. Last summer, the Land Trust began converting 20 acres of agricultural fields back to native habitat by removing weeds. After a winter planting of nine different types of native grass seed, we tended them this spring and summer to ensure their survival. After a successful season, our hope is that next year these drought tolerant grasses will have strong enough root systems that we do not have to irrigate and can eventually interplant flowers and other plants important to pollinator species in these fields.

17. Monitored our lands to ensure they are protected forever. One of the annual tasks for the Land Trust is to monitor our Community Preserves and other protected lands. Monitoring helps staff make management decisions, track significant changes over time, and ensure that our lands are protecting conservation values.

18. Joined us for nearly 90 free, guided Walks + Hikes. Thanks to our amazing volunteer Walk + Hike leaders, our community had the opportunity to learn about wildflowers, birds, geology, and more. More than 700 folks came out to Land Trust protected lands on a tour or met us virtually, and in the process, they discovered how the Land Trust conserves and cares for land in Central Oregon.

19. Planned for the next phases of the Ochoco Preserve Project. The Land Trust continues to work with a variety of partners to develop funding for the next two phases of the Ochoco Preserve Project. This includes the funds we will need for trails, trail connections, and bridges at the Preserve.


20. Removed fencing to help wildlife thrive. Volunteers helped us remove around three miles of fencing at Priday Ranch this year! Removing old barbed wire, fencing material, and fence posts helps improve habitat for wildlife. It also removes barriers for mule deer, elk, and pronghorn that rely on season migration to access various habitat areas. 

21. Thinned juniper at Priday Ranch. Early this year, the Land Trust worked to thin around 250 acres of juniper at Priday Ranch. Older trees were strategically left to resemble a more historical landscape. The juniper thinning project at Priday Ranch will increase the amount of available water for native grasses and wildflowers, as well as help reduce fire danger.

22. Conserved and protected more land. Thanks to your ongoing support, we continue to pursue new land protection projects. We look forward to sharing these new projects soon!


WOW! It's exciting to see all the great projects that our community of supporters made possible this year. Thank you for your ongoing support! We can't wait to see what we can make happen together next year!
Learn more: