The Land Trust welcomed Stanford intern Ahmad Koya to our team back in June. Ahmad has been helping with the Land Trust's effort to permanently protect Skyline Forest. A month into the internship, we caught up with Ahmad to hear how his time with the Land Trust is progressing.
by Ahmad Koya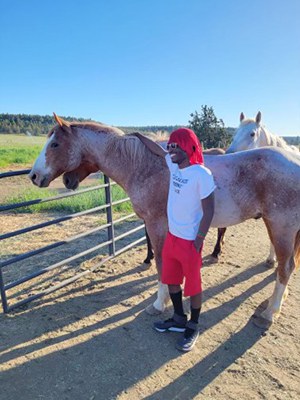 I've been at the Land Trust for about five weeks, and I've already been to so many incredible places! I've visited the Metolius Preserve, Ochoco Preserve, and Camp Polk Meadow Preserve. I'm heading to Willow Springs Preserve and Metolius River Preserve within the next week, and I plan to visit most, if not all, of our protected lands by the time I head back to school. Besides going to these amazing places, I've taken pictures with horses, gone mountain biking, paddle boarded, did acro-yoga, walked a slack line, floated a river, and many other outdoor activities! Although these things might seem mundane to you, I feel like I have to explain why some of them were so exciting.

Horses are huge. I've always had some scale for horses (of course, they're bigger than humans), but standing right next to one is eye-opening. Their sheer size and power are spectacular! This photo of me with the horse was taken at Rainshadow Organics, where we recorded a video about their farm for the Oregon Agricultural Heritage Program about land protection agreements, two terms I'd never heard before stepping foot in Bend.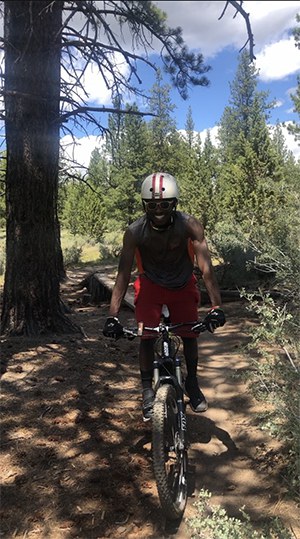 I've also quickly learned that mountain biking is very popular in Bend, and my workplace is no exception! I'm borrowing a mountain bike from one of my coworkers, which I've used to bike some trails at Phil's Trail with another coworker. This photo was taken after I biked over a small ramp for the first time; a major first accomplishment and a boost to my ego! Now, I plan on biking Mt. Bachelor with a Land Trust Board member within the next few weeks. I'm a big fan of mountain biking, and I would argue that I'm decent at it; however, we will see how well my skills stack up on the mountain!

Those are two unforgettable activities I've done with the Land Trust. Of course, in addition to having fun, I've been getting some work done! I'm part of the Land Trust's Conservation Team, and my main task is to work on everything related to Skyline Forest, a 33,000-acre forest near Bend and Sisters. For example, I'm currently setting up meetings with stakeholders from the community who will share their values pertaining to Skyline Forest. Ideally, after meeting with stakeholders and hearing their input, it will guide the Land Trust in how to uphold as these values as we work towards a conservation solution for Skyline Forest. I'm looking forward to continuing this work (and fun!) during the rest of my internship!