March 21st heralds the official arrival of spring in Central Oregon, and while we may still get snow until June, you can celebrate the new season with some early spring wildflower hikes. Wildflower season in Central Oregon stretches from March-August. It starts in the sagebrush grasslands of the high desert and moves to our Cascade alpine meadows by late summer. For wildflower enthusiasts, this means there is lots of time to explore and enjoy the wildflower shows that lend brilliant bursts of color to the landscape.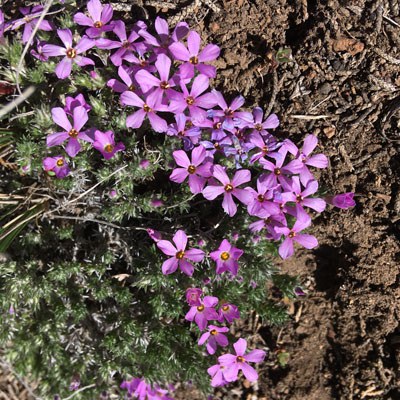 Early spring wildflowering often takes a keen eye! These flowers tend to be small, event tiny, and they bloom out in the grasslands where the snow melts first and the soils begin to warm. So, be prepared for pops of color that you spot out of the corner of your eye as you work to develop a search image that will help you find more. Some of the first early spring wildflowers to bloom include goldfields (Crocidium multicaule): these dime-sized flowers carpet sagebrush flats with individual plants that have bright yellow faces that follow the sun's path. Spreading phlox (Phlox diffusa) is another early bloomer with bright pink-purple-white flowers that grown in cushion-like clumps. Finally, prairie star (Lithophragma parviflorum) is a delicate white to lavender-pink flower atop a red stem.

A word about mud: early spring hike season is also prime season for mud! Please be respectful of our local trails by not hiking on them when they are muddy. Hiking on muddy trails causes trail erosion, widens trails, and can cause damage to the trail tread. Check trail conditions before you go, and only go if it is dry. Remember if you leave a track, turn back. Early wildflower season will be gone in a blink, so get out there while you can one of these three hikes to celebrate the season:
Whychus Canyon Preserve: The Land Trust's Whychus Canyon Preserve offers some of the first wildflowers of the season each year. This 930-acre nonprofit-owned nature preserve offers more than seven miles of trails for hiking, walking and exploring and with lots of loop and shorter mileage options. Hike the upper meadow and rim trails and keep your eyes open for goldfields, yellow bells, phlox, and sagebrush buttercups. The interpretive Santiam Wagon Road trail offers a bonus history lesson as you look for wildflowers in the rocky crevices along the road. Trailside overlooks provide stunning views of the Cascades and Whychus Creek. Learn more about Whychus Canyon Preserve.


Grey Butte: Grey Butte is the sentinel in the high desert next to popular Smith Rock State Park. As part of the Crooked River National Grasslands, it is open to the public and offers a variety of trails and access points (that are sometimes confusing), and are open to a variety of uses. The popular Grey Butte Trailhead is a great starting point next to the old McCoin homestead and orchard. From here the trail ascends through juniper forest around the side of the butte offering stunning views of the Cascade range and wide variety of spring wildflowers due to the diverse habitats along the way. In addition to the flowers found at Whychus canyon Preserve, look for wild onion, desert parsley, prairie star, buckwheat and more. Learn more about Grey Butte.


Alder Springs: Come April 1st, when the deer winter ranger closures life, you can head out to Alder Springs to explore this gem of the high desert. Like Grey Butte and Whychus Canyon Preserve, its sagebrush grasslands warm up first in spring and offer a variety of early wildflowers to pique your interest. The very rough access road takes you up to a plateau high above the canyon carved by Whychus Creek. Hike from the trailhead down to the creek to look for early blooms like goldfields, yellow bells, and the purple daggerpod. Learn more about Alder Springs.

Want to learn more about the wildflowers of Central Oregon? Join the Land Trust for a free, naturalist-led hike!


This story first appeared in the The Bulletin.
Learn More: