By Jana Hemphill

If you're a ski enthusiastic like many of us in Central Oregon, then you've probably already done your happy dance when you heard this winter is forecast to be a La Niña season. Or perhaps you heard and grumbled a little bit because you dislike shoveling snow. Regardless of how you feel, it looks like La Niña has arrived! Get your facts on what La Niña is and what it looks like in Central Oregon.

1. La Niña is a climate pattern. While it might seem like La Niña is a storm, it's actually a climate pattern. La Niña is a pattern of the El Niño-Southern Oscillation (ENSO) ocean system. The ENSO is when trade winds blow along the equator in the Pacific Ocean. This brings warm water from South America towards Asia. To replace this warm water, cold water from the depths of the ocean rises, a process called upwelling. During an El Niño cycle, trade winds weaken and the warm water is pushed back east towards the western coast of North and South America. La Niña has the opposite effect of El Niño. During a La Niña cycle, trade winds are stronger than usual, pushing more warm water towards Asia. More cold water upwells off the coast of North and South America. This upwelling then pushes the jet stream north, changing the climate pattern for the season. During an ENSO-neutral cycle, the trade winds aren't weak or strong, so the climate pattern isn't as pronounced one way or the other.

2. This year's forecast calls for a moderate strength La Niña. Computer models and forecasting show a ~95% chance that La Niña will continue through our winter, according to the National Weather Service. While September to November ended up having weak La Niña conditions, it's supposed to become stronger from now through March. There is a ~60% chance that it will then transition to an ENSO-neutral pattern from April through June.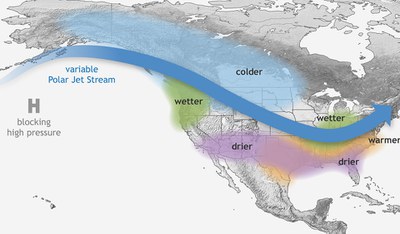 3. La Niña typically means more cold and snow for Central Oregon. La Niña is forecast to bring above average precipitation and mountain snowfall to Central Oregon. While Oregon modeling shows more precipitation and cold in the Willamette Valley and northern Oregon, our area still shows above average snowfall. Be sure your skis are waxed and you've gotten all your wool sweaters out of storage!

4. A La Niña pattern can help with current drought conditions in Central Oregon. Currently, Deschutes and Jefferson Counties are in severe to exceptional drought, while Crook County is in exceptional drought (the highest level of drought). With more snow and precipitation in the forecast, we can hope that our drought conditions will improve before the spring, although it's not guaranteed. Other parts of the country, including southern California, the Southwest, and the Southeast, have forecasts of drier conditions because of La Niña, so we are definitely lucky in this regard!

5. La Niña also helps with ocean nutrients off the Pacific coast of North and South America. When cold water rises from the lower depths of the Pacific Ocean, it brings nutrient-rich water to the surface. These extra nutrients help support more marine life, especially cold water species like salmon, on the coast.

We will have to wait to see how the La Niña forecast actually plays out in Central Oregon. In the meantime, take advantage of our cold and snowy days while you can!
Sources:
Learn more: