The first snow has fallen and the eighty degree days appear to be behind us. Your garden has been harvested and those last few stragglers have gone to seed. You may be wondering about how to put your yard and garden to rest for the winter. We are here to tell you to sit back, relax, and pour yourself a cup of tea because when it comes to fall yard work, less is more.

Traditional methods of gardening boast long fall days raking leaves, mulching garden beds, and removing dead plants. While these actions may have a "tidying" effect, they do not make our gardens hospitable to wildlife throughout the winter and may even have a detrimental effect on planting in the spring.

To start with, forget about taking care of those leaves. The best place for any leaves that have fallen in the recent wind and rain is exactly where they lie. Many insects such as bees, moths, and larvae of butterflies hold on to leaves or hide under them to ride out the winter. Raking and disposing of leaves both prevents their survival and removes a very important food source for baby birds come spring. Dead leaves nourish the soil, protect the roots of plants from freezing, and help to prevent any loss of moisture. By leaving dead leaves where they fall, you are saving energy and effort!

If leaves on your lawn prove too unsightly, you can always rake them and place them under trees, on shrubs, or in flower beds. You can do the same with any leaves that fall on your driveway or pathways.

For your flower bed, no need to bring out the clippers. Flowers that have gone to seed can stay where they are and will provide mid-winter snacks to birds. While brown stalks may look barren, they actually provide a winter nest for bugs to bed down in. The only thing that should be removed from your garden are plants or parts of plants that are diseased.

If you have the space in your yard or side yard, a brush pile can be a desirable hotel for critters during the colder months. Instead of disposing of any branches that have recently come down, create a layer of loosely stacked branches and dead vegetation. Then layer leaves on top. This creates a warm place for all sorts of wildlife including chipmunks, lizards, frogs, and other small mammals. It can even be a place for you to dispose of a Christmas tree or other natural winter decorations when the time comes. If a brush pile doesn't work in your yard, consider lining walkways or your flower beds with downed branches. This is a nice way to incorporate dead plant material in your yard with more of a decorative flair.
Sources:
Learn more:

This blog post was written by Land Trust volunteer Ellery Ross. Thanks Ellery!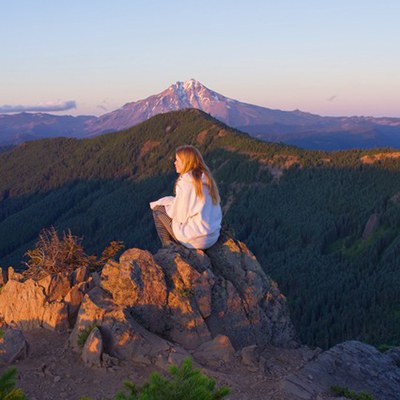 Ellery Ross is a native Oregonian who is grateful to have grown up enjoying all the wonders the Pacific Northwest has to offer. She graduated from Lafayette College with a degree in English Literature and International Affairs and is pursuing a career in non-profit development. She is happiest knee deep in dirt or snow and writing about the wonders of both.