by Jana Hemphill


Earth Day is almost here! April 22nd is Earth Day, an annual event to celebrate our planet and demonstrate support for conservation. We like to think of Earth Day as a great day to start a new action to help care for our planet or a reminder to start things back up! Here are five ways you can take action on Earth Day and every day:
1. Support the Land Trust! We couldn't do the work we do without our community of supporters! Help conserve and care for our streams, canyons, meadows, and forests by making a gift to the Land Trust in honor of Earth Month. You can also donate your time by volunteering with us! You can make a real difference by removing old fencing to keep wildlife safe, pulling invasive weeds to help our native plants, or volunteering at our office to keep our work moving forward. See what volunteer opportunities are available.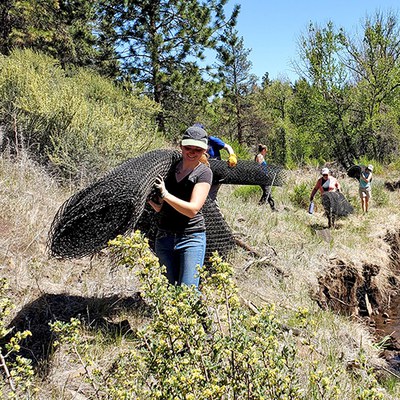 2. Make your yard pollinator-friendly. Help pollinators thrive by making your yard friendly to them! Plant native wildflowers that haven't been treated with neonicitinoids (which are often found on nursery plants and are extremely harmful to pollinators). You can also get free native showy milkweed seeds from the Land Trust, which is a great way to help monarch butterflies! Choosing a variety of flowers so you have something blooming from early spring through fall provides a long-term food source for pollinators.

3. Bring a conservation mindset to recreating outside. It's important to tread lightly as we enjoy the beauty and wonder of our mountains, lakes, forests, and deserts. To keep wildlife healthy, bring your orange peels and pistachio shells (plus your trash!) back home with you instead of tossing them outside. Stay on existing trails to protect sensitive plants. Leave wildflowers in the wild instead of picking them for a bouquet for your home. Find even more tips on an outdoors conservation mindset.

4. Grow your own food (or join a CSA). Do you have space to have a vegetable garden or a couple of fruit trees? Or maybe you can grow some herbs next to your kitchen window or add a tomato plant to your balcony. Be a part of the climate victory garden movement and help restore soil health, slow greenhouse gas emissions, and store carbon in plants and soil. Not enough space at home or your green thumb hasn't matured yet? You can also join a local CSA (community supported agriculture). Pay your farmer in advance for your entire season of produce, then get a weekly bounty of food, all grown close by. This helps significantly reduce the amount of greenhouse gases emitted to transport food to you!

5. Help prevent wildfires. I think wildfires are on everyone's mind in Central Oregon! Did you know a large number of wildfires in Oregon are actually caused by humans? There are several steps you can take to help prevent wildfires. As camping season ramps up, make sure your campfire is completely out before leaving it, and be sure not to park your vehicle on dry plants during our upcoming summer. See more tips on helping prevent wildfires.
Do you have other ideas for taking action to help care for mother earth this Earth Day? Together, we can all make a difference!
Celebrate Earth Day with the Land Trust: