About mid-April, like everyone else in Central Oregon, I start to itch for spring. Don't get me wrong, I'll ski and play in snow as long as I can, but there is a certain point where you long for green and flowers! That's why on a recent weekend, I piled the family in the car and headed out for one of my favorite early spring hikes, Alder Springs.
Located northeast of Sisters and west of Terrebonne, the Alder Springs area is one of the first places to warm up in our high desert each spring. Varied terrain and sun-soaked grasslands, mean you can invariably find wildflowers or budding leaves to feed your spring starved soul. And, you can hike a variety of distances to make the outing fit your needs. Getting there, however, is its own ball of wax! Located in the Crooked River National Grasslands, the Forest Service has great directions on their website to find the trailhead, but a high clearance vehicle is an absolute must. Really, heed their warnings! The 5 mile long entrance road is strewn with large rocks and deep gullies. Don't be fooled by the first bit which has been improved for some homesites, it gets worse!
Assuming you and your car have made the trek, and your children haven't convinced you to turn around (because you must be taking them to the middle of nowhere), follow FS Road 6360 for 3.8 miles past the main gate. Mark your mileage because the right hand turn onto FS Road 40 is unmarked, the old trailhead signs no longer there. Road 40 takes you directly into the parking area, through stunning fields of tiny yellow wildflowers called goldfields. From the trailhead, the trail follows the top of a plateau above Whychus Creek with awesome views of the mountains and nearby river canyons.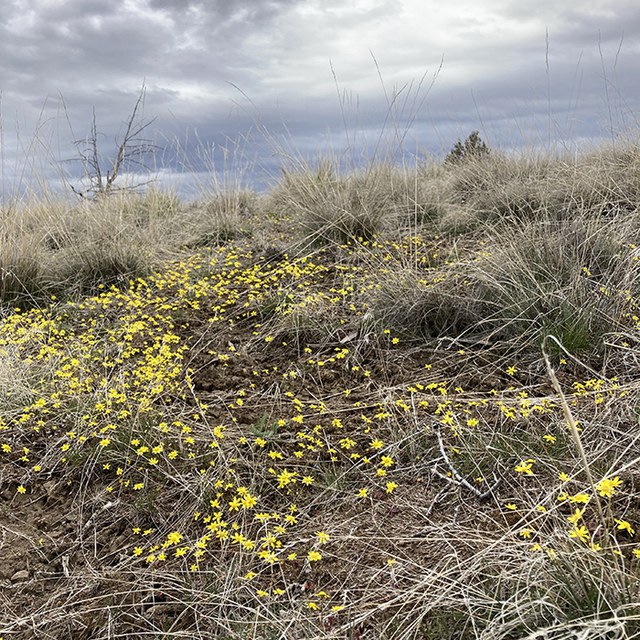 My family chose to first follow the trail down to Alder Springs itself. The rolling plateau section is relatively short, flat and open (fires have came through the area several times). Early season wildflowers like goldfields, prairie star, and yellow bells were blooming. Eventually, the trail starts to dip down towards Whychus Creek, and then wraps east around the top of the plateau. You head steeply down into a dry, sheltered canyon with views of crazy rock formations (like a dry waterfall!), and you can start to hear the faint sound of water. As you get down closer creek level itself, all of the sudden you realize you are hiking next to water. This is Alder Springs, a gushing burst of water lined with shoots of bright green plants, that comes out of the dry canyon and travels a short distance to join Whychus Creek.
A handy sign next to the banks of Whychus Creek explains that Alder Springs comes from snowmelt in the Cascades that soaks down through volcanic layers and flows the 40 miles downhill to where it pops out of the ground. These and other springs along Whychus Creek help keep the creek flowing and cold year round, and help create important habitat for native plants and animals. That's why the Deschutes Land Trust partnered with variety of groups in 1998 to conserve the 840-acres of land that includes Alder Springs and eventually transfer it to the Crooked River National Grasslands for long-term stewardship. Today, the Alder Springs area protects a significant stretch of Whychus Creek and the Deschutes River for the plants, animals, and people of the high desert.
Total mileage down to the springs and Whychus Creek is about 1.5 miles. From here, you can wade the cold, fast Whychus Creek and continue your hike to where the creek meets the Deschutes River. A fantastic extension if you have time. We chose to sit by the creek and take in the towering canyon walls that showcase so many layers our geologic history (and lament that we hadn't brought a geologist with us!). The hike back up is steep, but fairly quick and you can take breathers while you listen and look for singing Western meadowlarks or bright blue Western bluebirds (more harbingers of spring!).
As you near the trailhead, you can take a short side journey like we did back down to Whychus Creek to check out the site of an old crossing point on the creek where a bridge once hovered above a narrow canyon section. Happy spring!
This story first appeared in the The Bulletin.
Learn More: