This is part of a series on nature identification for kids. Read the first blog post of the series, Nature Identification with Kids.
I think it probably tells you a lot about how big of a nerd I am when I say that I have always felt a little intimidated by bird watching because it seems like such a cool hobby. I love the idea of seeking out rare or interesting birds, knowing them by their sounds and their habitat, and the excitement of seeing a bird I've long been looking for. However, it also seems like a lot to learn, and kind of confusing to get started as a total beginner. So, while I have a lot of respect for the hobby, this is absolutely a get-started identification guide for kids and their parents who are just as basic in their approach as I am. Starting with the odd, the fun, and the stand outs are usually the way to go when it comes to connecting little ones more deeply with the world around them, and there are certainly some interesting birds to get acquainted with in Central Oregon.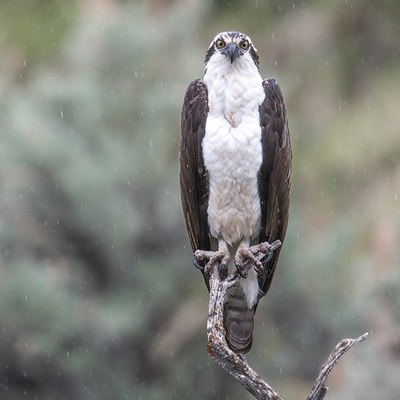 Osprey (Pandion haliaetus)
Osprey are a favorite of mine. They are fascinating to watch, and they show up around the rivers and lakes of Central Oregon fairly regularly. They build huge, eye-catching nests up high in snag trees, or on poles or platforms that emulate that environment for them, so it is possible to see them bringing food back to their babies. They hunt by flying high above bodies of water and diving down to snag fish, which is also interesting and exciting to watch! A bonus if you have a young football fan: Osprey are one of the impressive birds that are nicknamed Sea Hawks, and it is easy to see why an NFL team would draw inspiration from their powerful yet graceful maneuvers.
Great Blue Herons (Ardea Herodias)
These iconic birds are always exciting to see. They have long, strange, beautiful bodies that look like dinosaurs when they fly overhead, and they hunt by standing extremely still in shallow waters. I love seeing them flying, but I most often spot them in quiet eddies in shallow spots along the river.
Canada Jays/Camp Robbers/Whiskey Jacks (Perisoreus canadensis)
Canada Jays have a very different personality than herons. They are bold, inquisitive, and mischievous, and they often show up at campgrounds or along trails in search of a meal. They don't seem to mind at all if the meal they want is one you are currently eating, and they will swoop in and help themselves. They are unusual in that they are active and start raising their babies in the depths of winter, so keep an eye out for them next time you're out snowshoeing or skiing.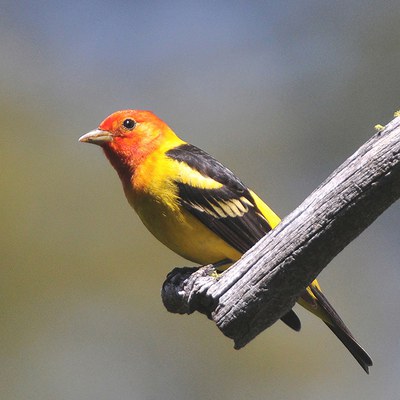 Western Tanagers (Piranga ludoviciana)
These are beautiful little birds that you are likely to see around your neighborhood. With bright coloring reminiscent of a tequila sunrise and cheerful morning song, Western Tanagers are a delightful bird to look out for.
Red-tailed Hawks (Buteo jamaicensis)
These hawks can often be spotted surveilling meadows or fields with a stern, stately expression or—if you're lucky—swooping down dramatically to try to snatch their prey. They also soar in high, graceful circles, and their loud cries are eerie and iconic.
Join us for future identification with kids blog posts!
This blog post was written by Land Trust volunteer Nicole Gricius! Thanks Nicole!
Learn more: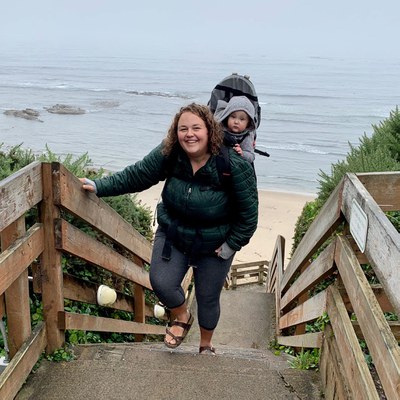 Nicole Gricius is a native Oregonian, and she returned to Central Oregon with her partner to raise their three children and share her love of the outdoors with them. She has a PhD in Clinical Sexology and a Masters of Science in Counseling Psychology from Alaska Pacific University. She enjoys working as a psychotherapist in private practice, and plays as much as possible, including hiking, camping, skiing, kayaking, snowshoeing, and more.