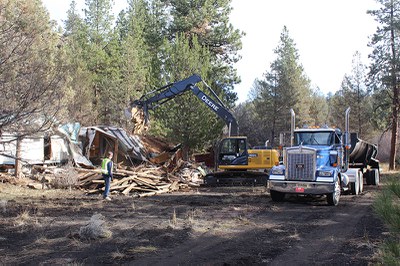 Aspen Hollow Preserve is the Land Trust's newest Preserve acquired in 2015. The 58-acre Preserve includes .6 miles of Whychus Creek, and is lined by scenic rimrock cliff habitat and mixed ponderosa pine and juniper stands.

When the Land Trust acquired the Preserve last April, it came with a number of dilapidated structures in the floodplain. In September, our stewardship team began the process of removing those structures, which included asbestos testing and abatement. The end goal: return the land back to its more natural state and improve habitat for wildlife.

In November, heavy equipment was brought in to remove the structures, as well as a buried residential dump, dilapidated fence, an old gate, and more. The remains of the structures were hauled away and the area where they once stood was de-compacted, to make way for native plants.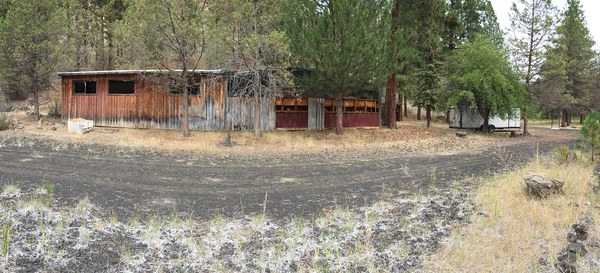 A mix of native grasses and plant seeds were then scattered across the former structure site in the hopes of warding off invasive weed growth. Idaho fescue, prairie junegrass, yarrow and other quick growing species will sprout in the spring, and get a jump start on restoring the area with a native plant community. More restoration work will continue as needed, including additional seeding and weed control.

Aspen Hollow Preserve is bisected by .6 miles of Whychus Creek. The rimrock cliffs on the property are home to a number of birds, including a nesting site for golden eagles. Each year East Cascades Audubon Society  hosts a live webcast of the eagle nest, where a number of young eaglets have successfully fledged. Aspen Hollow Preserve also offers a protected corridor for wildlife to travel along Whychus Creek.

Aspen Hollow Preserve is closed to the public, but can be visited on guided Land Trust tours. We hope to also offer volunteer opportunities at the Preserve including bird surveys and weed pull projects in the near future.