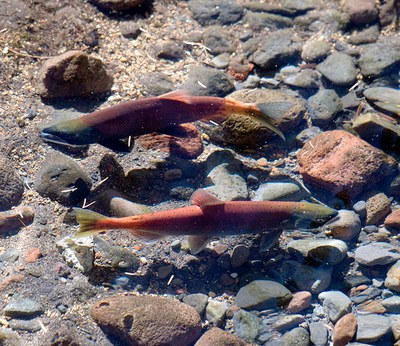 If you haven't heard, the Metolius River is seeing the biggest return of sockeye salmon since the historic reintroduction began a few short years ago. Nearly 500 sockeye have returned from the Pacific, to be passed above Round Butte Dam and on to the Metolius River and Lake Creek. 

While this year's Metolius sockeye run is dwarfed by what you'd see on Alaska's Copper River, it's important to remember that salmon reintroduction is a massive, long-term process. Many factors contribute to the success of reintroduction projects, particularly habitat improvements that allow juvenile salmon and steelhead to safely grow large enough to head to the ocean.

The Metolius River harbors the healthiest habitat in the upper Deschutes Basin, so it's no surprise that were seeing the best upper river returns on the Metolius. However, it's worth noting that with large scale habitat restoration ongoing along Whychus Creek, we're now beginning to see Chinook and steelhead finding their way back to Whychus Creek, as well.

Salmon reintroduction is a long-term effort, but if you want to see something exciting, now is the time to visit the Metolius.