The beavers have been busy at Camp Polk Meadow Preserve! So busy, in fact, it's hard to believe that they were once totally removed from Camp Polk Meadow in an effort to control flooding. Today, beavers are enjoying a comeback as we begin to acknowledge their role as nature's restoration experts. Recent staff visits to the meadow revealed an exciting discovery: a new beaver dam!

Before 2012, beaver activity at Camp Polk Meadow Preserve was fairly limited. After the Land Trust and our restoration partners restored the creek and meadow in 2012 we began to see an increase in beaver activity including beavers cutting down some large cottonwood trees in 2016 and 2017. This year we were excited to see our first substantial beaver dam in the meadow!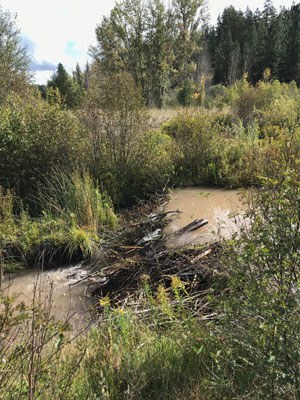 The beaver dam was built on a side channel of Whychus Creek backing up water to create a nice little pond. Beaver ponds help slow water in our creeks reducing erosion and flood damage downstream. Their ponds also improve water quality by filtering sediment and toxins from the water. And, last but not least, beaver ponds provide habitat for wildlife--like ducks and frogs--in and around the pond.

Beavers are our true allies as we continue to restore Camp Polk Meadow for fish and wildlife and we are pleased to see that they are thriving at the Preserve. As they continue to make themselves home at the Preserve, we know they will shape the landscape in new ways and we look forward to watching them work.



Learn more: