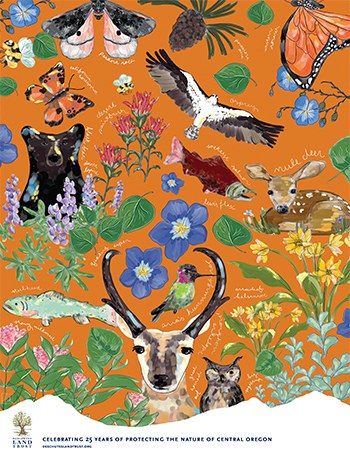 Traditionally the Land Trust has mailed our Annual Report to our community of supporters at the end of October. This year, however, we changed our fiscal year to match the calendar year. With this switch, our Annual Report will now be available in early 2021.

In place of the October Annual Report, we are celebrating the Land Trust's 25th Anniversary with a beautiful poster that highlights a few of Central Oregon's iconic plants and wildlife that call our region home. We hope you'll enjoy this art created by Land Trust outreach associate Rebekah Ratcliff.

The poster's bright colors remind us of sunny days and spring flowers, and its movement reminds us of nature's ability to adapt and change as new challenges or opportunities are presented. It is a reminder that the natural world and our connection to it is at the heart of what we all love about Central Oregon. That's why the Land Trust works with our community to protect and care for this place we call home—so that together we can build that brighter future.

Purchase your Land Trust 25th Anniversary art poster today!