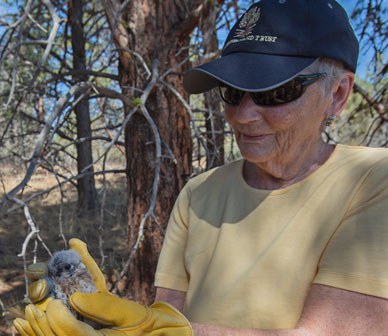 It is with great sadness that we note the passing of Pat Kearney.

Pat joined the Land Trust in 2000 as a supporter and started volunteering in 2008 after she retired and moved full time to Sisters. Pat quickly became involved with the Land Trust's bird survey program, helping catalog birds at Camp Polk Meadow and Indian Ford Meadow Preserves. In no time, she also started volunteering with the Land Trust's Walk + Hike program and was our first official hike shepherd! She saw the need and helped build this new role for volunteers who assist hike leaders by spotting birds and wildflowers, while also keeping the group together. In 2012, Pat was the Land Trust's Volunteer of the Year.

Over the years, Pat also donated her time to help with events like the Tree Hunt and spent lots of time tending our trails. She and Carol Wall have been our trail stewards at the south trailhead of the Metolius Preserve for many years. Their collective work has helped keep all those pine needles off the trails so you can find the trail for hiking!

Finally, since 2016, Pat has served on the Land Trust's finance committee where she put her decades of experience in higher education to work watching our bottom line. Her incredibly sharp mind and dedicated coaching helped the Land Trust become a more fiscally mature organization.

Thank you Pat for all your time and energy! We will miss you tremendously!