It is with sadness we note the passing of Land Trust volunteer Steve Ponder.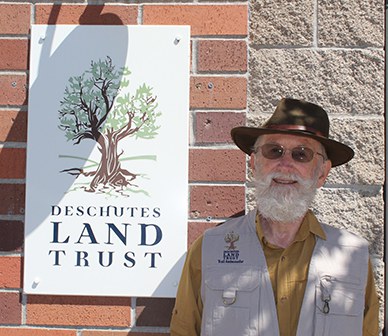 Steve became a volunteer with the Land Trust in 2016. A retired professor, he'd previously been a caretaker and interpreter in Hells Canyon Natural Recreation Area, a volunteer naturalist for Boulder County Parks and Open Space, and a docent and trail rover for the Central Coast State Park Association. At the Land Trust, he first helped out as a Walks + Hikes shepherd, assisting with numerous Land Trust hikes. In addition, Steve was always interested in learning more about the natural world, joining the Land Trust for special trainings and Nature Night presentations.

In 2017, Steve became one of our first official Trail Ambassadors. He devoted many hours to being on the trail (especially at Whychus Canyon Preserve), greeting visitors with a smile and sharing the Land Trust's work with others. His regular trail reports helped us understand use at our Preserves, while also keeping us up-to-date on what was blooming and what wildlife had recently visited. In the fall of 2018, Steve was recognized as one of the Land Trust's Volunteers of the Year. His hours of volunteering helped the Land Trust greatly, and he was a delight to work with.

Steve, you will be greatly missed!